Navigate your way across a busy city using these three apps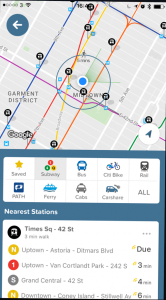 Getting around a city is easier than ever and you could use a mix of transport from a hired bike, the underground, bus or even hire a "car club" vehicle for a few hours.
Using a bicycle is the preferred option for many as it includes health benefits as well. However, how do you know where to go? Do you use a GPS? Decent options, but they are designed for cars and not for bikes which can create routing issues, especially in terms of safety. You'd want to cycle on paths which are safer for cyclists and also where you can take in a bit of scenery without getting yourself in danger.
Public transport is also a viable, option. How do you know where to go, when your train will arrive, where to change or the best spot to stand on the train. Using these three apps, you can find the assistance required to cycle across the city and navigating public transport.
Cycling is our preferred option and there are a number of apps to help you navigate using your bike. Our choice is Komoot, which enables you to plan your perfect road biking trip, mountain biking trip or even hiking trip down to great detail. You can easily select the route you want to go, and you can also select details to help get the route you want such as the surface, difficulty, distance and the elevation profile you'd like on your ride. So if you want a quiet path to take you through the city or a nature trail for a hike, Komoot has you covered.
Komoot also includes offline capabilities, although in the free version you only get your first region with offline maps, and then you'll have to upgrade to one of the many packages they offer. Komoot also comes with turn-by-turn voice navigation, which gives you precise details of when to turn and where to go. This even works if you're cycling in the woods or on a trail.
If you're looking for something less specific for what surface you'll cycle on and elevation, CycleMaps could be the choice for you. This app is tailored to the city cycling crowd and offers more features in this area.  CycleMaps is a simple, intuitive and reliable GPS mapping app specifically targeted at cyclists. It provides bike-friendly features, and allows you to plan your bike routes, quickly, easily and even offers information about your route such as surface, elevation, distance and other features which are useful when you're pedaling yourself to various destinations.
CycleMaps also enables you to discover new routes using the 'explore' function. This includes well-known cycle routes but also shared cycle routes by other users. You are also able to plot multi-routes with several stops offs throughout the city if you have several places to go and need to know the best options. Another exciting feature not seen in other apps is the 'points of interest.' This will display restrooms, water, bike shops and scenic lookouts on your planned trip.
If you're after something simple to understand, CityMapper is the real winner here. CityMapper doesn't include the features Komoot or CycleMaps. There is no voice-guided navigation, for example. But it is tailored for you to cycle from point a to b using the safest route possible, and it also calculates walking distances to the nearest available bike sharing station and also shows you how many bikes are available. Citymapper also shows walking distances and public transport.
By using public transport it will give you step by step guide to make the trip as easy as possible, including which section of the train is best for exit and entrance out of a station. Perfect. Similarly, if you're getting a bus, the app will notify you when it is time to get off the bus!
There are plenty of city commuting apps then, hopefully, these three will give you a head start so you can avoid the nightmare that is big city commuting.
Download Komoot, CycleMaps and CityMapper.