G.SKILL unveils Ripjaws 4000MHz CL18-18-18-38 32GB (4x8GB) DDR4 SO-DIMM kit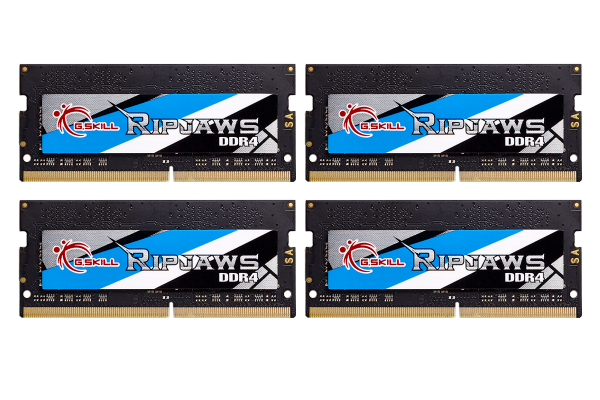 Just last week, Corsair announced the world's fastest 32GB SODIMM DDR4 kit at 4,000MHz. And now, Corsair's kit is no longer king of the hill. The technology world moves fast, eh?
Why is it no longer the fastest? Because today, G.SKILL bests Corsair with a new 32GB SODIMM DDR4 kit. While the speed is the same at 4,000MHz, the CAS latency on G.SKILL's Ripjaws kit gives it an edge.
"Just two months ago, G.SKILL announced the high performance DDR4-3800MHz CL18-18-18-38 Ripjaws DDR4 SO-DIMM kit. Aiming to push memory limits to yet another level, G.SKILL strives to deliver the best memory performance possible on current systems, and this time for small form factor (SFF) PCs. With this new SO-DIMM memory kit, SFF PCs can now unlock the full potential of memory performance, as shown in the following screenshot, where this new memory kit is tested for over 6 hours on the ASRock X299E-ITX/ac mini-ITX motherboard with the Intel Core i9-7900X processor," says G.SKILL.
ALSO READ: CORSAIR releases 4,000MHz Vengeance DDR4 SODIMM 32GB Memory Kit -- fastest in the world
The company also says, "Featuring super high frequency and ultra-low CAS Latency, the Ripjaws DDR4-4000MHz CL18 32GB (4x8GB) kit is the fastest SO-DIMM memory solution for building an extreme performance mini-PC with the latest Intel Skylake-X CPU. The screen below shows an incredible 101106 MB/s bandwidth for read, using the AIDA64 benchmark."
You can see the RAM running at the claimed speeds below. Please open the images below in a new tab and remove the "-300x225" at the end to enlarge them. Not only are they fast, but running stable too. Nice!


While pricing is currently unknown, this memory will definitely be very expensive. Corsair's kit costs about $600, and I expect G.SKILL's kit will be priced around the same. More will be known when the RAM hits stores in Q1 2018.