Six takeaways from GES 2017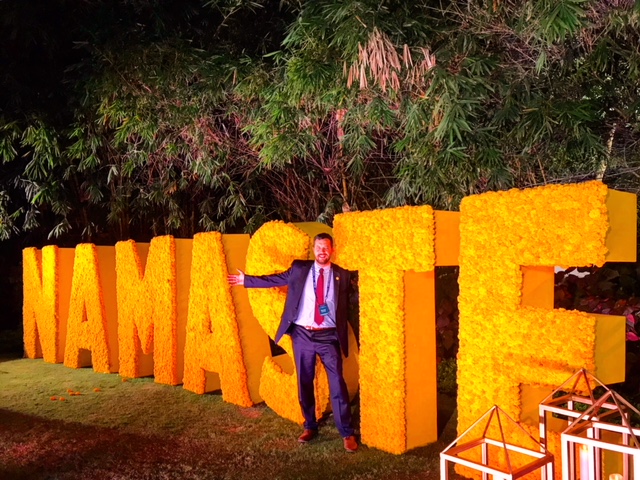 Last week, I joined more than 1,500 entrepreneurs from 150 countries for the 2017 Global Entrepreneurship Summit (GES) in Hyderabad, India. GES was started in 2010 by then-President Barack Obama to foster innovation in the US and abroad. This was its eighth year, following successful summits in places like Stanford University, Nairobi, Dubai, and Morocco.
It was an honor to represent my company, my city, and my country among the best and brightest entrepreneurial minds in the world. Prime Minister of India and startup champion Narenda Modi was the perfect keynote to welcome the world's top innovators. Here are my top six takeaways from the whirlwind week.
Empowering female entrepreneurs matters
"Women first, prosperity for all" was the overall theme of GES 2017. For the first time in the event's history, women represented a majority (53 percent) of all the attendees. All-female delegations represented nearly a dozen countries, including Afghanistan, Saudi Arabia, and Israel. This was a powerful statement of support for female entrepreneurs.
One remarkable female entrepreneur I met was Sajal Pradhan of Kathmandu. She is a co-founder of Best Paani, which builds rainwater harvesting, groundwater recharge, and water filtration system to provide safe drinking water. In just more than two years, the company provided sustainable water systems for 300,000 earthquake victims across 20 districts in Nepal.
Sustainable mobility is a global challenge
One of the highlights of my week was meeting Bhavish Aggarwal, the founder and CEO of Ola -- the "Uber of India." Ola was founded in 2010 as an online cab aggregator in Mumbai, and it has gone on to become the dominant ridehailing force in India after raising $3 billion dollars.
The opportunity here underscores a broader challenge. India trails only China in total population, with 1.2 billion people living in the country. On my first day in Hyderabad, it was easy to see that traffic, air pollution, and congestion are major problems. This concern is shared by nearly all major cities in the developing world.
Coincidentally, Prime Minister Modi took an inaugural 10-minute trip on the Hyderabad Metro the same day I arrived. This is a necessary step toward a more sustainable and ecofriendly future for a city of 7 million people. At TransitScreen, we are motivated every day to promote these sustainable mobility options and work toward a better quality of life for the people who live in a city.
Entrepreneurship unites friends and foes
The foundational notion behind any entrepreneurial endeavor is identifying a problem to solve. This idea transcends cultural, political, and ideological differences. GES was a case study in diplomacy, where members of historically warring nations sat side by side to solve the world's challenges together. Indian and Pakistani entrepreneurs have the goal in mind, and political affiliations fall by the wayside.
Nobody I met embodied this more than Rebeen Pasha. After seeing family and friends perish in the war, Rebeen fled Iraq as a young boy to settle in the US. He would later return home and founded Startup Middle East, an accelerator fund for startups in war-torn Iraq, Syria, and Yemen. Rebeen and I both attended Annandale High School, and at GES we reunited 15 years later as startup entrepreneurship delegates.
Entrepreneurship knows no age
Another fellow attendee I met Hamish Finlayson of Australia, has developed five apps and is working on his sixth. Hamish is no product manager at Google, Tencent, or Amazon. Hamish is just 14 years old.
While millennial founders seem to hog the headlines, age is of no consequence for entrepreneurs globally. If you have a great idea and can execute on it, it doesn't matter how old or young you are.
The world's entrepreneurs are catching up to the United States
India is full of innovative startups: Ola, Flipkart, and MakeMyTrip, just to name a few. European startups are leading the way on alternative energy: hydropower, wind, solar, biomass, and geothermal. Asia is pioneering cutting-edge transportation like Maglev and bullet trains. Israel, UAE, and Qatar are investing billions of dollars to develop leading technologies for smart cities, defense, and cyber security.
After spending a week surrounded by the most innovative minds from 150 nations, it became clear to me that the rest of the world is catching up to the US in innovation, STEM, and startup development. We need to step up our investment in STEM and welcome any innovators from other nations who want to bring their talents to our shores.
GES is a place to find inspiration
I was so inspired by the people I met and the stories I heard throughout the week. One such story was of Carl Dorvil of Dallas, Texas.
In 2004, Carl started a small tutoring company from his dorm room at Southern Methodist University in Texas: Group Excellence. The company started with a $20,000 grant from Texas Instrument Foundation. In 2011, Carl sold the company to a Dallas-based investor group -- then, two years later, he bought it back for 10 percent of the original sales price and turned it into a nonprofit.
Carl used the knowledge he gained from the tutoring business and started a professional services firm called Gex Management. Last year, he took Gex public and became the youngest African-American CEO of a publicly traded company.
Appreciation
I want to thank the U.S. State Department and the Government of India for the humbling opportunity to represent my country, my city, and my company last week at this incredible summit. It was an honor to share my story, but even more of an honor to hear the stories of hundreds of other entrepreneurs making a positive impact on the world. GES is a microcosm of what happens when bright minds meet to solve real world challenges together.
Ryan Croft is co-founder and COO at TransitScreen, a global information company based in Washington,
D.C.