Spotify now available as a Snap for Linux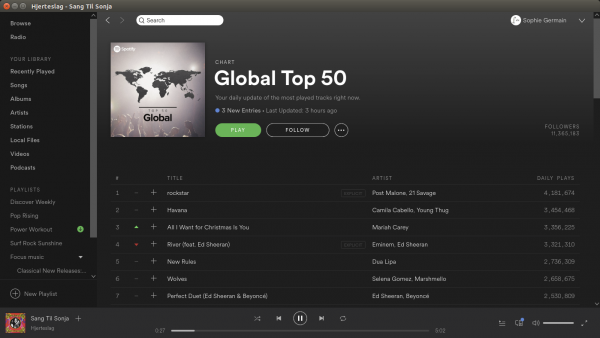 If you are a user of Linux on the desktop, you know it can be quite annoying when you can't use a popular app or service that is available on other platforms. While Windows and Mac certainly have more access to premium apps, Linux is no slouch. In fact, Linux is getting more and more love from developers nowadays. For example, Linux-based operating systems have official support for programs like Dropbox, Skype, and Spotify.
Speaking of Spotify, the most popular streaming music service in the world has long supported Linux-based operating systems. Installing the official app was not an easy affair, however. Today this changes, as installation gets much simpler. You see, Spotify is now officially available as a Snap for easy installation on Snap-supporting operating systems such as Ubuntu and Linux Mint.
Canonical, the creator of both Ubuntu and Snaps, explains, "Snaps are containerized software packages designed to work perfectly and securely in any Linux environment. As well as supporting all major Linux systems from a single build, snaps can be also updated or rolled back automatically to ensure that users are always benefiting from the latest version of the application. Since their launch last year, close to 2,500 snaps have been released by developers as they adopt the format for its reliability and security."
ALSO READ: Linux Mint 18.3 'Sylvia' is here -- replace Windows 10 with the Ubuntu-based operating system now!
Jamie Bennett, VP of Engineering, Devices & IoT, Canonical says, "In launching their own snap, Spotify has ensured that their users in the Linux ecosystem are now able to enjoy the latest version of their leading music streaming application as soon as it's released regardless of which distribution they are using. We're glad to welcome Spotify to the snaps ecosystem and look forward to unveiling more leading snaps in 2018."
If you are using a Snap-compatible Linux-based operating system, you can grab the Spotify Snap here. This should be the easiest such way to install the streaming music app, and it is a huge win for the Linux community overall.