Crypto market is crashing hard: over $230bn wiped off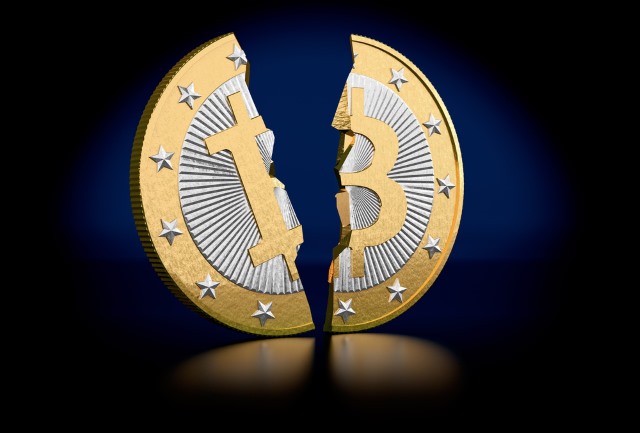 The cryptocurrency market has been on a tear this year, shattering record after record. Fueled by majors like Bitcoin, Ethereum, Ripple and Bitcoin Cash, it reached an incredible valuation on December 21: $654 billion. However, after the peak comes the fall, and here the crashes tend to be swift and massive.
Case in point: the cryptocurrency market is now down by more than $230 billion from yesterday's high. And, yes, you are reading that right. Its capitalization is currently hovering around the $422 billion mark. All the majors (top 10) are down by double digits in the past 24 hours, with Bitcoin suffering the smallest loss at 27.05 percent, as are nearly all the other coins in the top.
All the majors have posted massive gains in the past couple of months. The other day only two coins in the top 10 did not have a valuation above $10 billion. Today, the number of coins with a valuation below $10 billion stands at five. The list includes IOTA, Cardano, Dash, NEM and Bitcoin Gold.
The top five, as it stands now, has Bitcoin at the top with $199.16 billion, Ethereum in second place with $53.95 billion, Bitcoin Cash in third with $33.54 billion, Ripple in fourth with $28.89 billion, followed by Litecoin with $11.03 billion. Bitcoin's dominance of the market is now 47.1 percent.
Bitcoin dropped to $11,880 from a high of around $20,000 last week (these figures are based on an average from the top exchanges). Ethereum is down from a record of $881 a few days ago to $560, posting a $31 percent loss day over day.
Bitcoin Cash, which hit $4355 on December 20, is now trading for $1,990. It lost 42 percent in the last 24 hours. Ripple, following a long correction, picked up steam recently to hit $1.24 yesterday, only to drop to $0.76 today. It's down by 30 percent today.
Something interesting happened in the Litecoin scene. Founder Charlie Lee sold all his Litecoin on December 19, when the coin was trading well above $300. Now, Litecoin is going for just over $200. It's down by 33 percent day over day.
As I am looking at the top 100, only two coins are in the green, and only two have posted losses of less than 10 percent over yesterday. A whopping 30 coins, following a swift rally, have seen their value drop by over 40 percent. It's a pretty incredible sight, but that's to be expected these days.
What next? Nobody really knows, but some analysts saw this crash coming. How far will it go? Again, nobody really knows, as it's virtually impossible to predict how investors will react to today's move and when the sentiment will change. What is likely to happen? Based on what we have seen this year, the market may correct further until it stabilizes and it could get back on track after. However, that is not set in stone.
If you want to invest or pull out, do so responsibly and with a cool head. The biggest losses tend to occur when people panic sell, only for the price to bounce back after. Similarly, if you want to buy on the dip, be patient and wait for a good opportunity. Also, keep in mind that coins react differently in a crash.
The coins that have grown the most recently, and have not consolidated, are most likely to shed the most value in a crash. Conversely, those that have posted gains over a longer period of time, or have consolidated recently, stand a better chance at retaining value in this period. Do not take this as investment advice though. It's just what I have noticed following the cryptocurrency market in this second half of the year.
Photo credit: Lightboxx / Shutterstock