Patriot unveils blazing fast 1TB 'EVLVR' Thunderbolt 3 Portable SSD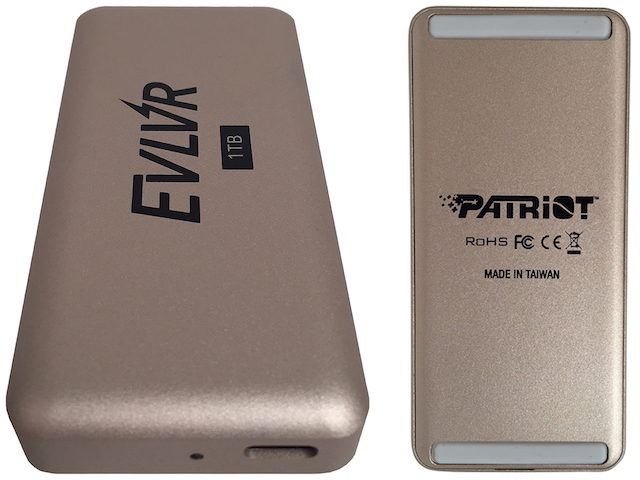 I love my MacBook Pro for many reasons, but one in particular is the Thunderbolt 3 ports. If you aren't familiar, Thunderbolt 3 is insanely fast at 40Gbps, but also, it is very versatile. It can transmit video and data, for instance, but also, it is compatible with USB-C devices too. By connecting a single Thunderbolt 3 cable to my Mac, I can simultaneously charge it and transform it into a desktop thanks to a docking station. Seriously, folks, TB3 is amazing.
The company Patriot is leveraging Thunderbolt 3 for data storage, and its new EVLVR (pronounced "evolver") Portable SSD is blazing fast as a result. Not only is it very speedy, but it is physically small too -- a big win for portability. Despite being diminutive, it has big capacity -- up to 1TB of storage. Wow!
"The EVLVR Thunderbolt 3 Portable SSD outpaces the speeds of traditional external SSDs by three-fold. With outstanding speed delivered by the Phison E8 PCIe controller and Thunderbolt 3 connectivity, the EVLVR can reach up to 1,500MB/s in sequential read and up to 1,000MB/s in sequential write speeds. On top of being extremely fast, the EVLVR is also power efficient and does not require any external power supply," says Patriot.
ALSO READ: Plextor launches M9Pe NVMe PCIe gaming SSD
What storage options will be available? 256GB ($200), 512GB ($290), and the previously mentioned 1TB ($490). Yeah, these drives are a bit pricey, but you are getting a lot for your money. The Evlvr is beautiful, fast, portable, and manufactured by a reputable company -- all the boxes are checked, y'all. All three capacities will be available starting March 2018.