Samsung unveils 860 PRO and EVO SATA SSDs with improved Linux compatibility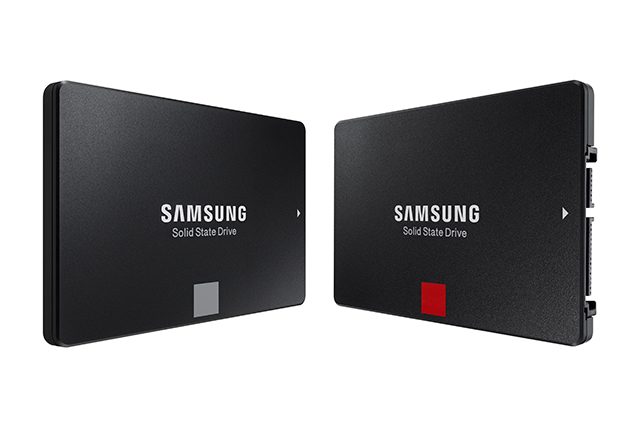 If you haven't yet upgraded your operating system drive from a mechanical hard disk to a solid state drive, you are really missing out. Prices have dropped dramatically over the years, while at the same time, reliability has improved. Swapping an HDD for an SSD can be very easy too, thanks to cloning software that often comes with the drive.
Before you buy some random SSD, please know that they are not all the same. True, SATA models largely have equal speeds these days, but the brand really matters from a reliability standpoint. If you want a dependable solid state drive for your data, you should take a look at Samsung. Its offerings are top notch, and today the  company launches its newest SATA models -- the 860 PRO and EVO.
"As file sizes continue to increase with high-resolution photos and 4K videos, the need for faster data transfers and sustainable high performance over a longer period of time has become paramount for users. To address this need, Samsung's 860 PRO and 860 EVO support up to 560 MB/s read and 530 MB/s write speeds and offer unmatched reliability with an upgraded five-year limited warranty, or up to 4,800 terabytes written (TBW) for the 860 PRO and up to 2,400 TBW for the 860 EVO. The new MJX controller also enables faster communication with the host system. The controller is powerful enough to handle workstation storage, while improving Linux operating system compatibility," says Samsung.
ALSO READ: Samsung begins GDDR6 mass production
Un-Soo Kim, senior vice president of Brand Product Marketing, Memory Business at Samsung Electronics says, "The new 860 PRO and 860 EVO SSDs combine the latest 512Gb and 256Gb 64-layer V-NAND, up to 4GB LPDDR4 mobile DRAM and a new MJX controller to elevate the user experience for both consumers and businesses. Samsung will continue to fuel meaningful innovations in the consumer SSD space and drive growth of the overall memory industry for years to come."
The 960 PRO pricing begins at $139.99 and is offered in these capacities: 256GB, 512GB, 1TB, 2TB and 4TB. The starting price for the EVO is a bit less at $94.99 and is offered in these capacities: 250GB, 500GB, 1TB, 2TB and 4TB. Both models will be available at popular retailers this month.
Key Specifications:
Category
860 PRO
860 EVO
Interface
SATA 6 Gbps
Form Factor
2.5-inch
2.5-inch, mSATA, M.2
Storage Memory
Samsung V-NAND 2bit MLC
Samsung V-NAND 3bit MLC
Controller
Samsung MJX Controller
Cache Memory

4GB LPDDR4 (4TB)
2GB LPDDR4 (2TB)
1GB LPDDR4 (1TB)
512MB LPDDR4 (256/512GB)

4GB LPDDR4 (4TB)
2GB LPDDR4 (2TB)
1GB LPDDR4 (1TB)
512MB LPDDR4 (250/500GB)

Capacity
4TB, 2TB, 1TB, 512GB, 256GB

[2.5-inch] 4TB, 2TB,1TB,500GB, 250GB
[M.2] 2TB, 1TB, 500GB, 250GB
[mSATA] 1TB, 500GB, 250GB

Seq.Read/Write Speed
Up to 560/530 MB/s
Up to 550/520 MB/s

Ran.Read/Write Speed
(QD32)

Max. 100K IOPS / 90K IOPS
Max. 98K IOPS / 90K IOPS
Device Sleep

2.5 mW for 1TB
(Up to 7 mW for 4TB)

2.6 mW for 1TB
(Up to 8 mW for 4TB)

Management SW
Magician Software for SSD management
Total Byte Written

4TB: 4,800TB
2TB: 2,400TB
1TB: 1,200TB
512GB: 600TB
256GB: 300TB

4TB: 2,400TB
2TB: 1,200TB
1TB: 600TB
500GB: 300TB
250GB: 150TB

Warranty

5 years or up to 4,800 TBW10

5 years or up to 2,400 TBW
10 Terabytes Written