Microsoft releases Windows 10 Redstone 4 Build 17083 with Timeline improvements and privacy enhancements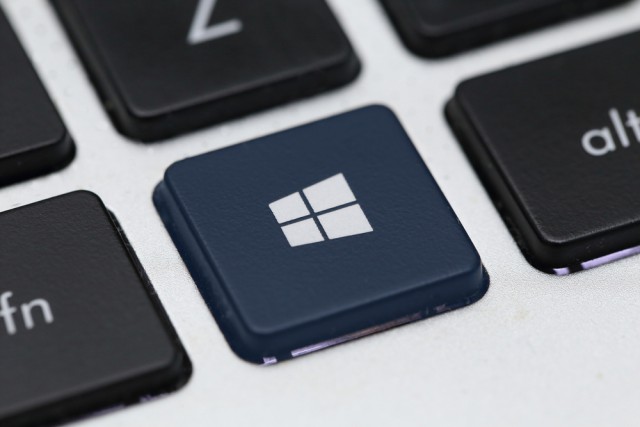 Windows Insiders have got used to Fast ring releases arriving at a slower pace lately, but it looks as if Microsoft might be stepping on the gas once more, as Build 17083 arrives a mere fortnight after 17074.
The latest build comes with lots of new features and improvements, including the additional privacy options announced earlier.
Among the big new changes in this build are improvements to the Timeline feature rolled out in Build 17063, a month ago.
You can now delete all activities from a given hour or day directly from the context menu, and a new settings option lets you sync your activities to the cloud for what Microsoft describes as "a seamless cross-device experience". The Timeline will only show four days of activities until this option is enabled.

Elsewhere, due to an expanding feature set, Microsoft has renamed Quiet Hours to Focus Assist, proving once again, that it is rubbish at coming up with names for features and products.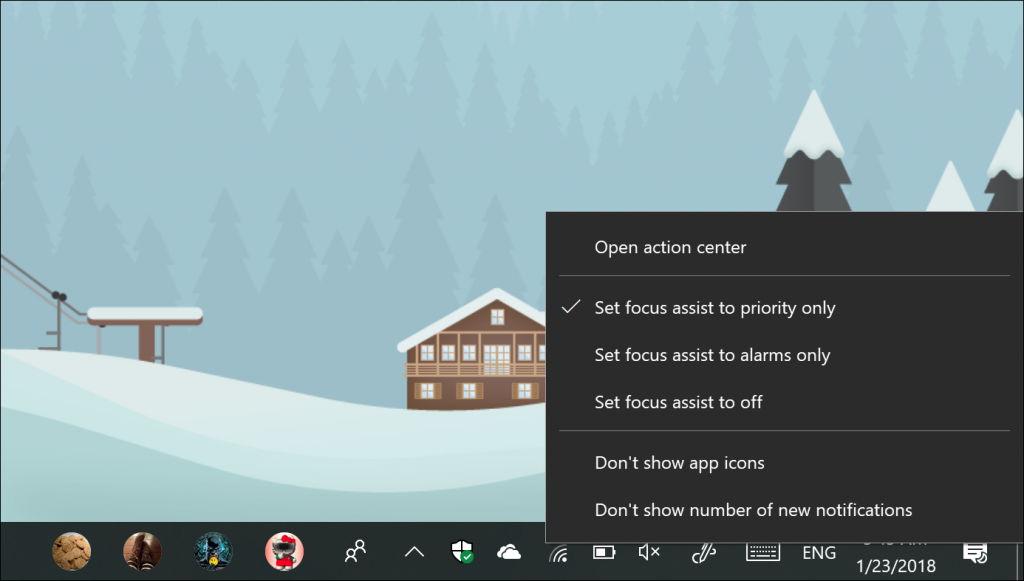 Windows Hello has been made easier to set up in this new build -- not that it was very difficult to begin with -- and there are new options for sorting startup apps, and finding out UWP app version numbers. You can now also control which UWP apps have access to your pictures, videos, or documents folders.
Font management has been improved, with a new Fonts page within Settings. You can see a short preview of each font family, and clicking a preview will take you to its details page. Fonts are now available as a new content type in the Microsoft Store, making it easier to install new font packages.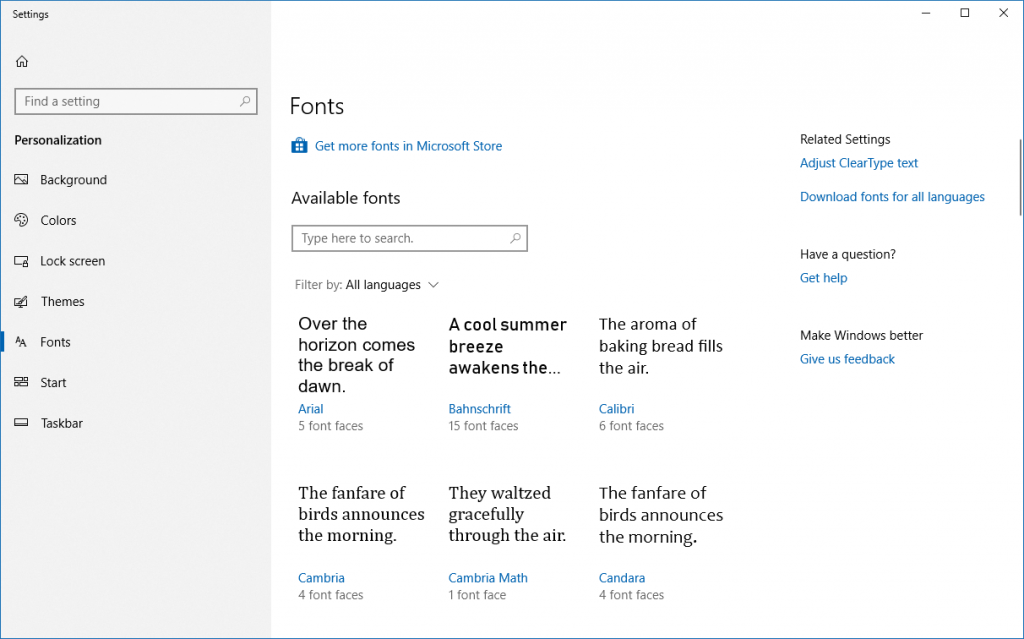 This latest build gains some privacy features which you can read about here. You can view these new features under Settings > Privacy > Diagnostics & feedback.
Ease of Access improvements include a new setting to turn automatically hiding scrollbars on or off, and the ability to enable or disable the color filters hotkey. Other improves include:
Added Narrator landmarks throughout Settings to quickly move between search, navigation list, and main landmarks. And for Narrator users, the page heading (shown visually at the top of each page) will no longer read out as being at the bottom of each page.
In Settings > Ease of Access, the name of the "Cursor, pointer and touch feedback" page has been shortened to "Cursor & pointer size."
Positions of Color Filters & High Contrast have been swapped in the Settings > Ease of Access navigation list.
In Settings > Ease of Access > High Contrast, the default theme is now "High Contrast Black."
Added links to Settings > Ease of Access > Narrator Settings for learning how to use Narrator and for adding more voices. Also the cursor movement mode combo box in the "Use Narrator cursor" sub-section has been removed.
Updated the Settings > Ease of Access > Speech page to present information & settings about Dictation, Cortana, as well as Windows Speech Recognition.
Fixed an issue where Settings > Ease of Access > Eye control was a blank page.
Updated the Ease of Access search terms & results to better align with the available settings. Duplicate search results have been removed.
Throughout Settings > Ease of Access you'll find new "Related settings" links.
General changes, improvements, and fixes for PC include:
Starting with this build, Microsoft is taking Sets offline, but the feature will return soon in a post-RS4 flight.
Fixed an issue for those using Start menu with the all apps list hidden, where Start would crash if you clicked on one of the all apps list headers, changed the width of Start's tile grid, then went back to the all apps list.
Fixed an issue where clicking on a toast notification might take multiple tries since a single pixel drag initiated a swipe and resulting in the click being ignored.
Fixed a high hitting reliability issue from recent flights resulting in explorer.exe potentially crashing if you dragged a Microsoft Edge tab from its window then put it back.
Fixed an issue where the lock screen background would be lost after restart if "Show lock screen background picture on the sign-in screen" was turned off.
Fixed an issue where the login screen over remote desktop would be blank instead of showing a password prompt in recent builds after waking the host from sleep.
Fixed an issue resulting in Start not having the Reveal effect in recent flights.
Fixed an issue where the all apps list in Start would become offset if you exited tablet mode while the all apps list was zoomed out to show only the headers.
Fixed an issue resulting in the Uninstall, Share, and Rate & Review verbs not working from a UWP app's context menu in Start in the previous flight.
Fixed an issue resulting in the Store title bar overlapping the rest of the Store app when in tablet mode in the last two flights.
With the recent redesign of Cortana's Notebook, Microsoft is shifting to use that as the primary entrance for Cortana's lists, and removing the entry point for lists from Cortana's navigation pane.
Updated Windows Defender's systray context menu to now use the modern style.
Fixed an issue resulting in rendering artifacts in the Clock and Calendar flyout when transparency was enabled.
Fixed an issue that could result in Windows getting stuck on the rebooting screen for a long time.
Fixed an issue where Settings would crash if you tried to change the state of the microphone or camera permissions in Privacy Settings.
Fixed an issue where Settings would crash if you opened the notification settings for an app that had a notification waiting in the Action Center.
Fixed an issue where Lock Screen Settings would crash if the "Force a specific default lock screen and logon image" group policy was set.
Fixed an issue from recent flights where Settings might crash when navigating to "Email and App accounts."
Fixed an issue where Shared Experiences Settings took a really long time to load (30+ seconds).
Fixed an issue resulting in microphone and camera settings in Privacy settings flipped to deny all device access after upgrading to recent builds.
Fixed an issue where Windows Update Settings might show a red exclamation mark, but no text explaining why there was an alert.
Fixed an issue where the width of the list of updates in Windows Update Settings would fluctuate as you scrolled it.
Made some tweaks to the Video Playback Settings page.
Taken the decision to remove the recently added Keyboard Settings page under Settings > Time & Language and will consider returning it in a future release. If you'd like to add another keyboard to your language, you can do this as before from the Region & Language Settings page by selecting the language you wish to add to. Advanced keyboard settings (including overriding your default keyboard and emoji panel settings) are still available -- the link to this page has been moved to Settings > Devices > Typing.
Update and Shutdown is now available again as an option if you click the power button in Start when there's an update pending.
Fixed an upgrade issue resulting in a "Path Not found" error on "Staging apps on CreateMetadataDirectory" in the upgrade logs of you'd installed an app from the Store before upgrading and had moved it to a secondary drive (an option in Apps & Features Settings). If you were impacted by this issue upgrade would still succeed, however the app wouldn't work after upgrading.
Fixed an issue where the back button in Windows Defender Security Center would be invisible if you opened WDSC through a link in Settings.
Fixed an issue resulting in the GraphicsPerfSvc service sometimes using an unexpectedly high amount of CPU in recent flights.
Fixed an issue from the last two builds resulting in apps that came preinstalled with Windows potentially failing to update in the Store with error 0x80073CF9.
Fixed an issue resulting in the copy action in Photos only working the first time it's used.
Fixed an issue where the embedded handwriting panel and the handwriting panel might show at the same time.
Fixed an issue resulting in the handwriting panel unexpectedly appearing recently when tapping or panning certain win32 text areas.
Fixed an issue where the numeric keypad of the touch keyboard didn't work in certain password fields found on the web.
Fixed an issue where using a child key on the Greek or Czech touch keyboard layouts to input accented keys wouldn't work.
Fixed an issue where the Emoji Panel's Most Frequently Used section wasn't updating.
Fixed an issue where the Emoji Panel would close after a single emoji was entered in certain apps even if the option to enter multiple emoji at once was selected.
Fixed an issue resulting in two finger scrolling using touch or mouse not working Word 2016 in the last two flights.
Fixed an issue where running Magnifier with bitmap smoothing enabled and then closing Magnifier could result in text now appearing blurry, or the PC suddenly becoming slow/laggy.
Fixed an issue from the previous flight where the Windows Defender icon might be missing from the systray, even if it showed as enabled in Settings. Also fixed an issue from the last two flights where the icon unexpectedly showed a warning even though no warning was visible once you opened the app.
Fixed an issue where when opening Task View immediately after an upgrade you might need to wait 15-30 minutes before Timeline was visible.
Fixed two issues impacting Timeline reliability.
Fixed an issue resulting in Microsoft Edge not creating Timeline activities if used immediately after login.
Fixed an issue where PDFs opened in Microsoft Edge on the previous flight would appear off to the right instead of centered.
Fixed a high impact issue resulting in Microsoft Edge launch failures in the last two flights.
Fixed an issue resulting in the Microsoft Edge title bar sometimes being the wrong color.
Fixed an issue resulting in certain devices hitting a bug check (GSOD) with error System Service Exception on the last two builds.
Fixed an issue with Linux containers on Windows using Docker Community Edition for Windows (edge) on many machines. The docker pull or docker run commands will fail with an error "Not enough memory resources are available to complete this operation."
Known issues include:
If you have a VPN client installed via the Microsoft Store, it won't work after upgrading to this build. If you require your VPN client to work -- you might consider holding off taking this new build.
If you install a font product from the Microsoft Store, then later install a new build (feature update), the Store package will remain installed, but the fonts within the package are not installed. Until this is fixed, the temporary workaround is to uninstall the product from the Apps page in Settings, then re-acquire the product from the Store.
When users try to create a Microsoft Edge InPrivate window from inside a Mixed Reality headset, a regular window will get created instead. Users won't be able to use InPrivate inside Mixed Reality in this build. InPrivate on desktop is not affected.
Preparing for the inclusion of OpenSSH Server as a deployment mechanism in Developer Mode. However, the UI code got checked in ahead of the components, and so while there is a "Use OpenSSH (Beta) for remote deployment" switch in the UI under Settings, it won't work, and turning it on will break remote deployment to that device until the switch is turned off.
Audio playback from Microsoft Edge is sometimes unexpectedly muted. A workaround is to minimize Edge, count to three, and then unminimize.
Microsoft is investigating reports that Win32 apps pinned to Start have blank live tiles that show only a name starting with "W~".
Investigating an issue where using Task View to switch to an app might result in touch not working properly in that app. If you encounter this, restarting explorer.exe will fix it.
The link for "Advanced display settings" is missing in Display Settings. If you need to access this dialog for now you'll need to open Run and run "rundll32 display.dll,ShowAdapterSettings 0."
Photo credit: charnsitr / Shutterstock