Apricorn Aegis Bio 3.0: A simple, but super-secure biometric drive [Review]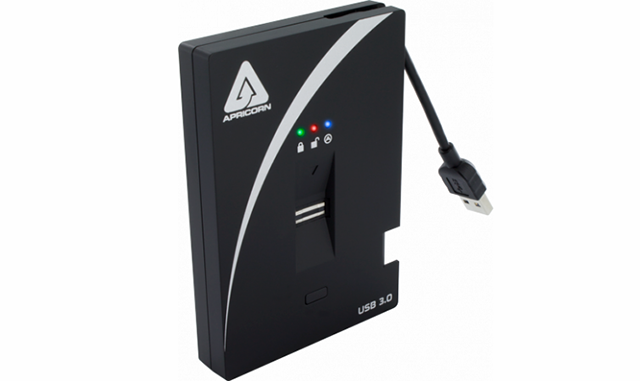 If you want to keep your personal data safe and secure, then a hardware encrypted drive is your best bet. Secure drives, like the Apricorn Aegis Secure Key 3z, require you to enter a PIN into the integrated keypad to unlock the drive. These also come with a variety of security measures to make sure they can't be brute forced.
If you prefer a different way of securing your data -- one that doesn't require remembering a long PIN -- then you might prefer a biometric solution like the Aegis Bio 3.0. This a USB drive with a built-in finger reader. Unlocking the drive, and therefore your data, just involves swiping your finger down the AuthenTec TouchStrip sensor.
SEE ALSO: Apricorn Aegis Secure Key 3z: A super-secure USB flash drive [Review]
Getting started is a matter of connecting the bus-powered drive to a USB port and then swiping your first choice of finger down the sensor, waiting, and repeating the process until the flashing green and blue LEDs glow steadily to indicate successful enrollment (this usually takes around six swipes). You can then enroll additional fingers by pressing the Enroll button (the only button on the device) within 15 seconds, and repeating the process.
Apricorn recommends you enroll three fingers, but the drive can store up to five. You can share access to the Aegis Bio with friends, family members or colleagues by enrolling one or more fingers each, but it's important to note that you can't un-enroll individual fingerprints. If you want to lock someone out, the only option is to reset the drive and start again (doing so will, naturally enough, wipe the drive's contents, but you can back it up before proceeding).
Once you've enrolled your fingerprints, all you need to do is connect the drive, swipe a registered finger over the sensor, and it should unlock and be ready for you to use pretty much immediately.
You can lock the drive at any time by disconnecting it, or pressing the Enroll button.
The Bio 3.0 comes with an integrated USB cable that can be tucked away neatly, and the drive's size makes it perfect for slipping into a pocket. Data on the drive is secured seamlessly in real time using 256-bit AES-XTS encryption.
On test, setting things up doesn't take very long at all, and the Bio registered all five fingerprints on the first attempt without issue. The drive unlocks immediately following a finger swipe, and couldn't be fooled, despite my best efforts.
If you're looking for a secure, but super easy way to safeguard your personal data then Aegis Bio 3.0 is the perfect solution.
The drive is available in a choice of capacities. There are HDD models in 500GB ($159/£144 inc. VAT), 1TB ($199/£180 inc. VAT), and 2TB ($269/£240 inc. VAT) sizes, and SSD models in 128GB ($159), 256GB ($239), and 512GB ($399) sizes. I reviewed the 1TB HHD version.
You can buy the Aegis Bio 3.0 direct from Apricorn.
Specs are as follows:
Data Transfer Rate
USB 3.0 -- up to 160 MB/sec Read | 145 MB/sec Write | *To achieve these data transfer speeds, your computer's internal drive must be solid state. In the case of your computer having a hard drive, the speed will be limited by your internal HDD
Power Supply
100 percent Bus Powered
Buffersize
8MB
Interface
Super Speed USB 3.0 (Backwards compatible with USB 2.0 and 1.1)
Average seek time
0.1 ms Access time
Shock - operating
1500G/0.5ms | Virtually shock and vibration resistant
Dimensions
19mm X 84.5mm X 120mm (0.75" X 3.3" X 4.7") Weight: 6.2oz.
Warranty
3 year limited
Approvals
FC CE
ECCN   /  HTS  /  Cage Code
5A992.c  /  8473.50.3000  /  3VYK8
System Requirements
Compatible with all Operating Systems, including Windows, Mac and Linux
Requires USB port (for maximum speeds must be used with a USB 3.0 port) -- Backwards compatible with USB 2.0 and 1.1One gigabyte (GB) = one billion bytes; accessible capacity will be less and actual capacity depends on the operating environment and formatting.
Comments
Drive Type: Solid State Drive
Encryption: 256-bit AES Hardware Encryption
Operating Temperature Range: 5°F to 130°F (-15°C to 55°C)
Operating Humidity Range: 95% humidity at temperatures under 131°F (55°C)
Vibration: 20G/20-2000Hz