Do you still partition your drive? Paragon Partition Manager 16 Free makes partitioning a breeze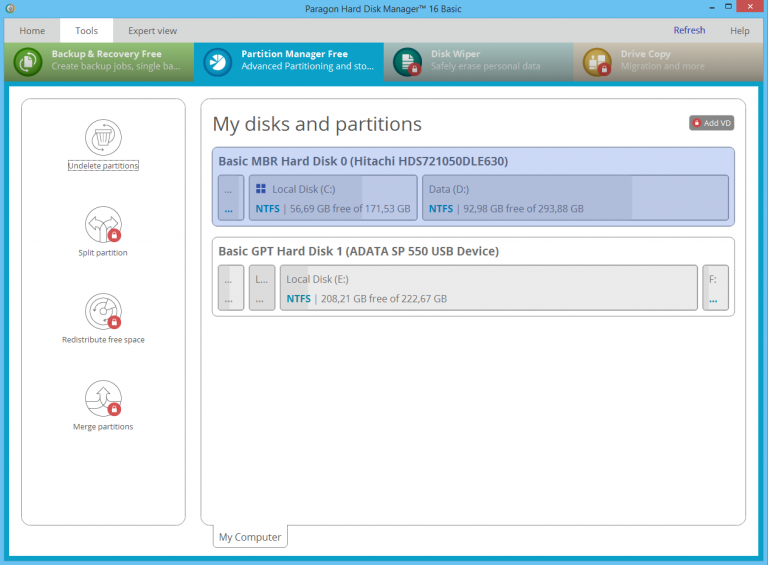 It's a valid question. In 2018, how many people buy a brand new drive and then partition it, splitting the drive into smaller chunks?
There's a reason why this is beneficial. You could store your photos on a single partition and then simply backup the entire partition. Assigning a drive letter to each partition can improve productivity. If you know all your work is on your "V:" drive, then it simply makes it easier to locate the drive and find your files.
Buying a brand new drive is an excellent way of improving your computer. An SSD, with no moving parts, will give your computer a huge speed boost. However, install the drive and it is configured as one huge partition. How do you then alter the partition structure so it suits your requirements?
Step up Paragon Partition Manager 16 Free. The latest version of this fully Windows 10 compatible technology includes everything you need to get your drive partitioned or, better still, alter the partitions on an existing drive. You can merge partitions, remove, try an undelete a partition and more. A simple user interface with sliders makes it really easy to alter the size of a partition, plus there's full support for GPT/UEFI and even includes tools for converting drives between HFS and NTFS.
Paragon Partition Manager 16 Free isn't what we'd define as a necessary tool -- Windows includes basic partitioning within the operating system. However, its ease-of-use make it a more usable experience. It's worth adding that Partition Manager 16 Free is actually one component of the fantastic Hard Disk Manager 16, where, if you do not choose to purchase the full version, you'll be limited to the partitioning component.
Download Paragon Partition Manager 16 Free for 32-bit or 64-bit computers.