Opera 51 unveils better Windows performance, host of functional tweaks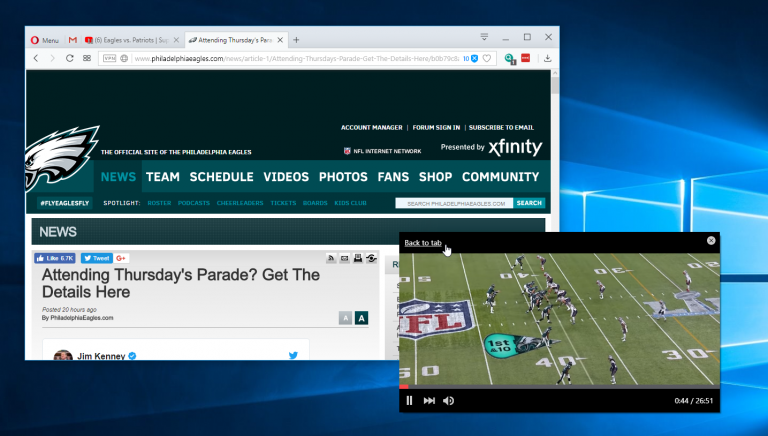 Just one month after its previous update, Opera Software has unveiled Opera 51.0, the latest version of its Chromium-based browser for Windows, Mac and Linux.
There's no let up in new features and improvements in Opera 51. Chief among these is the promise of faster browsing on Windows, with Opera claiming it's 38 percent faster than Firefox 58. This is down to the fact the program code is now compiled using Clang.
Elsewhere, Opera unveils several functional improvements. Users can now quickly jump between two points on a web page simply by clicking the tab: once to go to the top of the page, and again to jump back to the previous place.
The bookmarks manager gains a shortcut for importing bookmarks from other browsers to accompany the existing export option -- this feature was previously only accessible via the Opera menu.
The open and closed tabs list under the tabs menu (found next to the minimize, maximize and close buttons) are now collapsible, making them more manageable for those who frequently have many tabs in play.
An overdue feature is that Opera will now permanently keep hold of pinned tabs regardless of which restart option has been selected.
Video pop-outs also gain a new 'Back to Tab' option to return to the tab playing the video -- this appears when hovering the mouse over the pop-out's title bar. The pop-out remains playing the video.
Mac users will find a redesigned private mode style, which now matches that of the Windows version. There's also a new animation to indicate the user has entered private mode, which can be disabled via the 'Do not show again' checkbox at the bottom of the page.
A new setting allows users to permit all websites to run Adobe Flash -- look under Settings (Preferences on macOS) > Websites > Flash. Users can now also reset all Opera settings with a single click under Settings > Browser -- note that bookmarks, history and saved passwords aren't affected by this option.
Opera 51.0 is available now as a freeware download for Windows, Mac and 64-bit Linux users. Existing users can update from within Opera itself -- simply open the Opera menu and choose About Opera to do so.