SanDisk 400GB Extreme UHS-I microSDXC card is world's fastest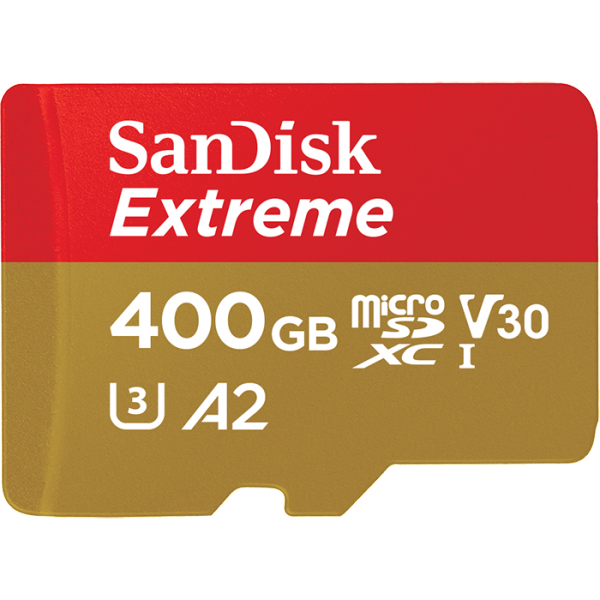 Back in the day, external storage capacity was quite minuscule compared to what is on the market now. Believe it or not, there was once a time where a 1.44 MB floppy was seen as huge. Zip disks eventually brought 100MB, while optical media delivered even more. USB flash drives and memory cards started out low on capacity, but these days, they offer hundreds of gigabytes in tiny form factors. Modern flash media doesn't just offer a ton of capacity, but super speed too.
Today, SanDisk -- a Western Digital company -- announces the 400GB Extreme UHS-I microSDXC card. What really makes this card special, however, is not its capacity, but its speed. The company claims it is the world's fastest UHS-I card. How fast is it? It offers 160MB/s read speed. Write performance is less impressive at "just" 90MB/s.
"At 160MB/s, the new card is more than 50 percent faster than current SanDisk Extreme UHS-I microSD cards. The card is able to reach this unprecedented speed by leveraging Western Digital proprietary technology. The card will also feature the A2 specification to help launch and load apps at blazing speeds," says SanDisk.
Jim Welsh, senior vice president and general manager, Client Solutions, Western Digital explains, "Our expertise in flash memory and microSD card electronics enables us to achieve unmatched performance. The breakthrough SanDisk microSD card is evidence of Western Digital's commitment to delivering more advanced solutions that enable data to thrive."
How much does this card cost? It is quite pricey at $299. Heck, at least it comes bundled with a full-sized SD card adapter. While that is a lot of money, SanDisk Extreme cards are the gold standard -- I personally don't trust any other microSD or SD card brands with my photos. After all, if you care about your data or photos, reliability is key, and that is where SanDisk always delivers.