AZIO Retro Classic: an incredible steampunk-inspired mechanical keyboard [Review]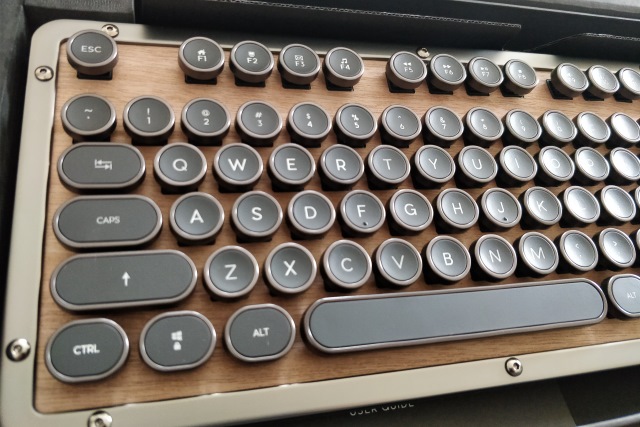 If it's not immediately obvious from a quick glance, AZIO explains that its striking Retro Classic keyboard is inspired by the look of a vintage typewriter. It's not just the look that's inspired in this way -- as it's a mechanical keyboard, there's a distinct typewriter sound to things.
There is just so much to like about this keyboard. Regardless of whether you are a fan of steampunk, the look is undeniably eye-catching. The build quality is quite phenomenal -- well... you'd hope so at these prices. The key action is gorgeous, and the clickity-clack perfectly suits the typewriter-style keys. So... let's take a closer look.
The model we're looking at here is the Bluetooth variant, specifically the ELWOOD model which features a walnut backing and a gunmetal matte frame. Charging is achieved using the supplied USB-C cable, and even this gold-plated, fabric wrapped cable has a delightful air of quality to it. Speaking of charging, the battery is a hefty 6,000 mAh affair which AZIO says will last anything from one or two months with backlighting enabled, or up to a year if you opt to go without this luxury.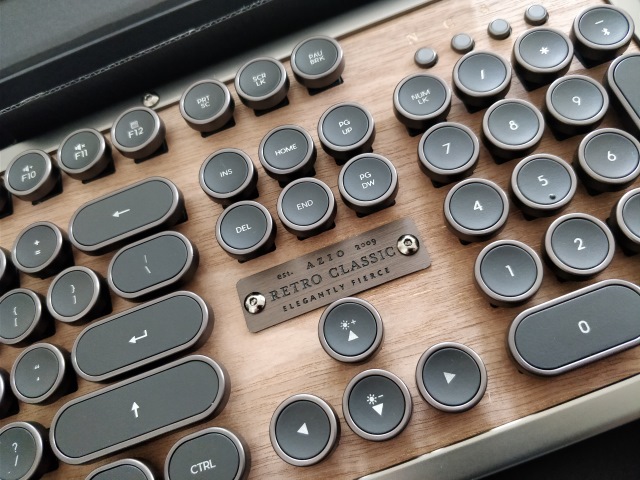 This is a full-sized keyboard complete with number pad, and it measures 455 x 147 x 40 mm. The metal chassis, keys and mechanisms are beautifully crafted and the unit is a very solid piece of hardware. It's not something you're likely to be moving from place to place all that often, but if you ever do, you'll certainly know about it -- it weighs in at a hefty 1.587 kg.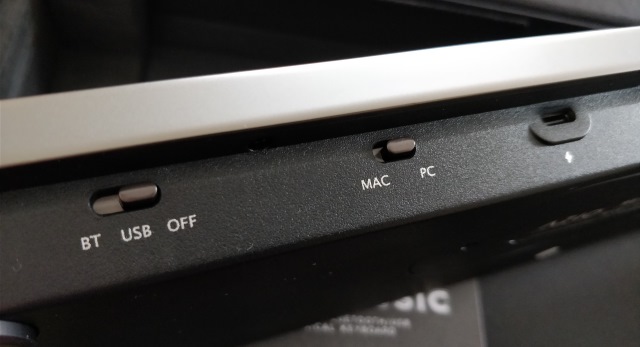 The AZIO Retro Classic is compatible with both macOS and Windows, and a simple toggle on the rear of the keyboard allows you to quickly switch between modes. The keyboard comes configured for use with Windows by default, but there are extra Mac-specific keys supplied which you can swap out if you need to.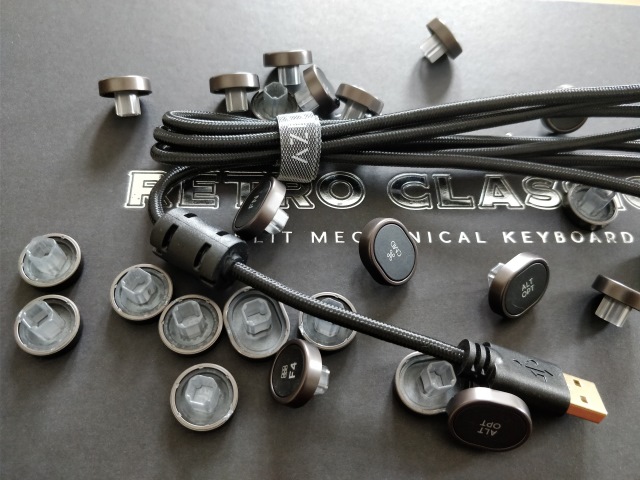 Above the number pad there are notification LEDs that show when Caps Lock and other settings are enabled -- Scroll Lock doubles up as a battery charge indicator. To the right of the number pad are the cursor keys, and the up and down keys can be used in conjunction with the function key to adjust the brightness of key backlighting; there are three levels to choose from.
The typing angle can be tweaked to your liking thanks to adjustable rear legs on the keyboard. Give the outer cuffs a twist, and the telescopic legs will extend to lift the back of the unit.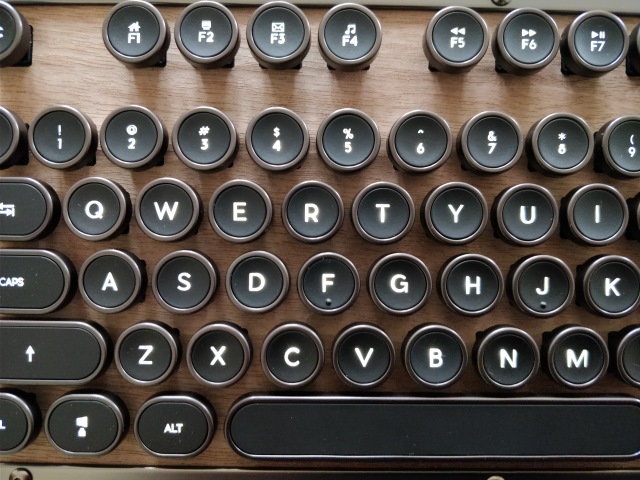 The rounded finish of the keys makes them an utter delight to type on -- even for someone more used to laptop keyboards. If you're interested in the specifics of the mechanics, AZIO explains that the keyboard's switch type is "AZIO Typelit Mechanical Switch (by Kailh)" complete with "Tactile & Clicky Feedback".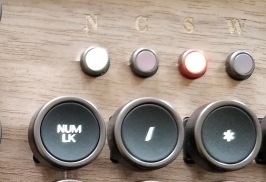 If the particular look of the model reviewed here isn't exactly to your taste, there are four different designs to choose from:
ONYX -- black leather with black chromed frame
POSH -- white leather with copper matte frame
ARTISAN -- black leather with copper matte frame
ELWOOD -- walnut wood with gunmetal matte frame
The Bluetooth version of the AZIO Retro Classic costs $219.99, while the USB version costs $189.99. Find out more over on the AZIO website.