BleachBit 2.0 adds drag-and-drop file shredding to open-source disk cleaning tool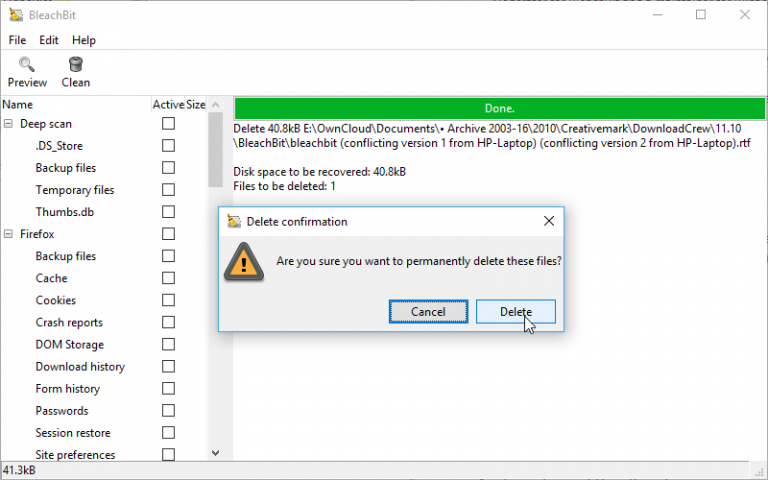 Open-source cleaning tool BleachBit 2.0 has been released for Windows and Linux, along with BleachBit 2.0 Portable for Windows.
The update -- the first in over two years -- introduces support for dragging and dropping files on to the program window in order to shred them using BleachBit's disk-wiping tools.
In our tests, the feature only worked after we'd first deleted a file using the 'Shred with BleachBit' option that appears when you right-click a file or folder. When this had worked once, we could then drag and drop other files into the window to delete them. This seems to suggest it only works in the installed version of the program, not the portable build.
Both Linux and Windows builds also fix issues preserving thumbnails in Google Chrome and Chromium while adding the ability to clean users' site-engagement history in the browser.
Secure delete has been added for SQLite, and HTTPS encryption is now used for the automatic software update to coincide with the bleachbit.org web site now requiring HTTPS encryption for access.
Linux users gain -- among other things -- a journald cleaner as well as software categories in the Bleachbit desktop version. The Bluetooth daemon has also been whitelisted. Packages for Debian 16.10 and 17.04, Fedora 25 and 26 and OpenSUSE Leap 42.x have also been added.
The Windows build improves the accuracy of wiping specific files through the use of dedicated Windows APIs. Unicode filename handling has also been improved.
Elsewhere, Windows Explorer now restarts with normal privileges during thumbnail cleaning and the Recycle bin is no longer erroneously emptied when in preview mode.
Windows fixes include one for deleting locked files, while the program has improved management of false positives from antivirus software.
A Mac version has been in development for some time -- it's still not ready for prime time, but version 2 of BleachBit for OS X improves support for basic functions. Note, however, that it only works from the command line and no installer is provided.
BleachBit 2.0 is available now as a free download for Linux and Windows XP or later. Windows users can also download BleachBit 2.0 Portable.