LaCie launches Rugged Raid Pro external drive with 4TB of storage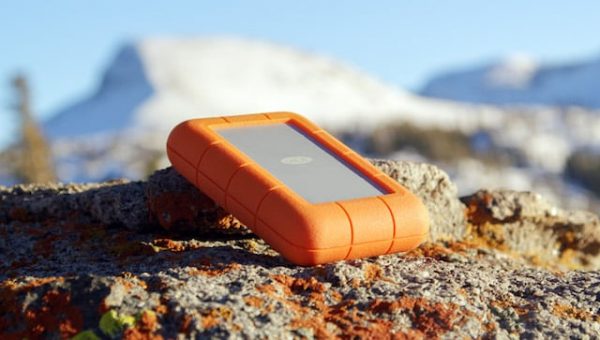 The new Rugged Raid Pro is a highly versatile portable storage device. Just unveiled by LaCie, it is designed to withstand the rough conditions of working in the field, featuring a durable shell and the option for automatic backups, but it can also be quite fast when the user wants to speed up data transfers.
How has LaCie managed it? Well, the Rugged Raid Pro, as its name suggests, can be set up in a Raid 1 or Raid 0 configuration, with the former duplicating data on a second internal drive and the latter boosting speeds at up to 240MB/s. The total capacity of the Rugged Raid Pro is 4TB, most likely achieved in a non-Raid 1 setup.
Even more interesting is the fact that the Rugged Raid Pro carries a three-year warranty and data recovery service, which should give users some peace of mind. What's more, it also comes with a one month subscription to Adobe All-Apps Plan, which offers access to Photoshop CC, Illustrator CC and other popular programs from the software giant.
And, if that is not enough to to convince you of its prowess, there's yet another cool feature included: an SD card reader. That's something that photographers especially will want to have on an external device, as it means they can transfer their photos and videos directly to the Rugged Raid Pro without hooking up the SD card to their laptop.
The Rugged Raid Pro features a USB Type-C port that is Thunderbolt 3-compatible and USB 3.0 backwards-compatible. That should ensure speedy transfers and make it future-proof as well, considering just how much traction USB Type-C is gaining. It comes with a Thunderbolt 3 cable included in the box, which is a nice touch. Just like the Rugged Raid Pro, it's orange (what did you expect?).
The Rugged Raid Pro is not meant to be understated because it is not designed to be used in that kind of an environment. The orange color means it's less likely to be lost. It also makes it easier to find in a big bag. I'm a big fan of how it looks, though I'm well aware not everyone might agree.
Something else worth mentioning is that LaCie notes on its website that the Rugged Raid Pro can be had in an HDD or SSD configuration, though it's only announced pricing for the former. It costs $349 and it's estimated to ship this quarter.