SEGA announces the Mega Drive Mini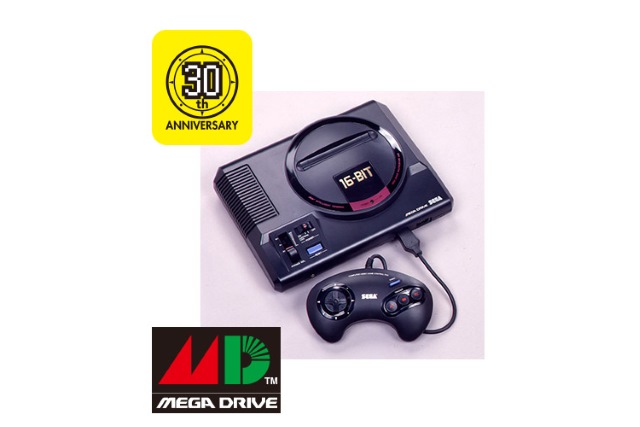 Nintendo enjoyed great success when it nostalgically released the NES Classic and SNES Classic mini consoles. Happy to ride the retro game revival wave, SEGA is following suit and releasing its own mini console -- the Mega Drive Mini.
The original console was launched in the late 80s; it was known as the SEGA Genesis in North America, but in its home country of Japan and the rest of the world it was the Mega Drive. SEGA announced the Mega Drive Mini at an event in Japan, and while details are currently a little thin on the ground, excitement is already building about this latest mini console -- but there will certainly be disappointment that there will be no Sonic 3.
See also:
This year marks the 30th anniversary of the launch of the original Mega Drive console, so it seems like as good a time as any for SEGA to pull on the heartstrings of nostalgia. At the moment, it would appear that full details of the mini console are yet to be pinned down, as SEGA is asking for suggestions about which games should be included.
Just like Nintendo's NES Classic and SNES Classic, the SEGA Mega Drive Mini will -- when the line-up is decided -- feature built-in games rather than relying on game cartridges. If you were hoping to be able to play Sonic 3, you're going to be out of luck. There are "license issues with the music" that mean this particular title cannot be included.
SEGA shared a couple of images of the mini console on its Twitter feed:
「メガドライブ」誕生30周年記念!
『メガドライブ ミニ』(仮称)2018年発売決定!

思い出の名作ゲームの数々が、これ1台で楽しめます!#セガフェス #メガドライブ #メガドライブ30周年https://t.co/HWj6NFL96y pic.twitter.com/0C9QH1l5Mr

— セガ公式アカウント (@SEGA_OFFICIAL) April 14, 2018
『メガドライブ ミニ』(仮称)

※画像はイメージです。#セガフェス #メガドライブ #メガドライブ30周年https://t.co/HWj6NFL96y pic.twitter.com/KG8a6DhG7L

— セガ公式アカウント (@SEGA_OFFICIAL) April 14, 2018
The console itself will be produced by AtGames, the company to which SEGA has licensed the Mega Drive name. in a post on its Facebook page, AtGames said that the Mega Drive Mini would be released in Japan first and then "the US and other territories later this year".