Android 8.1 Oreo officially rolls out for OnePlus 5T, OnePlus 5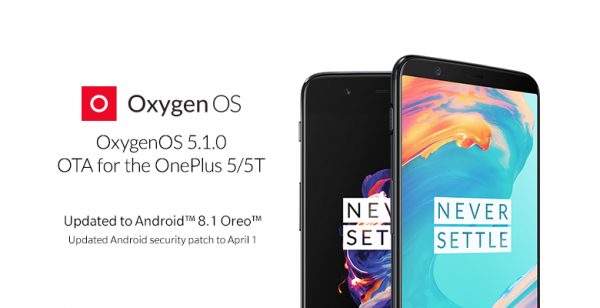 A little over a month after introducing Android 8.1 in the open beta channel, today OnePlus officially rolls out the latest Oreo version to OnePlus 5T and OnePlus 5 users across the globe. This makes it one of the few Android makers to have its latest flagships running up-to-date software.
The official build, OxygenOS 5.1.0, on top of upgrading Android, adds a couple of interesting new features and improves security, as it comes with the latest Android security patch (for April 2018). Of all the changes listed by OnePlus, only one is exclusive to the OnePlus 5T.
That's the full-screen gesture support, which allows users to hide the navigation bar completely and, instead, use different gestures to go to the main homescreen, open the recents menu and go back.
I've tried this briefly and found that it works well, as long as you're willing to adjust to the new way of doing things. Personally, I prefer having the on-screen buttons.
Other than that, OnePlus has focused on improving the gaming mode, adding power saving and adaptive brightness enhancements as well as a network boost mode, and the launcher, which gets category tags in the app drawer search and auto naming of folders based on category.
The update, as you would expect, is rolling out in stages. If you want to get it right away you can use the old VPN trick: change the server location to Canada and check for updates after. It should be visible right away on your OnePlus 5T or OnePlus 5.
Just be aware that the initial build could have some issues, so if you are using it as your daily driver (which, I believe, is the most-likely scenario) you should wait a couple of days to find out how the rest of the crowd is getting along with it.