Satechi launches USB Type-C Pro Hub with Ethernet for Apple MacBook Pro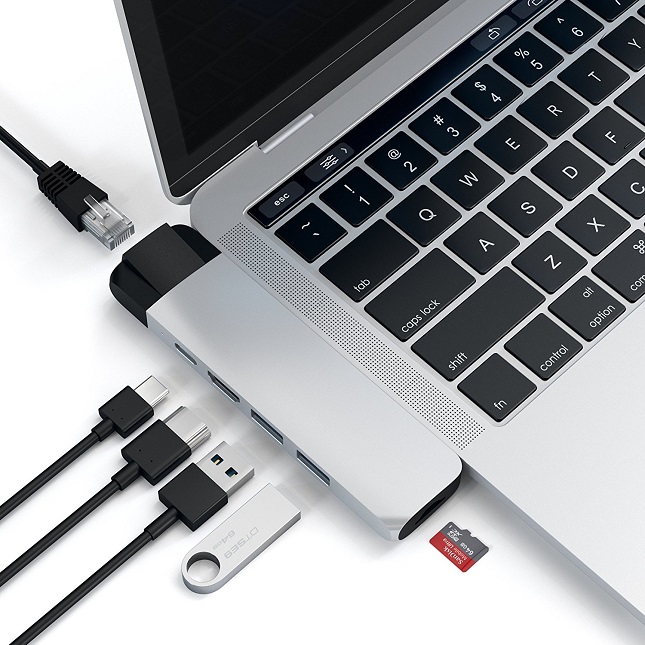 The MacBook Pro is proving to be quite disastrous for many folks, with a too-delicate keyboard being a common complaint. It seems that dust can get under the keys, causing them to malfunction -- a frustrating experience to say the least. Yours truly has been dealing with a defective display -- a costly and annoying failure.
One of the biggest complaints about the MacBook Pro, however, is a lack of ports. Apple went all-in on ThunderBolt 3/USB-C, leaving no traditional USB Type-A ports, video out, or card reader. Luckily, this is easily remedied by purchasing dongles and docks. Today, Satechi launches a new USB-C "Pro" Hub for the newest MacBook Pro laptops -- both 13 and 15-inch. Not only does it add two USB Type-A ports, but Ethernet, HDMI, and a micro SD card reader too. And yes, it offers pass-through power delivery.
"The efficient hub features a Gigabit Ethernet port, USB-C Power Delivery (up to 87W), two USB 3.0 ports and a micro SD card slot to fulfill all data transfer needs. With its brushed aluminum finish, the Type-C Pro Hub with Ethernet complements Apple accessories and completes the ideal home or mobile office set-up," says Satechi.
The company further says, "The hub's integrated Gigabit Ethernet port creates a fast, wired network connection, perfect for areas with poor Wi-Fi connectivity or transferring large files over a secure network. It supports 10/100/1000Mbps. Satechi's Aluminum Type-C Pro Hub with Ethernet allows users to enjoy crystal-clear 4K HDMI video on compatible 4K monitors for a brilliant high-resolution display."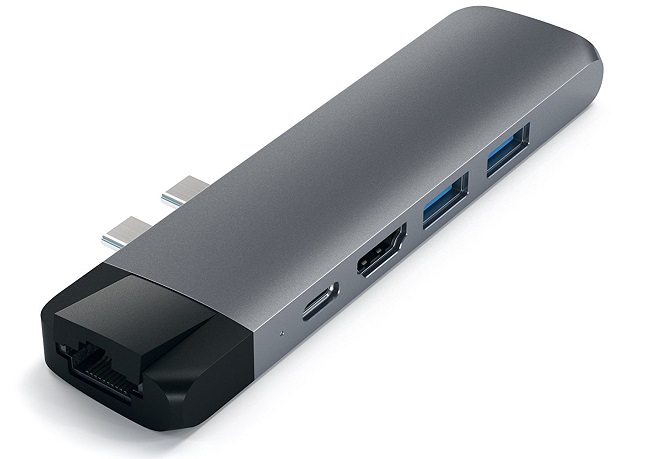 While the Satechi USB Type-C Pro Hub with Ethernet can technically do 4K, it is limited to just 30Hz -- yuck. For many, that will be unacceptable. If you have a 1080p monitor, however, 60Hz should be achievable just fine. Also, while the micro SD card slot is appreciated, a full-sized variant would have been preferable -- especially for professional photographers.

If you are interested in buying it for yourself, it can be had in both space gray and silver on Amazon here. While $99.99 may seem like a lot of money to add these ports to a supposed "Pro" laptop, Satechi is known for quality products, so it should be worth the cost.