Oh wow, the LG G7 ThinQ looks damn nice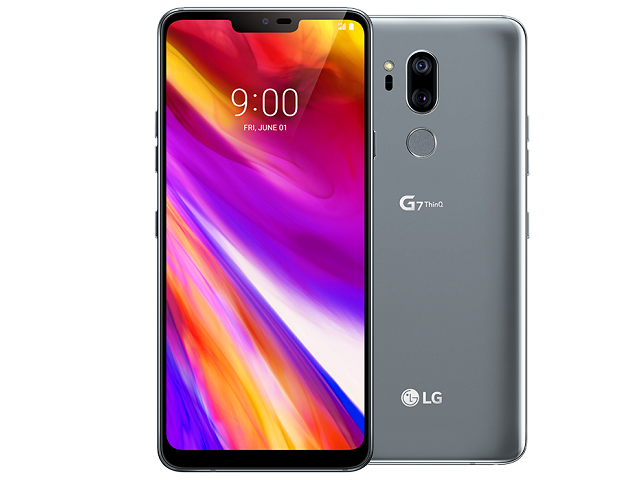 Earlier today, LG revealed its latest Android flagship smartphone. It is called the "G7 ThinQ" and oh wow, it looks damn nice! I suppose I shouldn't be surprised -- LG has long made impressive smartphones. With the exception of the fairly terrible LG G5, both its "G" and "V" series have been consistently great.
This new G7 ThinQ has something that may annoy you, however -- a notch. Yeah, all the manufacturers seem to be copying the iPhone X in this regard. It's a very polarizing topic -- some folks like a notch, while others hate it. Me? I don't really care either way, to be honest. LG has taken a cool approach to handling the notch on the G7 ThinQ, however. You see, using software trickery, you can make the notch disappear -- sort of. The top of the screen gets filled in with black, so it appears there is no notch. Some may call this gimmicky. I call it clever. And it is.
Besides copying Apple with the notch, LG is also borrowing the "Live Photos" functionality. When taking stills, an extra two seconds are recorded -- one before the photo is taken, one after -- which creates a mini animated photo. While this is often a useless feature on the iPhone, every once in a while, a worthwhile Live Photo is captured, making it something worth checking out.
The screen can get insanely bright, registering a max of 1,000 nits. Very impressive. The 3120 x 1440 resolution is super hardcore, but it is probably overkill for a 6.1-inch screen. Oh well, Android users love specs!
"Sporting a new design aesthetic for the G Series, the polished metal rim gives the LG G7 ThinQ a sleeker, more polished look, complemented by Gorilla Glass 5 on both the front and the back for reliability. Rated IP68 for dust and water resistance, the LG G7 ThinQ was designed to meet the requirements of MIL-STD 810G tests designed by the United States military to evaluate the performance of equipment in harsh environments," says LG.
ALSO READ: Huawei Mate 10 Pro Mother's Day Giveaway!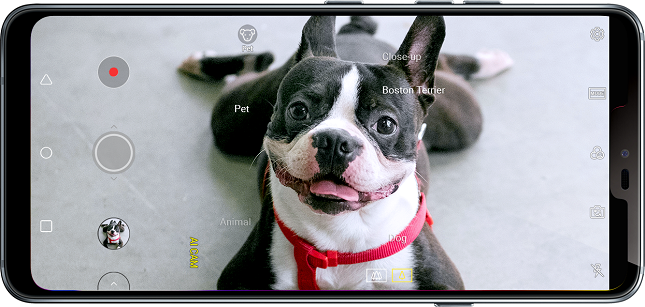 The company also says, "Continuing LG's commitment to deliver unrivaled audio experience on its smartphones, the LG G7 ThinQ offers premium audio innovations that remain unmatched in the industry. Available for the first time in the LG G7 ThinQ, Boombox Speaker utilizes the internal space of the LG G7 ThinQ as a resonance chamber to deliver deep bass. When placed on a solid surface the smartphone utilizes its resonance chamber as a woofer to amplify the bass effect even more."
Audiophiles will appreciate this new phone, as it has a special "Hi-Fi Quad" DAC. And yes, a 3.5mm audio jack is included. Fans of multi-channel audio will be pleased to know the G7 is the first phone to get DTS:X support. This technology provides virtual 7.1 when using headphones.
The LG G7 ThinQ rear camera has special artificial intelligence -- similar to that of the great Huawei Mate 10 Pro. In other words, the phone will intelligently detect what you are taking a picture of, plus the environment.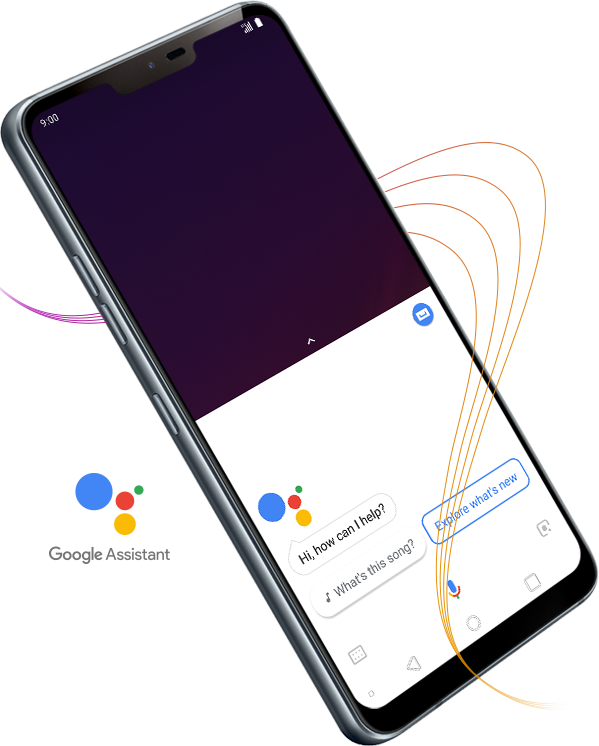 Speaking of intelligence, the G7 has Google Assistant -- of course -- but also, Google Lens. LG is implementing these in some special ways. The company says the following.
Located just below the volume is a button that launches the phone's AI functions. A single tap of this button will launch the Google Assistant while two quick taps will launch Google Lens, a first on any phone. Users can also hold down the button to start talking to the Google Assistant. With Super Far Field Voice Recognition (SFFVR), the Google Assistant can recognize voice commands from up to 16 feet away compared to conventional voice recognition.
LG shares the following specifications.
Chipset: Qualcomm Snapdragon 845 Mobile Platform
Display: 6.1-inch QHD+ 19.5:9 FullVision Super Bright Display (3120 x 1440 / 564ppi)
Memory: 4GB LPDDR4x RAM / 64GB UFS 2.1 ROM / MicroSD (up to 2TB)
Camera: Rear Dual: 16MP Super Wide Angle (F1.9 / 107°) / 16MP Standard Angle (F1.6 / 71°), Front: 8MP Wide Angle (F1.9 / 80°)
Battery: 3000mAh
OS: Android 8.0 Oreo
Size: 153.2 x 71.9 x 7.9mm
Weight: 162g
Connectivity: Wi-Fi 802.11 a, b, g, n, ac / Bluetooth 5.0 BLE / NFC / USB Type-C 2.0 (3.1
compatible)
Colors: New Platinum Gray / New Aurora Black / New Moroccan Blue / Raspberry Rose
Others: Super Bright Display / New Second Screen / AI CAM / Super Bright Camera / Super
Far Field Voice Recognition / Boombox Speaker / Google Lens / AI Haptic / Hi-Fi Quad DAC /
DTS:X 3D Surround Sound / IP68 Water and Dust Resistance / HDR10 / Google Assistant Key
/ Face Recognition / Fingerprint Sensor / Qualcomm Quick Charge 3.0 Technology / Wireless
Charging / MIL-STD 810G Compliant / FM Radio
Do you live in South Korea? If yes, you can buy the LG G7 ThinQ very soon. Live in the USA like me? Sadly, availability is a bit of a mystery -- as is pricing. So far, Verizon says it will begin accepting pre-orders on May 24, while Sprint will start a day later on May 25. When they will actually ship is unknown, but some time in June is probable. Hopefully we will soon know more about both T-Mobile and AT&T's plans for the flagship.