YouTube Music and YouTube Premium launch May 22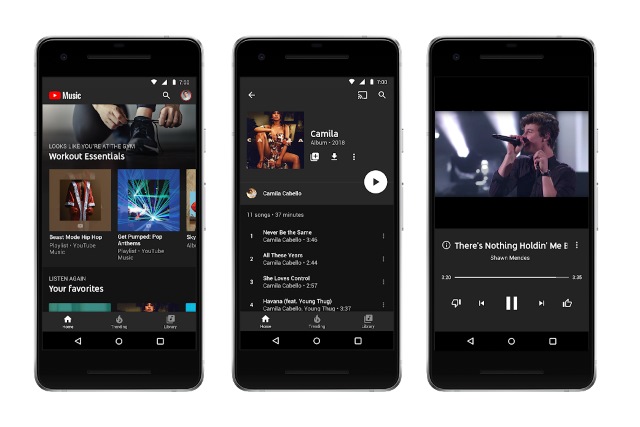 Google has announced a new music streaming service, YouTube Music, as well as YouTube Premium, both of which launch next week. The two services come as a result of Google splitting up YouTube Red.
YouTube Premium will be available for $11.99 per month, while YouTube Music will have free and paid-for versions. The free edition will be ad-supported, but these can be banished for $9.99 per month.
See also:
Google is launching this music service because it says that YouTube in its current form is not an ideal platform for consuming music. "YouTube is where artists and fans connect: creating and discovering a world of music. But YouTube was made for video, not just music".
There's a big focus on pushing new music, and to this end Google says:
YouTube Music's personalized home screen dynamically adapts to provide recommendations based on people's listening history, where they are and what they're doing. At the airport? We'll recommend something relaxing before the flight. Entering the gym? We'll suggest some beats to get the heart-rate going.
Thousands of playlists built to help you discover new music. That means no matter what kind of music you like, where you are, what you're doing, or what mood you're in, you can easily find the right playlist for that moment.
While you can enjoy YouTube Music free of charge, this will mean having to endure ads. Paying the $9.99 a month subscription not only gets rid of these ads, it also opens up background listening and downloads.
On top of YouTube Music, Google is also launching YouTube premium which means you can enjoy ad-free videos and access YouTube Originals. The company explains:
To extend the features of YouTube Music Premium beyond the music app, we're soon introducing YouTube Premium, the new name for our YouTube Red subscription service. YouTube Premium includes ad-free, background and offline across all of YouTube, as well as access to all YouTube Originals including Cobra Kai, Step Up: High Water and Youth & Consequences. YouTube Premium will continue to provide an ad-free experience, background play, and downloads across the millions of videos on YouTube. But because it includes our brand new YouTube Music service, the price will be $11.99 for all new members. If you're already a YouTube Red (soon to be YouTube Premium) member, don't worry you'll still enjoy your current price.
YouTube Music starts to roll out from Tuesday in the US, Australia, New Zealand, Mexico and South Korea. After this, it will spread Austria, Canada, Denmark, Finland, France, Germany, Ireland, Italy, Norway, Russia, Spain, Sweden, Switzerland and the United Kingdom.