New ASUS ZenBook Pro 15 has a touchscreen ScreenPad instead of a trackpad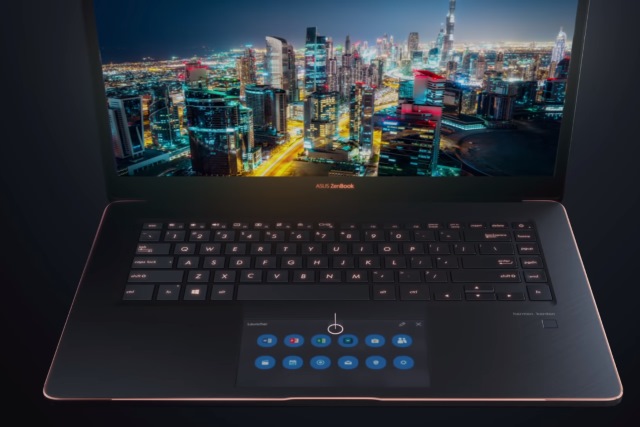 At Computex, ASUS has revealed its new ZenBook Pro 15 laptop. This is a high-performance machine, but this is a laptop that's about more than just raw power.
In addition to the 8th Generation Intel Core i9 hexa-core processor and 16GB of 2400Hz DDR4 RAM, the new ZenBook Pro has an innovative trackpad. As well as controlling the mouse cursor, the traditional trackpad has been replaced with a ScreenPad -- a touch-sensitive screen that can display apps, shortcuts and other information.
The ScreenPad is a 5.5-inch FHD (1920 x 1080) Super IPS+ display. It features a glass coating and allows for gestures involving up to four fingers. There are a range of apps that can be used in conjunction with the ScreenPad, including ScreenPad for Office, ScreenPad Launcher, ScreenPad Music Player, ScreenPad Calculator, ScreenPad Calendar and ScreenPad NumKey -- more are likely to be added to this list over time. It can also be used as a second screen onto which the Windows desktop can be extended.
Other notable specs include a 1 TB SSD and a NVIDIA GeForce GTX 1050 Ti GPU.
You can check out the ZenBook Pro 15 in the video below:
The ASUS ZenBook Pro 15 (UX580) should start shipping by the end of July, and it has a price tag of $2,299.