Microsoft releases Windows 10 Redstone 5 Build 17704 with lots of changes and improvements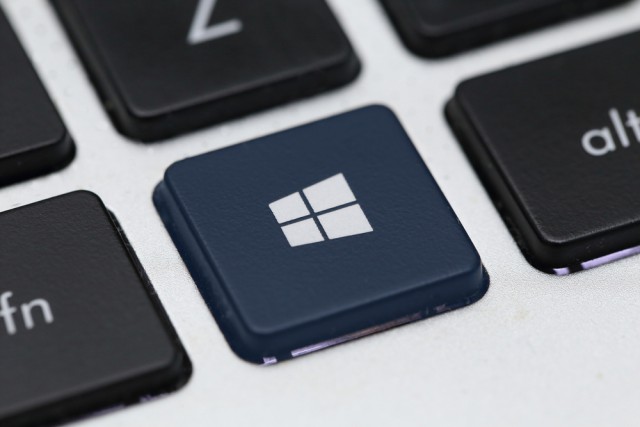 It's been a couple of weeks since Microsoft last rolled out a new Windows 10 Redstone 5 build for Insiders, but today the wait for an update is over.
Build 17704, for those on the Fast ring and Skip Ahead, includes a number of big improvements and changes.
SEE ALSO: Microsoft pulls the plug on Windows 10's game-changing Sets feature -- for now
First up, there's the obligatory Microsoft Edge improvements, including a new Edge Beta logo, so you tell the difference between the stable and preview versions. It's not something Microsoft has spent very long on though, so don't get too excited. It's essentially the Edge logo with a "Beta" flash slapped on top. There is also a new PDF icon which shows in File Explorer when Edge is the default option for opening PDFs.
Beyond that, there have been a few Fluent Design System tweaks to the browser, and the settings have been rejigged to make them easier to navigate. You can customize toolbar items, and control whether or not media can play automatically.
Also in this build is a big update for Skype which introduces the following changes:
Best in class calling experience -- Added several new calling features to make Skype's calling experience even better than before.
Flexible group call canvas -- Customize your group call experience and decide who appears in the main call canvas.  Simply drag and drop people between the call canvas and the overflow ribbon to select who you want to focus on.
Take snapshots -- Use snapshots to capture images of important moments within a call. Snapshots makes sure you never forget important memories like your grandkid's funny antics or crucial information like the content that's been screenshared during a meeting.
Easily start screensharing -- Sharing your screen during calls is even easier.  Look for the ability to share your screen with the top level call controls.
New layout -- Contacts are easier to access and view.
Customizable themes -- Choose a color and theme for your Skype client through your application settings.
And much more -- Improvements to media gallery, notifications panel, @mentions experience and more!
Elsewhere, the Diagnostic Data Viewer has been updated, letting you directly view Problem Reports that have or will be sent to Microsoft. The UI has had a bit of a makeover too. You can get the Diagnostic Data Viewer through the Microsoft Store.
If you like to watch videos outside on a bright day, there's a new viewing mode which will improve their visibility. To turn it on, navigate to Settings > Apps > Video playback, and enable  "Adjust video based on lighting". You will need to have a light sensor for this to work. To check if you have or not:
Go to "Display Settings" in the Settings app. If you have the option to turn on Auto-brightness, you most likely have a light sensor
Go to Device Manager. If you have something that sounds like "Light Sensor" under Sensors, you likely have a light sensor.
Windows Security has been beefed up with a new new protection setting, 'Block suspicious behaviors', which brings Windows Defender Exploit Guard attack surface reduction technology to all. To enable this, go to the Virus & threat protection section in Settings, and click Manage settings under the 'Virus & threat protection' setting.
The Task Manager has also been updated, with two new columns in the Processes tab -- Power usage and Power usage trend.
Finally, Windows now shows you insights about how its AI has been helping you type, and lets non-admin users install fonts.
General changes, improvements, and fixes in this build include:
Starting with this build, Microsoft is taking Sets offline to continue making it great. Based on your feedback, some of the things the company is focusing on includes improvements to the visual design and continuing to better integrate Office and Microsoft Edge into Sets to enhance workflow. If you have been testing Sets, you will no longer see it as of today's build, however, Sets will return in a future WIP flight.
If you have a Surface Studio, you should be able to update to Build 17698. Previously -- Surface Studios were unable to update to Builds 17682, 17686, and 17692.
Fixed an issue that could result in seeing a 0x80070057 error in Windows Update when upgrading to the last few flights.
Fixed an issue from the last two flights resulting in the lock screen crashing in a loop when Picture Password was selected.
Fixed an issue resulting in some Insiders experiencing a high volume of Start reliability issues in the last few flights.
Fixed an issue where if you used WIN+A to open the Action Center you couldn't immediately press Esc to close it.
If clipboard history isn't enabled, you can now enable it straight from WIN+V.
Have multiple items in your clipboard history (WIN+V)? You can now start fresh in one shot by clicking the new clear all button.
Fixed an issue resulting in noticeable lag when launching Task View on high DPI devices.
Fixed an issue where Task View would still have a launch animation if "Show animations in Windows" was turned off.
Fixed an issue where some cards in Timeline would appear with the text drawn twice, once normally, and a second time dimmer and with slightly different line spacing.
Fixed an issue resulting Cortana crashing when attempting to edit reminders in the last few flights.
Fixed an issue when using Cortana causing search results to sometimes not do anything when clicked in the last few flights.
Fixed an issue where the People flyout was using the old Microsoft Store icon.
Fixed an issue resulting in Credential Manager having white on white text when using Windows in dark theme.
Fixed an issue where the string "Don't use the index when searching…" in File Explorer's Folder Options dialog had corrupted text.
Sorting by size filters in File Explorer is being updated to be something a bit more modern. When you upgrade to this build you'll find Tiny, Small, Medium, Large, Huge and Gigantic are now defined as 0 -- 10KB, 16KB -- 1MB, 1 MB to 128 MB, 128 MB -- 1 GB, 1 GB – 4 GB, and > 4 GB, respectively.
Added some new keywords to help you get to the settings you're looking for -- for example "rename" will now find "View your PC name" (from which you can rename your PC).
Fixed an issue resulting in Settings crashing when changing the default browser in the last flight.
Fixed an issue where after a reboot, settings for Background Apps would revert to default.
Fixed an issue where on demand features that were less than 1 MB (such as RSAT: IPAM Client) would fail to install.
Fixed an issue where if your Bluetooth was turned off when upgrading to recent builds, the toggle for turning on/off Bluetooth would be missing in the Settings page and the Bluetooth quick action button in the Action Center will not work. Note: this fix will prevent the issue from happening again, however if you are already impacted you will need to uninstall the radio adapter and re-enumerate it to get yourself back into a good state. You can do this by opening Device Manager, finding the radio adapter listed under Bluetooth, right-clicking and selecting Uninstall (make sure "delete the driver software for this device" is left unchecked), clicking Uninstall, then going to the Action menu and selecting "Scan for hardware changes".
Fixed an issue resulting in certain Bluetooth devices, like the NOAHLink, not connecting after upgrading.
Fixed the bug that was impacting driver testing scenarios where executing HLK Component/Device driver tests might have caused a bug check that blocked test execution.
Fixed the issue causing the Game bar to crash on x86 machines.
To improve clarity, Microsoft has separated Settings > Privacy > Speech, Inking & typing into two settings: Settings > Privacy > Speech and Settings > Privacy > Inking & typing personalization.
Fixed the issue that caused Settings > Ease of Access > Narrator, Choose Keyboard settings to be missing text as well as visible values in the two combo boxes.
Added DTS:X to the list of spatial audio technologies you can use.
Addressed a crash in the audio troubleshooter if querying the volume or mute state failed.
Fixed an audio service issue that could cause some previously-recoverable hangs to become unrecoverable.
Updated Microsoft Edge so that even if a tab is not actively playing audio you will now be able to pre-emptively mute it from the context menu when right-clicking the tab.
Fixed an issue for certain languages where when loading tabs in Microsoft Edge you may briefly see a formatting placeholder (%) in the tab name.
Fixed an issue where drag events in Microsoft Edge (after moving a tab) could arrive out of order, leading to not being able to close that window.
Fixed an issue where Microsoft Edge would exit full screen video mode if focus was set to an Outlook window on a secondary monitor.
Fixed an off-by-one error when using the up arrow to go through your command history in Command Prompt in recent flights.
With today's build the Microsoft Pinyin IME experience will be returning to the one that shipped with the April 2018 Update.
Fixed an issue resulting in text being unexpectedly finalized when typing using the Japanese IME in Outlook 2016.
Fixed an issue where when using the Emoji Panel in a win32 app the first letter of the search might get dropped.
When using the touch keyboard you'll find that the clipboard button is now always visible in the candidate pane. Tapping it will bring up your clipboard history for you to browse and paste from.
Shapewriting on the touch keyboard is now available when using English (Australia).
Fixed an issue where if you had previously performed a Find using Narrator's Find feature and you brought up the dialog the text would not have been cleared from the field.
Updated Ease of Access flyout on the login screen so that Narrator now has an on / off toggle
Known issues in this build include:
This build will fail to download and install for the following languages: km-KH, sd-Arab-PK, si-LK, gu-IN, hy-AM, ha-Latn-NG, nso-ZA, ta-IN, tt-RU, te-IN, ti-ET, tk-TM, ur-PK, ug-CN, uz-Latn-UZ, ca-ES-valencia, vi-VN, cy-GB, wo-SN, yo-NG, kok-IN, mk-MK, lb-LU, ky-KG, lo-LA, ms-MY, ml-IN, mt-MT, af-ZA, sq-AL , am-ET, hi-IN, as-IN, is-IS, ig-NG, id-ID, ga-IE, xh-ZA, zu-ZA, kn-IN, kk-KZ, tg-Cyrl-TJ, tn-ZA, fil-PH, gl-ES, ka-GE, quc-Latn-GT, rw-RW, az-Latn-AZ, mi-NZ, mr-IN, mn-MN, ne-NP, nn-NO, or-IN, fa-IR, pa-IN, pa-Arab-PK, quz-PE, gd-GB, sr-Cyrl-BA, sr-Cyrl-RS, sw-KE, bn-BD, bn-IN, eu-ES, be-BY, bs-Latn-BA, ca-ES, ku-Arab-IQ, chr-Cher-US, prs-AF.
Microsoft is working on adding dark theme in File Explorer and the Common File Dialog, but still has some things to do. You may see some unexpectedly light colors in these surfaces when in dark mode and/or dark on dark text.
When you upgrade to this build you'll find that the taskbar flyouts (network, volume, etc) no longer have an acrylic background.
Microsoft is working on improving settings for HDR videos, games and apps in a new Windows HD Color page under System > Display. Some things temporarily will not work; notably, some users will not be able to enable/disable HDR display support.
Applications that use ICC color profiles may encounter errors such as Access Denied. This includes the Color Management control panel, and color profile switching on certain Surface devices.
When you use the Ease of Access > Make Text bigger setting, you may see text clipping issues, or find that text is not increasing in size everywhere. Also if your System > Display > Scaling and layout is not set to 100 percent, some text might appear unexpectedly tiny after reverting the "Make text bigger" value back to 0 percent.
Windows Mixed Reality may get stuck after going to sleep and display a persistent error message in Mixed Reality Portal or a "Wake up" button that doesn't work. To work around this, restart your computer or explorer.exe to use Windows Mixed Reality again.
Photo credit: charnsitr / Shutterstock