Football is not only 'coming home' -- it's coming to the office too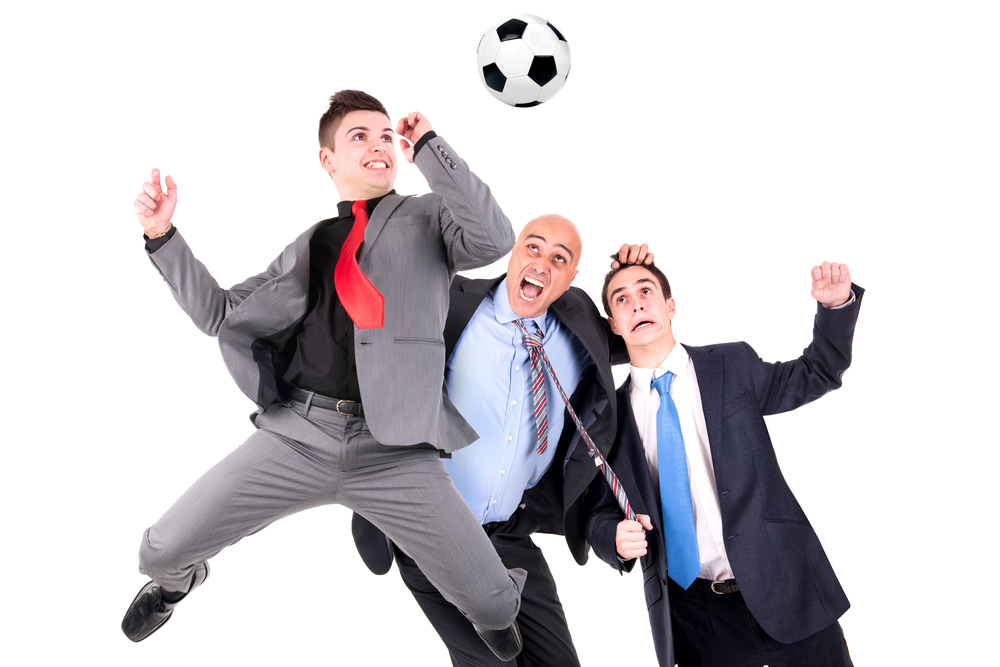 It's been 28 years since England reached the semi-finals of The World Cup, and England fans across the nation have been glued to pub and living room screens, anxiously watching their team beat a path to success.
This year's summer of sport has been an epic one for fans of England who have seen them win against Costa Rica 2-0, thrash Panama with a historic 6-1 score and beat Sweden 2-0. Not only that, but sports fans have also been tuning in with strawberries and cream to watch Djokovic and Federer return to the tennis courts at Wimbledon -- and strapping themselves in to watch Lewis Hamilton take on Sebastian Vettel on the Silverstone Circuit during Formula 1. But whilst action-packed summers are great for sports fans, they can create a dilemma for businesses: should they carry on with 'business as usual' or let their employees watch as the drama unfolds?
The reality is that major sporting events prove distracting for employees. Research commissioned by Epson revealed that 35 percent checked scores and results while at work, suggesting they weren't fully concentrating on their jobs. Furthermore, 19 percent of respondents revealed they watched events online if there weren't facilities available in the workplace. Even worse, almost one in 10 (9 percent) called in sick so that they could watch the sport, while 8 percent had to miss work the next day due to a hangover. In addition, one third (33 percent) stayed up late or got up in the middle of the night to watch a major sporting event -- which inevitably hampers office productivity the next day.
Clearly, it's difficult to achieve a high level of workplace efficiency during major sporting events. However, with employees distracted, more companies should embrace big sporting events as a way to encourage team bonding -- going further than holding the traditional office sweepstake to actually arranging live event viewings. If staff are going to watch the sport anyway, it makes sense to show the most important matches in the office, via a TV set or a state-of-the-art projection system.
In many instances, an office projector will actually provide a superior screening than sneaky mobile viewings or pub TV screenings -- offering a much better viewing experience for football fans.
Showing live matches can be a great way to boost employee happiness -- and, in turn, long-term employee loyalty and retention. For example, this year's Uruguay v Russia World Cup match was on at 3pm on a Monday afternoon. Uruguay scored three goals to the host country's zero, making a gripping watch. Employees could have enjoyed the sport together -- after working for most of the day -- as opposed to pulling a sickie and losing a full day's work.
Screening events can help staff discover common interests and strengthen relationships with their co-workers.
By showing sports on big screens, companies can prevent people calling in sick and better manage workplace distraction. By allocating specific times to watch matches, games and events, companies can encourage their staff to complete work before and after the event. Very often they'll end up doing the same amount of work anyway, and just be more efficient in the time that is set aside for working during the day, buoyed up by the thought of enjoying their favorite sport on the big screen later on.
Through investing in cutting-edge projection technology, companies can transform their offices into sporting hubs, generating a positive atmosphere and boosting team morale. Watching sport is an enhanced experience on a big screen because spectators feel closer to the action, so fans can actually benefit from coming into work to 'catch the match'.
Employers also need to appreciate that if they're going to show sporting events, the type of screen matters. 28 percent of people surveyed believe a big screen makes enjoying sport more enjoyable, while 51 percent said a screen with vibrant color and high-image quality is important when watching sport. There's little point in companies agreeing to show the match to employees, only to spoil the experience with a blurry picture and poor sound quality.
During major sporting events, the likelihood is that staff are going to want to follow the action. Employers should accept this and turn the situation to their advantage. Showing the biggest events can strengthen team relationships and boost company profiles. By being understanding about staff behavior and investing in the right AV technologies, businesses can ensure their sports-loving employees are cheering for them, and not just their national team.
Photo credit: Luis Louro / Shutterstock
Paul Wilson, business manager, Epson