A new free version of Microsoft Teams is ready to compete with Slack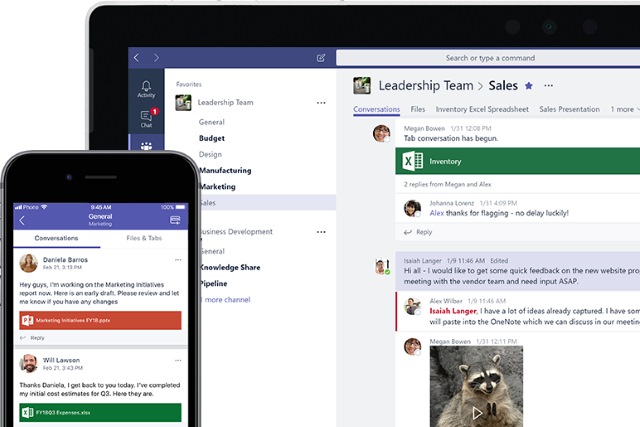 Microsoft has launched a free version of Teams, the company's collaborative chat tool. Teams has pitted itself against the likes of Slack since it first appeared, but the arrival of a free edition makes it a viable alternative.
As this is a free product, it should come as no surprise that there are limitations. However, the free edition of Microsoft Team can still be used by up to 300 people -- the same as the Essentials and Premium versions -- which should be enough to cater for most small to medium sized businesses.
So what about those limitations? While the paid-for versions of Teams offer 1TB of storage per user, the free version cuts this back to 2GB per user, but also includes 10GB of shared storage. Microsoft has managed to do a decent of attracting enterprise users to Teams, but it remains to be seen whether it will enjoy the same success with free users -- who Microsoft will be hoping will upgrade to premium versions at some point in the future.
Here's a break-down of the features you'll find in the free version of Teams:
Unlimited chat messages and search.
Built-in audio and video calling for individuals, groups, and full team meetups.
10 GB of team file storage plus additional 2 GB per person for personal storage.
Integrated, real-time content creation with Office Online apps, including built-in Word, Excel, PowerPoint, and OneNote.
Unlimited app integrations with 140+ business apps to choose from -- including Adobe, Evernote, and Trello.
Ability to communicate and collaborate with anyone inside or outside your organization, backed by Microsoft's secure, global infrastructure.
Microsoft's corporate vice president, Ron Markezich, says:
To address the growing collaboration needs of our customers, last year we introduced Microsoft Teams, a powerful hub for teamwork that brings together chat, meetings, calling, files, and apps into a shared workspace in Microsoft 365. Now, more than 200,000 businesses across 181 markets use Teams to collaborate and get work done.

Beginning today, Teams is available in a free version worldwide in 40 languages. Whether you're a freelancer, a small business owner, or part of a team inside a large organization, you can start using Teams today.
You can find out more and download the software from office.com/teamsfree