Microsoft adds Dark Mode to Outlook.com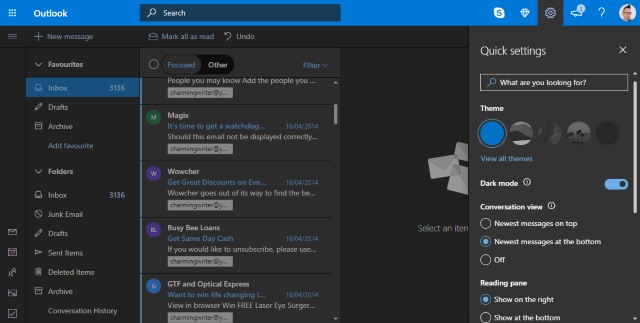 There have been a number of sites and apps that have gained dark modes in the last year -- macOS and YouTube to name but two -- and Microsoft doesn't want to miss the trend. The company has heard the pleas of Outlook.com users and added a new Dark Mode option to its web-based email service.
The feature is one of the most frequently requested, and users got a preview of the new Dark Mode earlier in the month. Now it's rolling out to everyone, and Microsoft is using it as an excuse to try to push Outlook.com users to its Edge browser.
See also:
Microsoft used the same forums in which Outlook.com users made numerous requests for Dark Mode to announce the launch of the feature. Pointing out that it is not a theme ("We quickly concluded that the way most people would expect themes to work and the way Dark Mode works were fundamentally different"), the company says the new option is ideal for working in low-light conditions, or for anyone who wants an interface that's less bright.
Explaining how to enable the new option, Microsoft uses Dark Mode to promote Edge:
To turn on Dark Mode, open the Quick Settings panel by selecting the Gear icon at the top of your screen. The option to enable Dark Mode is near the top of the panel, immediately under Theme selection. If your browser is unable to support Dark Mode, consider using Microsoft Edge.
Dark Mode -- a slightly tweaked version of last year's Halloween theme -- is only available in the new Outlook.com experience (formerly known as the Outlook.com Beta experience), and at the moment it only supports the blue theme.