Malwarebytes introduces a new browser extension to keep you safe on the web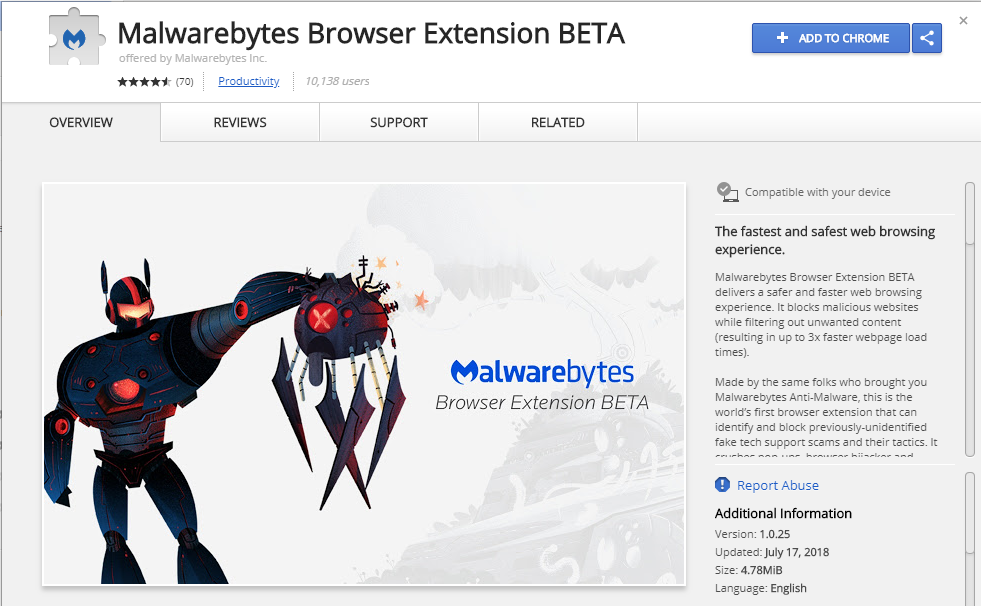 Malwarebytes is one of the better tools for keeping your PC safe from the many threats you can encounter on the web, and today the company introduces a browser extension for both Firefox and Chrome.
Called simply, Malwarebytes Browser Extension (BETA) it blocks malicious websites and filters out unwanted content, which the company says results in "up to three times faster webpage load times".
The add-on kills pop-ups, browser hijackers, and lockers, blocks clickbait links and fake news (although Malwarebytes doesn't detail how it determines what news is fake), and stops in-browser cryptocurrency miners and other malicious content. It works by using threat behavior patterns rather than a database of threats.
Malwarebytes lists the following features:
Malware protection: Blocks malicious programs or code that can damage your system.
Scam protection: Blocks online scams, including technical support scams, browser lockers, and phishing.
Advertising/tracker protection: Blocks third-party ads and third-party ad trackers that monitor your online activity. The number of blocked ads/trackers for a website will show beside the Malwarebytes logo in your browser.
Clickbait protection: Blocks content and websites that often display behavior of questionable value.
Potentially unwanted program (PUP) protection: Blocks the downloading of potentially unwanted programs, including toolbars and pop-ups.