Vivaldi 2.0 adds new Sync feature, resizable tiled tabs and floating web panels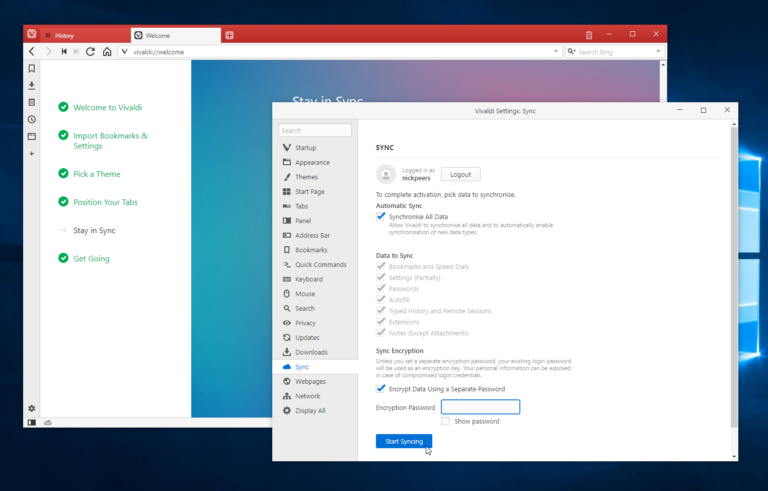 Customizable web browser Vivaldi 2.0 has been released for Windows, Mac and Linux. This challenger web browser, which has boasted over 1,500 improvements since its initial launch in 2016, unveils yet more major changes.
Chief among these is the long-awaited debut of browser sync to bring feature parity with other major browsers. Other tweaks have been made to existing features while the underlying browser engine has been updated to Chromium 69.
The new sync feature is offered to new users during the setup process, or it can be switched on via Settings or using the new cloud icon that appears in the browser's Status Bar.
To boost security, all sync operations are end-to-end encrypted, and Vivaldi makes no use of third-party servers to store user data on. Items that can be synced include Bookmarks, Speed-Dials, saved passwords, auto-fill, History (typed URLs only), extensions and Notes.
Vivaldi's Panels feature, which allow users to pin user-customizable dashboards such as downloads, web panels, window panels and notes, has also been improved. Not only have options been added to support floating and overlay panels (go to Settings > Panel and look under Panel Options), users also now receive suggestions for creating panels from frequently accessed sites, such as messaging apps and social media sites. These also come with favicons to make the panels more identifiable.
The browser's powerful tab management features also gain a significant tweak, with users now able to resize tiled tabs in Vivaldi's split-screen tab view simply by dragging a tile's borders. This adjusted layout remains preserved after restarts and loading of saved sessions.
Vivaldi's almost infinitely customizable user interface gains a few new features too: a list layout view for the Visual tab cycler, the option to tile new tabs in a tab stack and a new default theme – Vivaldi.
There's also a new welcome experience for new users, providing a series of simple steps to follow to get up and running with Vivaldi.
Another change is the addition of new predefined shortcuts for moving tabs left and right in the browser window: Windows and Linux users should use Ctrl + Shift + Pgup/PgDown; macOS users should use Option + Shift + up/down arrow keys
Vivaldi 2.0 is available now as a free download for Windows, Mac and Linux (a Windows 64-bit build is also available). Users can import data from a variety of browsers, including Opera (old and new versions), Chrome, Edge, Internet Explorer and -- via HTML export -- Firefox.