Major Google Maps update brings real-time public transport updates, music control, and more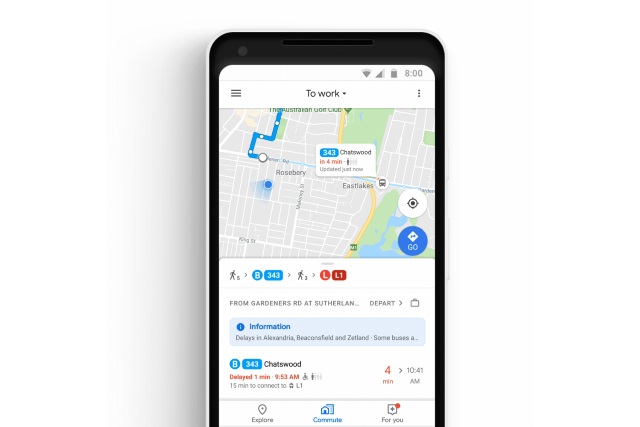 Google is pushing out a big update to its Google Maps app with the aim of making your daily commute easier. One of the biggest additions is support for mixed-mode commutes -- those journeys that involve multiple modes of transport -- and to help with this, there's also real-time information about the location of buses and trains.
But it doesn't end there. Google Maps now also supports Spotify, Apple Music, and Google Play Music podcast and music playback to help keep you entertained while you travel.
See also:
In many ways, the update -- particularly the new built-in support for various music services -- is a bid to keep you within Google Maps for longer, reducing the need to switch between apps to control playback. Google says:
If you have to sit in traffic, you may as well do it while listening to good music. We're making Spotify, Apple Music, and Google Play Music available within Google Maps so that you can control your tunes and podcasts right from Google Maps navigation. With Spotify on Android you can also choose your favorite content by browsing through songs, albums, podcasts, and playlists with the new, easy to use navigation. Say goodbye to toggling between apps, and rock out knowing that you can keep your eyes where they should be -- on the road.
The addition of a new commute tab is used to house information about your upcoming journey, such as alternative routes that you might need to consider because of accidents or traffic. Android users also benefit from updates about disruptions while their journeys are underway.
For people who are not traveling by car, it is quite common for a journey to involve more than one mode of transport. Google Maps is now better equipped to let you know about when you need to leave the house to make each leg of your journey. For people traveling by bus or train, there's incredibly helpful real-time information about public transport:
Now, transit riders in 80 regions worldwide will be able to see exactly where their bus or train is in real time on the map. This will help you plan your day more efficiently -- you'll know if you can spend an extra few minutes grabbing coffee, or if you really do need to make a run for it to catch your bus. And in Sydney, we've partnered with Transport New South Wales to show how full you next bus or train is -- so you'll know whether or not you'll get a seat. This feature will be coming to more cities around the globe soon.
Google says that the update is rolling out to Android and iOS users this week, starting from today.