VisionTek Portable 1TB Thunderbolt 3 SSD [Review]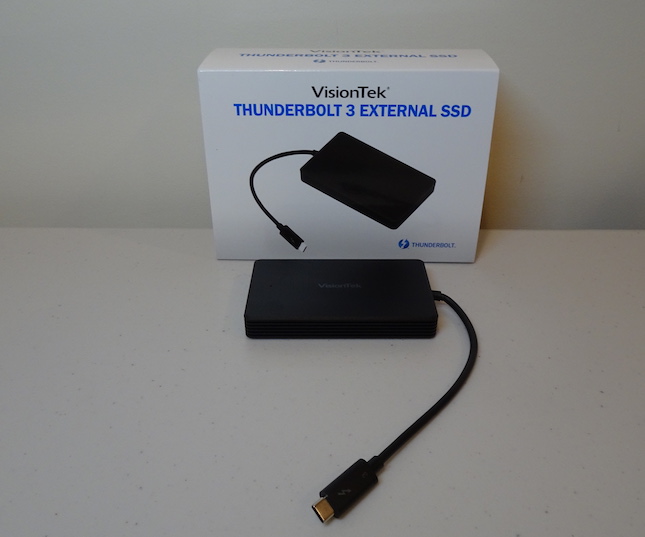 With the exception of extremely low-cost budget models, all modern computers (laptops and desktops) should have Thunderbolt 3 these days. Why? Because TB3 is simply amazing -- it uses the USB-C connector, but is much faster than USB 3.1 Gen 2.
With Thunderbolt 3 being so fast, many consumers -- including yours truly -- have been waiting for external PCIe NVMe TB3 drives to begin hitting the mainstream. I am happy to say I have been testing one from VisionTek with my 2016 MacBook Pro with Touch Bar, and as you can imagine, it is super quick.
Features (as listed by VisionTek)
Fast: Access time up to 150x faster than HDD, up to 1700 MB/s
Efficient: Optimized for low power consumption and bus powered (no external power required)
Compact: 2.5" x 4.25" x .6" (About the size of a deck of playing cards)
Reliable: Utilizes standard 22 x 80 mm NVME PCIe VisionTek SSDs in an all-aluminum enclosure for extended durability
Intel Certified: MacOS and Windows, powered by Intel Thunderbolt 3 technology
TAA Compliant: Enclosure and drives are made in TAA compliant countries
Use with latest OS: Compatible with Windows 10 and OS X
Thunderbolt 3: Utilizes the Thunderbolt 3 port on your laptop or desktop, not backward compatible with USB Type C
Unboxing
Build Quality
As you can see from the unboxing video above, the enclosure is exceptional. The 1TB NVMe drive is housed in an all-aluminum body that oozes elegance. It is cold to the touch and features fins that should help draw heat from the internal SSD. With that said, the body gets warm, but not hot. I particularly love the white LED light, which is not obscenely bright -- it is not at all distracting.
My one complaint about the hardware, and it is a small one, is the cable. Don't get me wrong, the wire is thick and the connector is very sturdy, but I would prefer it not be permanently attached. A removable cable would be better, especially since the one found here is so short. I suppose the limited length could be for performance reasons, but it would be nice to replace it with a longer one if needed. Not to mention, if the connector gets damaged, it could then be replaced by the user.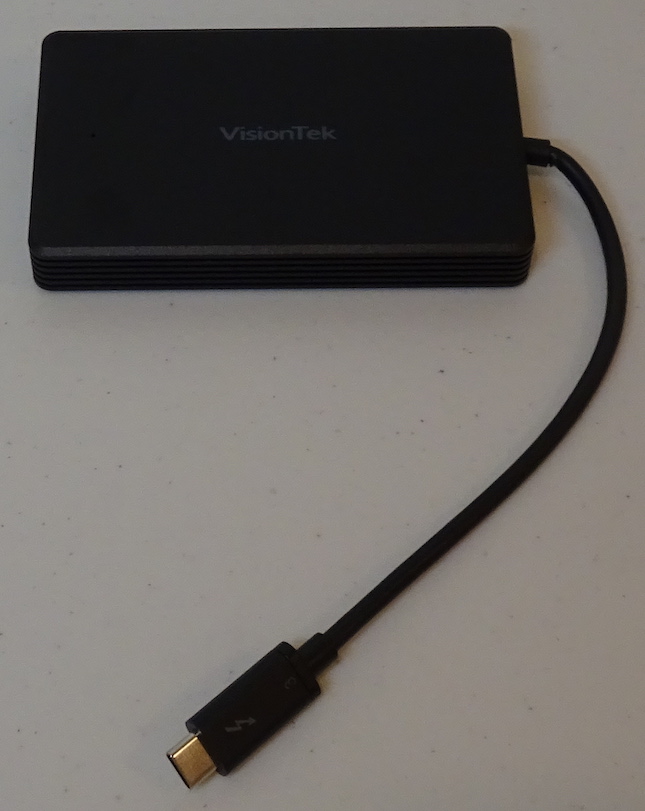 Speed Test
To test the speed, I first connected the drive directly to the the top left port on my MacBook Pro. Why does the port matter? Well, while all four ports on the MacBook Pro are TB3, the ones on the right have reduced speeds. It is for this reason that for a storage drive in particular, to maximize performance, it should be plugged in on the left.
Using Disk Speed Test by Blackmagicdesign, I ran several tests, and averaged about 1,100 MB/s for both read and write. This is very impressive to me, but it does fall short of the potential 1,700 MB/s that VisionTek claims. With that said, the company does say "up to."
It is worth noting that the drive came formatted in ExFAT by default. I also formatted it in Mac OS Extended Journal and the performance was identical.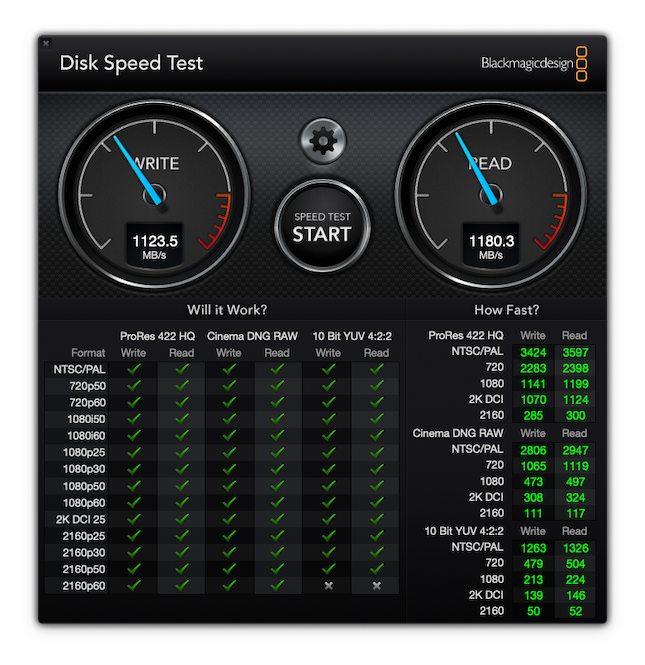 Where the speed differed, however, is when connected to a Thunderbolt 3 docking station (this model) -- it slowed significantly. The blame should likely fall on the dock and not the drive, but as you can see below, both read and write are around 770 MB/s. And yes, the docking station was plugged into the left side of the Mac.
This is unfortunate, as I would prefer to leave the drive connected to my dock, but it is not the end of the world. It should be expected since the dock and the drive are operating on one port. Quite frankly, even with the reduced speed, it is still very fast. In real world usage, you probably wouldn't notice the difference. If you don't plan to use a docking station, it is a non-issue.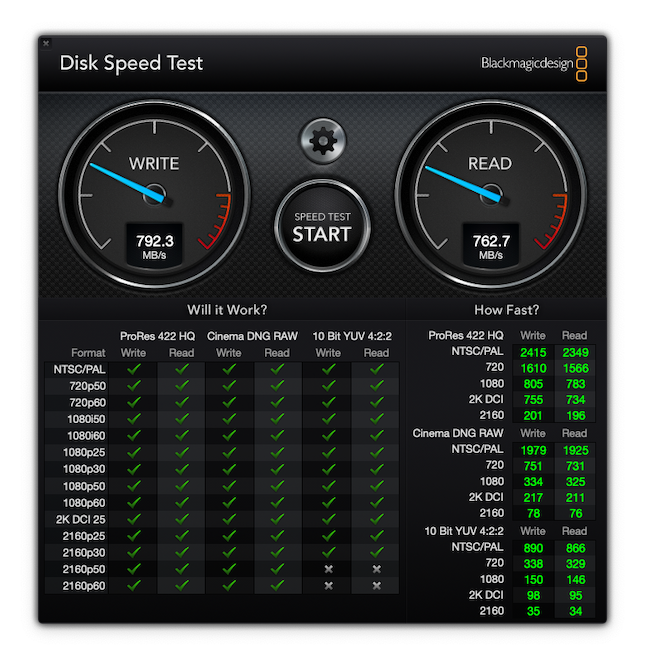 Conclusion
Do I recommend the VisionTek Thunderbolt 3 SSD? Oh, hell yes! It features exceptional build quality and blazing fast speeds -- both read and write. Not to mention, it is made by VisionTek, a brand I trust. With that said, the 1TB model is a bit pricey at nearly $600 (a 512GB variant can be had for less). Before you invest in such an expensive drive, you should make sure you truly need/want such high performance. In reality, this drive is reserved for hardcore enthusiasts and professionals that need the speeds.
The TB3 SSD appears to be sold out from VisionTek directly, but thankfully, there is some limited stock on Amazon. If you want your own such drive, you can use the below links. You may want to act fast, however, before they sell out.
[amazon_textlink asin='B07DHDVB1F' text='512GB ($341.00)' template='ProductLink' store='betanews02-20' marketplace='US' link_id='84012e72-caa3-11e8-adf1-953d138b60ef']
[amazon_textlink asin='B07DHDBSSJ' text='1TB ($572.71)' template='ProductLink' store='betanews02-20' marketplace='US' link_id='6e1e9c60-caa3-11e8-a2db-c1fde78c097c']