RogueKiller Anti-Malware 13 adds new scan modes, rewrites scan engine for faster performance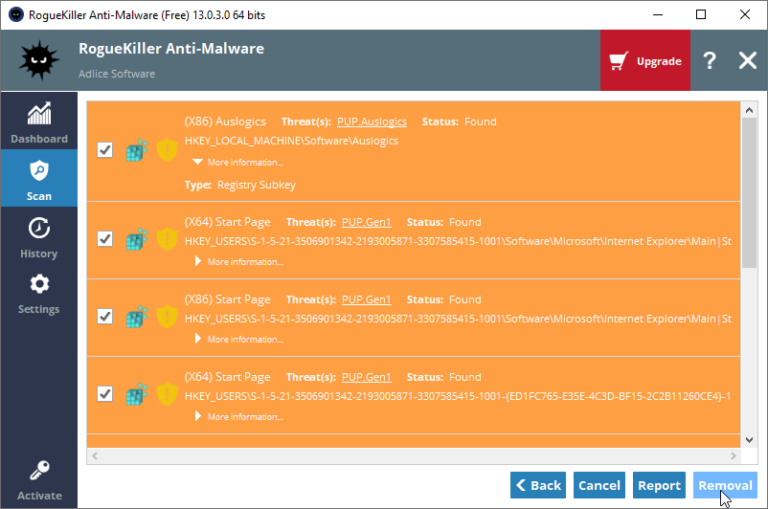 Adlice Software has released RogueKiller Anti-Malware 13.0.3 alongside RogueKiller Portable 13.0.3 and RogueKillerCMD 13.0.3, a major new release of its anti-malware protection tool.
RogueKiller, which comes as a cut-down free scan-and-removal tool as well as a paid-for version offering additional features such as CLI support and automatic updates, unveils several new scanners, an overhauled scan engine and redesigned user interface, with several advanced tools and features stripped out and moved to a separate application.
The program debuts a new Quick Scan mode, which will scan common areas known to harbor malware, such as key Registry entries, program folders, startup entries and more.
Also added are a command scanner, which is able to detect legitimate files being used for malicious purposes (the files aren't removed), plus PDB and Digisig scanners.
The core scan engine has been rewritten to deliver much faster performance thanks to support for code optimizations, multi-threading and fingerprinting.
The user interface has also been overhauled -- now advanced tools and expert mode have been hived off to a separate application (Adlice Diag). Scan results have also been redesigned to make them easier to interpret.
Other changes include the promise of a more thorough uninstall procedure for the program, removing the license, settings and driver. There are also numerous fixes for bugs and performance issues.
Adlice Software has also revealed plans for the next major release -- 13.1 -- which will include a new custom scan mode, plus online signatures, ending the need for weekly releases. Users will also gain the ability to exclude known false-positive items from scans.
For now, though, RogueKiller Anti-Malware 13.0.3, RogueKiller Portable 13.0.3 and RogueKillerCMD 13.0.3 are all available as a free, feature-limited downloads for PCs running Windows XP or later. Licensed users can upgrade to the latest version without charge for the duration of their subscription -- Personal subscriptions cost $19 a year, while a Technician subscription allowing for portable settings and rebranding costs $50 a year.