Parallels releases Toolbox 3 for Mac and Windows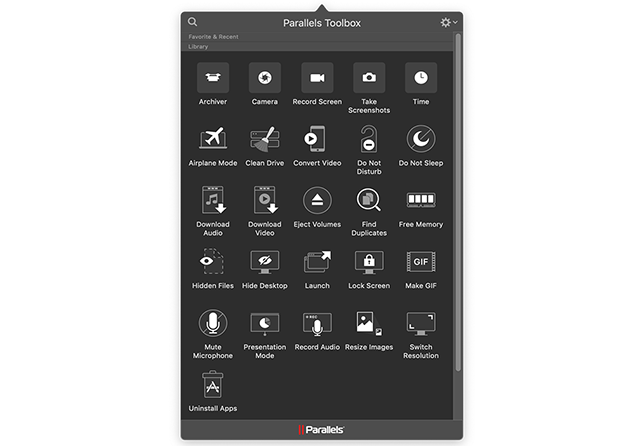 Improving your system productivity is essential for getting work done more swiftly. With this in mind, many of us turn to all-in-one maintenance tools so we can optimise our computer, clean junk and fully remove installed applications. It's just easier to own one tool to perform all your key tasks.
Parallels recently launched Toolbox for Mac which offered a number of system tools from a handy drop-down menu. Frankly, when the first Toolbox was released, it offered little more than what was already available in macOS. You could quickly take a screengrab, record your screen, create an archive and more.
Now Parallels has gone and released a much-improved Toolbox v3 for Mac and Windows and it's become a fully-fledged standalone suite of useful tools. You still receive all the regular modules (some of which have been improved), but there's a number of new tools. Resize Image enables you to either automatically resize one or a batch of images in a single process. The World Time module enables you to quickly find the local time in any major city across the world, whilst Find Duplicates will now find and highlight duplicate files located across your drives.
Toolbox for Mac v3 contains some unique functionality limited to the macOS version. These include a handy Uninstall Apps tool and Hidden Files which will show all the hidden data across your Mac and enable you to reduce some clutter.
Toolbox used to be part of a Parallels Desktop licence. As a Desktop Pro subscriber, this includes a Toolbox license. But it appears to be limited to the older v2. Which is rather confusing. More confusing is that both the Mac and Windows versions require a separate subscription. You can use both, but only one or the other. We're assuming this is to stop a VMware Fusion user from installing across the Mac and virtual Windows.
More strange is the ability to purchase Toolbox as individual packs, at $9.99 per pack per year. If you only want the screen tools, then you can reduce costs by purchasing the Screen and Video Pack and ignoring the other modules.
If you want the full Toolbox, this will set you back $19.99/year and per operating system -- the Mac and Windows editions are purchased separately.
Parallels Toolbox v3 is available now as a 7-day trial.