Das Keyboard launches open source 4Q Smart RGB Cherry MX Mechanical Keyboard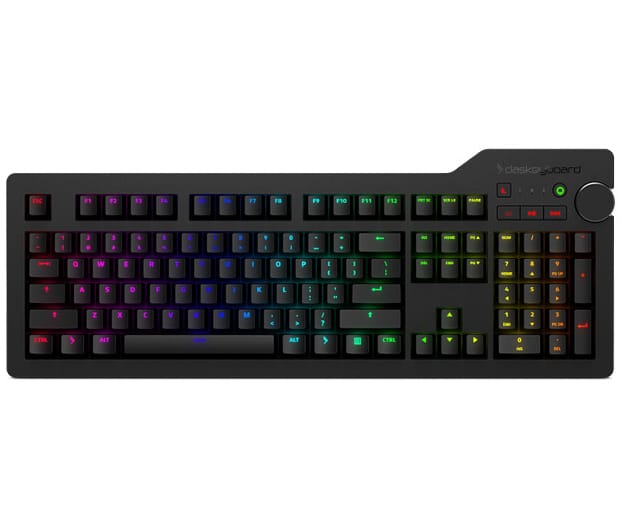 Many companies are producing mechanical keyboards nowadays, but not all of them are great. Companies like HyperX and Logitech make quality such products, but there is another company that is very well respected by in-the-know consumers -- Das Keyboard. Its products are legendary because of their high quality and reliability.
Today, Das Keyboard launches a new mechanical keyboard that looks downright drool-worthy. The 4Q, as it is called, features Cherry MX switches (brown), RGB lighting, and a handy two-port USB hub. Best of all, it leverages open source applets for a truly unique experience.
"The new gold standard for mechanical keyboards, the Das Keyboard 4Q takes the company's flagship mechanical keyboard -- the Das Keyboard 4 Professional -- to the next level by adding in the Q technology and RGB lighting. Concurrent with the 4Q launch is the introduction of Das Keyboard's Q marketplace for applets, a place where users can share and download free and open source Q applets," says Das Keyboard.
Daniel Guermeur, founder and CEO explains, "The tried and true performance of the Das Keyboard 4 combined with the new Q marketplace for applets makes the 4Q an extraordinary tool that empowers users to operate at their highest level anytime they're in front of their keyboard. There is no substitute for owning the only smart mechanical keyboard of its kind on the market. It is the fundamental brain-computer interface, the mind-machine connection—the direct connection between our brain and Internet-connected services and devices. The 4Q craftsmanship is amazing, and combining it with Q applets creates a unique productivity tool."
Das Keyboard shares some examples of what these open source applets can do.
Tracking stocks in real time
Monitoring CPU activity
Checking the weather forecast
Tracking the status of projects, pending deadlines and tasks over time
Control of IoT devices, such as turning up the temperature or dimming the lights
Receiving virtually any other kind of information an individual wants to track without ever opening a browser through the Q keyboard's fully-customizable keys
The company also shares the following features of the 4Q.
A Q button for activating the Das Keyboard Q smart software
Individually controlled RGB lights on each key
Brightness and media controls, plus an oversized volume knob
Full n-key rollover with 100 percent anti-ghosting and for multi-key press capability
Extra-long braided cable (2m, 6.5ft.) for better cable management
An instant-sleep button to save the planet
Obviously, such quality hardware coupled with unique software functionality will lead to a high price. To get your own 4Q smart mechanical keyboard, you must part with $199.99. Yes, that is a lot of cheddar, but because of the historic durability, it can be looked at as an investment. A Das Keyboard will likely outlive cheaper alternatives.
Ready to buy your own? You can score it on Amazon here now.