Facebook defends the privacy of Portal as the smart devices start shipping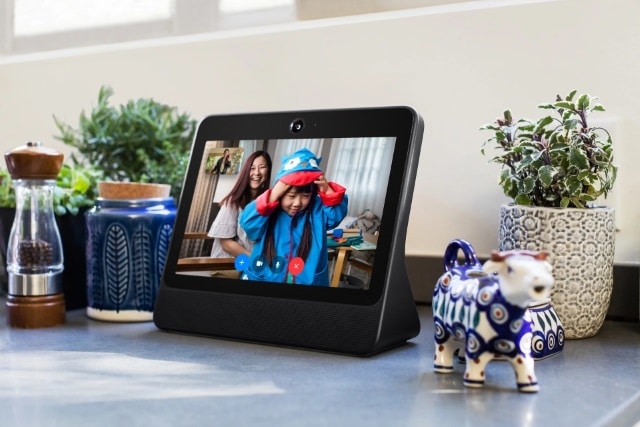 As soon as Facebook announced its smart video calling device -- Portal and Portal+ -- there were concerns about the privacy implications of introducing Facebook hardware with a camera into your home.
The company has already gone to some lengths to try to allay privacy-related fears, clearly pre-empting the concerns people would have. Facebook describes Portal as "private by design", but now it has gone further, using a blog post to stress the privacy and security of the devices, as well as offering reassurances about how data collected through them will -- and won't -- be used.
See also:
With very much a sense of "the lady doth protest too much", Facebook has posted an entry on its blog entitled "Portal: Privacy and Ads". In it, the social media giant acknowledges that "there are some questions around Portal privacy and ads" and sets out to address them.
Facebook starts out by saying that it is never able to access calls that are made, points out that they are encrypted anyway, and stresses that the AI technology used by Portal devices runs locally rather than on Facebook servers.
It goes on to say that the way you use Portal may affect the ads you see, and then lists some of the information it gathers from devices and explains why:
When you make a Portal video call, we process the same device usage information as other devices with Messenger installed. This can include volume level, number of bytes received, and frame resolution -- it can also include the frequency and length of your calls. Some of this information may be used to target ads. For example, if you make lots of video calls, you might see some ads related to video calling. This information does not include the contents of your Portal video calls.
Like other voice-enabled devices, Portal's microphone sends voice commands to Facebook after hearing, "Hey Portal". You can delete your Portal's voice history in your Facebook Activity Log. We use Portal voice commands to improve our products; we don't use them to target ads.
Similar to other devices, if Portal crashes, a log about the crash is sent to Facebook that may include small fragments of video and audio information that are less than one second in length. We use crash log information only to improve the Portal experience; we don't use it to target ads.
When you opt in to give us feedback through your device settings, information from your Portal including crash logs and device logs may be sent to Facebook. We use this information only to improve the Portal experience; we don't use it to target ads.
For Facebook critics, the company's hand-wringing is unlikely to curry much favor, and questions will continue to be asked about just how sensible it is to invite Facebook into your home so intimately.