Facebook unveils its new smart video calling hardware: Portal and Portal+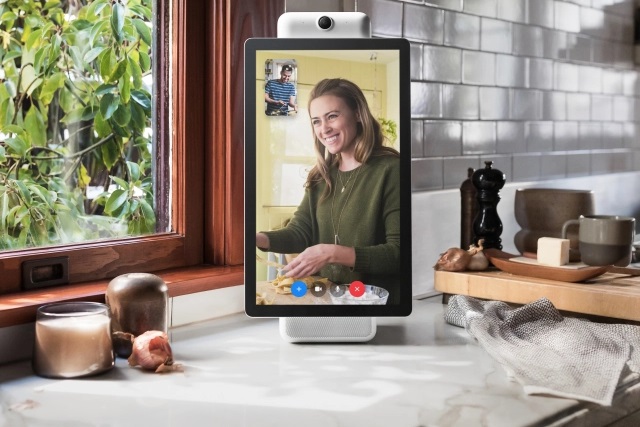 Still reeling from a security breach that affected up to 90 million users, Facebook has announced two new pieces of hardware designed to make video chat easier and more immersive than ever. Portal and Portal+ are 10- and 15-inch smart displays complete with integrated cameras and packed with AI. But even Facebook acknowledges there are privacy concerns.
The social networking giant says: "When you can't be there, Portal and Portal+ let you feel there". What does it mean by this? The cameras are intelligent, meaning they pan and zoom, following people around the room as necessary. Facebook promises that Portal "follows the action" and "keeps everyone in frame" but -- seemingly acknowledging that people won't trust its claim that the devices are "private by design" and that the mic and camera can be disabled with a single tap -- a physical camera cover is included.
See also:
Facebook's Andrew Bosworth spoke to the BBC, and admitted that there will be concerns from would-be users about the devices: "We understand that inviting a camera and microphone into your home is the kind of thing that will give a consumer pause, especially for a new category of products around video calling that haven't been really common for consumers to have access to".
But what's the hardware actually like?
The cheaper Portal has a 10.1-inch 1280 x 800 display that's fixed in landscape mode, while the Portal+ has a 15.6-inch 1920 x 1080 screen that can pivot between portrait and landscape modes. Powered by Facebook Messenger, Portal can be used to conduct video chats with other Portal users, or those using Messenger on mobile devices or desktops. There's support for group calls with up to seven people, and there's Alexa support.
Facebook boasts about the smart tech:
Powered by AI, Portal's Smart Camera and Smart Sound technology take all of the guesswork out of video calling, letting you enjoy a more convenient, hands-free experience. Whether you're cooking in the kitchen or chasing the kids around the living room, Smart Camera stays with the action and automatically pans and zooms to keep everyone in view. Smart Sound minimizes background noise and enhances the voice of whoever is talking, no matter where they move. It's like having your own cinematographer and sound crew direct your personal video calls.
The company is at pains to stress the privacy and security sides of things, saying:
You can completely disable the camera and microphone with a single tap.
Portal and Portal+ also come with a camera cover, so you can easily block your camera's lens at any time and still receive incoming calls and notifications, plus use voice commands.
To manage Portal access within your home, you can set a four- to 12-digit passcode to keep the screen locked. Changing the passcode requires your Facebook password.
Facebook doesn't listen to, view, or keep the contents of your Portal video calls. Your Portal conversations stay between you and the people you're calling. In addition, video calls on Portal are encrypted, so your calls are always secure.
For added security, Smart Camera and Smart Sound use AI technology that runs locally on Portal, not on Facebook servers. Portal's camera doesn't use facial recognition and doesn't identify who you are.
Like other voice-enabled devices, Portal only sends voice commands to Facebook servers after you say, "Hey Portal". You can delete your Portal's voice history in your Facebook Activity Log at any time.
If you're interested in the devices, you can pre-order a Portal for $199 or a Portal+ for $349 from portal.facebook.com. If you splash out on two Portals, you can save $100, with a pair costing just $298.