G.SKILL Trident Z Royal Series DDR4 RGB gaming RAM is worthy of a king or queen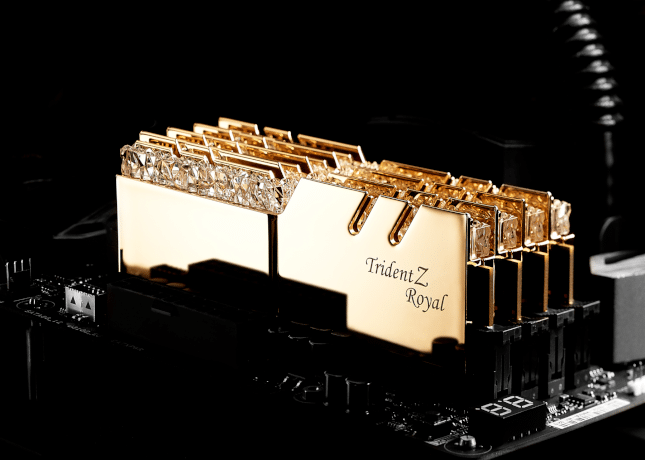 Sticks of RAM on their own are fairly boring aesthetically. These days, however, manufacturers are dressing them up to look fancy thanks to colorful heatspreaders and RGB lighting. There's nothing wrong with that -- it is nice to have an attractive PC build.
Today, popular memory maker G.SKILL takes things to an entirely new level. Its new Trident Z Royal Series DDR4 RGB memory kits feature gold or silver heatspreaders with transparent "crystalline" for the RGB lighting to shine through. Some may call it tacky, and maybe it is, but I find the gold in particular to be drop-dead gorgeous. As the "Royal" in the name implies, these are RAM kits fit for a king (or queen)! Even the font used on the sticks looks wonderfully pretentious.
"Trident Z Royal is the latest addition to the Trident Z flagship family, featuring a crown jewel design. Meticulously crafted to display just the right amount of light refraction, the crystalline light bar scatters the RGB colors in a magnificent display of LED lighting. Complementing the patented high-class light bar design, polished aluminum heatspreaders of gold or silver colors cools the memory modules in the award-winning classic Trident Z tri-fin design. And to help maintain the pristine shine of the heatspreaders, each Trident Z Royal memory kit comes with a piece of microfiber cloth to let you wipe away fingerprints and dust," says G.SKILL.
The company further says, "Inside the Trident Z Royal is the next generation RGB module designed with 8 individually controllable lighting zones, which allows for smoother color transitions and provides an even more stunning lighting experience for your build. To control this next generation RGB memory, a new set of lighting control software will be available for download from the official G.SKILL website. Engineered on a newly designed custom PCB to accommodate the increased lighting zones, the Trident Z Royal is also built for high speed overclocking specifications, ranging from 16GB to 128GB kit capacities and up to DDR4-4600MHz memory speeds."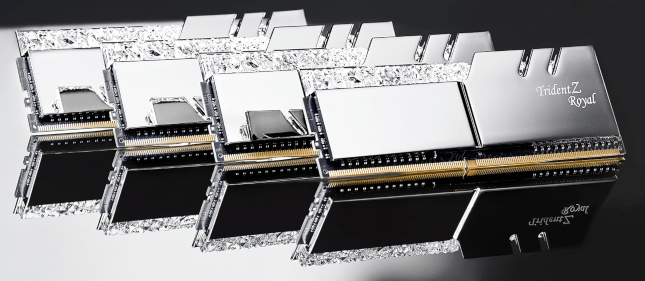 G.SKILL shares the specifications below,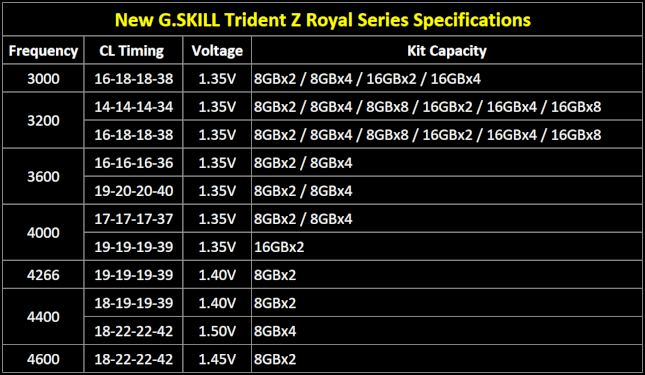 Unfortunately, pricing is unknown for now. Thankfully, we do have a general idea about availability, however. The Trident Z Royal Series DDR4 RGB memory kits will be available for purchase next month.