LG V40 ThinQ Android smartphone is quite delightful [Review]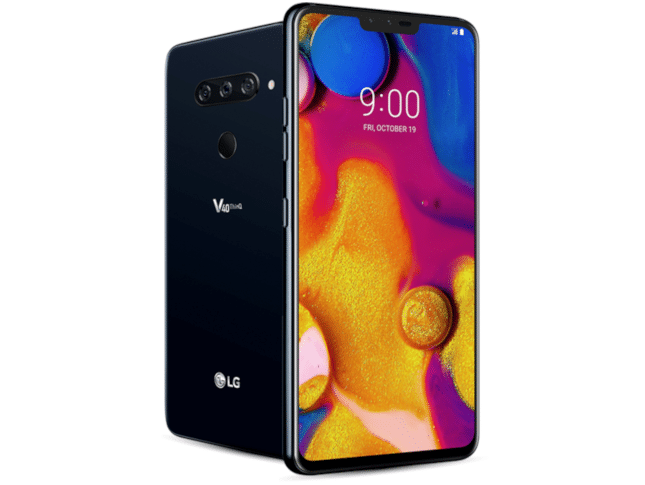 In the world of Android, LG doesn't get the attention it deserves. The company's smartphones are usually exceptional -- well made, with excellent displays, and quite often, above average audio quality too. Yet for whatever reason, many consumers flock to Samsung instead. Look, there is nothing wrong with Galaxy devices -- they are usually wonderful too -- but one of the best things about Android is there are so many companies embracing different designs and hardware. If you are a user of Google's mobile operating system, why not broaden your horizons a bit?
With the exception of the unfortunate G5, I have been impressed by every LG smartphone I have tried. Historically, yours truly has been particularly smitten with its "V Series" of devices. These are smartphones where LG has taken more risks, such as utilizing a "second screen" that sits atop the primary display -- a feature that is now gone. Was it gimmicky? Yes, a bit, but it was actually useful. Through age and refinement, however, the V Series has evolved into the true flagship device from LG, with the latest being the V40 ThinQ. I have been testing the device (unlocked variant) lately to see if LG is still delivering the quality smartphone experience I expect.
Specifications
Display: 6.4-inch QHD+ OLED Display (3120 x 1440, including notch); 538 ppi
RAM: 6 GB
Storage: 64GB internal memory (microSD: supports card up to 2 TB)
Rear Camera: 12MP Telephoto Zoom, 16MP Super Wide-Angle, 12MP Standard
Front Camera: 5MP Wide, 8MP Standard
Processor: Qualcomm Snapdragon 845 up to 2.8 GHz x 4 + 1.7 GHz x 4 Octa-Core
Battery: 3,300 mAh Non-Removable
Audio: 32-Bit Hi-Fi Quad Digital-to-Analog Converter (DAC), Boombox Speaker, Tuned with Meridian
Video Recording: Up to 4K60
Charging: USB Type-C port; wireless charging; Qualcomm Quick Charge 3.0
Wi-Fi Standards: 802.11 a/b/g/n/ac
Bluetooth: Version 5.0
Operating System: Android 8.1 (Oreo)
Unboxing
Impressions
It seems like every company is embracing the notch these days, and with the V40 ThinQ, LG brings it to the V Series for the first time. Unlike the much-maligned Pixel 3 XL, however, the notch does not look ridiculous. Actually, LG has opted to go with a balanced screen interruption -- not too large, but not diminutive either. Some folks want the notch to be as small as possible, and I get that, but when a notch is tiny, it can sometimes look bad too. You can hide the notch entirely using software trickery if you prefer.
Notch aside, the OLED screen is absolutely gorgeous. The 6.4-inch display features 3120 x 1440 resolution and a very impressive 538 ppi. Whether watching videos or swiping through photos, your eyes are in for a treat. Video recording is top notch with 4K60 as an option. With that said, videos shot in that format produce insanely large file sizes.
Many phone manufacturers have gotten rid of the 3.5mm audio jack on modern devices, but the V40 ThinQ still has one. Audio is phenomenal when using headphones thanks to the high-end DAC. If you value audio quality using headphones, you will be very satisfied with the V40 ThinQ. There is even an FM radio app included, which uses headphones as an antenna. With so many streaming services these days, FM radio isn't really necessary anymore, but it is appreciated nonetheless.
Unfortunately, the stereo speakers are very unbalanced. When holding the phone horizontally, there should be a 2.0 speaker effect where the earpiece serves as one channel, and the bottom serves as the other. And yeah, that works, but the volume of the bottom speaker is much louder, making it almost seem like nothing is coming out of the earpiece. If I hold the earpiece up to my ear, I can hear sound coming out, but it is significantly lower, which ruins the stereo experience. The audio as a whole gets very loud, however.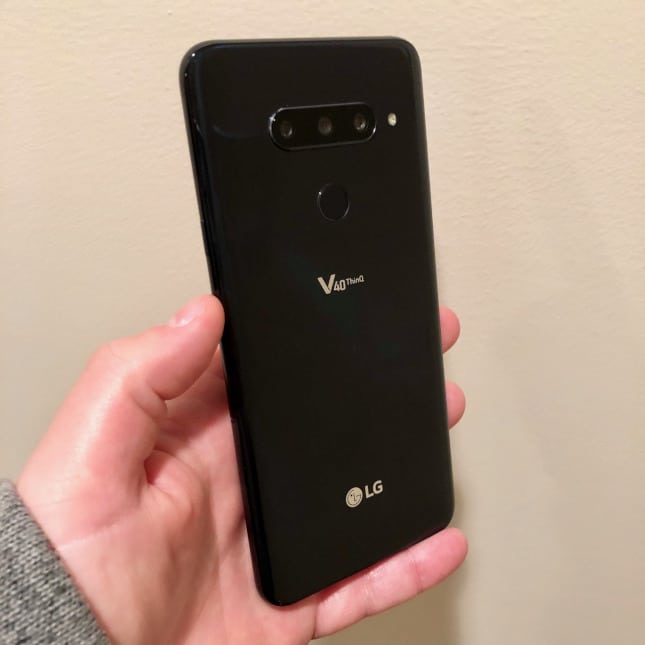 The real magic of the V40 ThinQ is the camera system. Believe it or not, it has a total of five cameras -- seriously. Surprisingly, it is not a gimmick -- all five of the lenses are incredibly useful. On the front, there is a standard camera, plus a wide angle shooter. Both have their place, with the standard camera being great for a quick selfie or video chat. The wide angle lens, however, is great for selfies with friends and family -- you can fit more people in the shot.
There is also a wide angle lens on the rear -- plus standard and telephoto variants too. This gives the user the ability to choose the best option for what they are shooting. The zooming in particular is incredibly useful, allowing you to zoom in without any apparent quality loss. Sometimes you just can't move closer to an object, such as taking a photo of an animal that may run away as you get near. Photos taken with all three rear lenses look great, and switching between them is fast.
Battery life is what I would call "all day," meaning it will work from when you take it off the charging in the morning until you put it on the charger before bed. If you forget to charge it at night however, you won't be happy the next day. My iPhone 8 Plus by comparison lasts many hours longer despite having a smaller battery (2,675 mAh vs. 3,300 mAh). When you do have to charge the V40 ThinQ, you can do so with either the USB-C port on the bottom or with a Qi wireless dock.
One of the biggest disappointments is the operating system -- it uses Android 8.1 Oreo and not the newer 9.0 Pie. While the V40 ThinQ will definitely get an OS upgrade to Pie eventually, it would have been nice to have it on day one. It isn't the best feeling to spend a lot of money on a new flagship and not get the most modern version of the underlying operating system.
Android 8.1 may not be the latest, but it is still great -- it shouldn't be a deterrent to shoppers. Everything runs smooth thanks to the Qualcomm Snapdragon 845 processor and 6GB of RAM. Seriously, folks, you will be treated to a very responsive experience -- there is no lag.

LG's implementation of Android is nice and clean, although the number of settings can be a bit daunting. There are tons of customizations available, which may overwhelm some users. The launcher does not use an app drawer by default either, something that frustrated me a bit. Thankfully, I was able to switch that on in the extensive settings menu. You can, of course, use a third-party launcher from the Play Store -- Android is all about making things personal.
The phone itself has the buttons you would expect, such as power and volume up and down. The fingerprint reader on the back does not double as a power button, which I don't like. I would prefer the reader be a clickable power button, but it's not the end of the world. What I do love, however, is the dedicated Google Assistant button. I found myself using it much more than I expected.
Ultimately, the LG V40 ThinQ is a great smartphone that will delight both Android newbies and experts alike. While it isn't perfect, no phone is. It would be great if the stereo speakers were more balanced from a volume perspective, but I don't find it to be a deal-breaker. While it doesn't have Android 9.0 today, it will next year for sure.
My biggest complaint is the $949 MSRP. Many new flagships have prices near or above $1,000 these days, however, so the V40 ThinQ is not alone here. It would be nice if consumers didn't have to experience such big price hikes. With that said, there are many deals to be had on this smartphone lately, so you can get it for hundreds of dollars less if you look around. If you need a new Android smartphone, I urge you to give the V40 ThinQ a look -- you will be pleasantly surprised. The V Series is still top-notch.