Keep installed software up-to-date using IObit Software Updater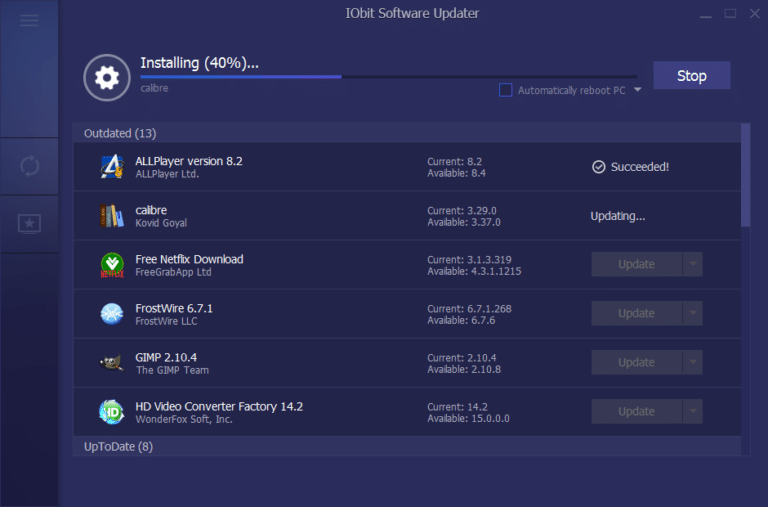 Download software from the Microsoft Store and it will either auto-update or you'll be notified when a new version is available.
Problem is, most of our software isn't downloaded from one source, so we often have no idea when big new updates are available. It's true some installed software will either auto-update or notify you from within the software itself. Examples include web browsers such as Chrome or Firefox, your security software and Windows.
IObit Software Updater is a brand new free tool designed to scan your system for all installed applications, check against a remote database, advise if updates are available and then enable you to download and install.
That's where the good news ends. Sadly the Software Updater has, at least at this stage, a limited database. When we scanned our test system, it found two apps that needed updating: Chrome and Avira Safe Shopping. Chrome will update itself and Avira Safe Shopping wasn't even installed. As a comparison, we compare our own Downloadcrew Update Scanner, which reported that Adobe Brackets, Amazon Music and Xara Photo & Graphic Designer required updating.
IObit Software Updater also recommends other software you may not have installed, in various categories, such as multimedia, security and social. However, it doesn't state the version number of the recommended apps, nor compare these recommended tools to your installed applications, which means you could accidentally download an older version than the one you have installed. The irony.
You can configure Software Updater to update your installed software automatically or allow you to handle this manually. You can also setup a restore point in case anything goes wrong with your system after you install an update.
Download IObit Software Updater.