You can win a limited edition Game of Thrones Roku Ultra by watching Season 8 of the HBO show and using Twitter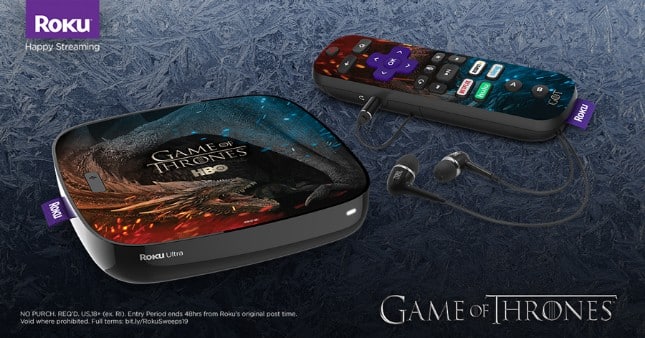 Game of Thrones is one of the greatest television series of all time. Hell, it is arguably the best. Not only is the acting, casting, and storytelling damn-near perfect, but it is visually stunning too. Back in the day, television shows had terrible special effects compared to films. After all, they had much lower budgets. That's why it is so remarkable, for example, to see such impressive imagery, such as realistic-looking dragons and massive cities, -- both of which are featured on Game of Thrones.
Sadly, all things end eventually, and Game of Thrones is no different. This year, the final season of the hit HBO show will air. To celebrate this significant moment in pop culture history, an official limited edition Game of Thrones Roku Ultra has been produced. Actually, there are six of them, and if you are lucky, you might be able to win one! Yes, Roku is doing a giveaway and entering is rather easy.
ALSO READ: Roku and Alexa are friends now
"The end is coming. Season 8 of Game of Thrones is upon us. And if you're as excited as we are, you've been counting down the days, re-watching episodes on HBO on The Roku Channel, and reading all the predictions the internet has to offer about what the final six episodes will bring. In order to mark the ending of such an iconic series, we've partnered with HBO to create something very special. For the first time ever, we've produced six limited edition Game of Thrones skinned Roku Ultras," says Darcy Mekis, Roku.
ALSO READ: Roku reaches impressive milestone -- more than 27 million active accounts
Mekis shares how to enter below.
Follow @Roku on Twitter.
Every Monday at 10am PT following a new episode, we will be posting a question about the series. In order to enter, all you have to do is reply to the tweet with your answer + #RokuGOTSweepstakes.
All answers will be entered to win an exclusive Game of Thrones Roku Ultra!
Winners will be selected 48 hours later and will be notified via Twitter.
If you are planning to watch Season 8 of Game of Thrones anyway, you might as well Tweet afterwards and try to win one of these limited edition Roku Ultra media boxes. Value of the device itself aside, it could be a very valuable collectible to rabid fans of Game of Thrones. eBay, baby!