IOGEAR Quantum Thunderbolt 3 Docking Station Pro 85 (GTD735) for Windows 10 and macOS [Review]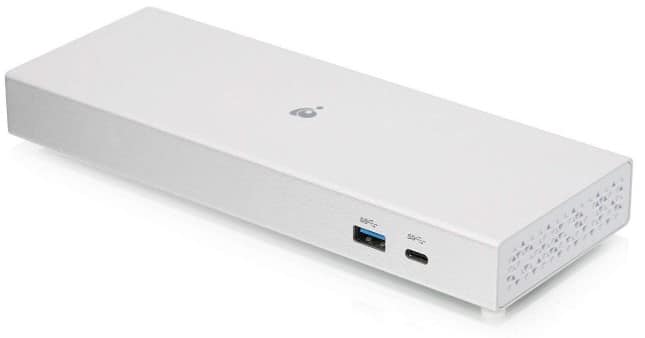 As the owner of a 2016 MacBook Pro, I was forced to tolerate dongles at first, but over time, I have actually come to like using them. Do I wish my Apple laptop had additional ports, such as USB-A, Ethernet, and an SD Card reader? I suppose, but to be honest, I find myself needing those connection types less and less these days -- especially on the go. I'd rather a thin and minimalist approach.
When at home, however, I do like having those ports as an option, so I typically use a Thunderbolt 3 docking station -- it's a great way to turn a notebook into a makeshift desktop. Lately, I have been testing a TB3 dock from IOGEAR called "Quantum Thunderbolt 3 Docking Station Pro 85." As the name suggests, it is designed for professional use, but it can, of course, be used by home users too.
Specifications
Audio Input: 3.5mm Line-in
Audio Output: 3.5mm Line-out
USB: 1 x USB-C (USB 3.1 Gen1), 2 x USB-A (USB 3.1 Gen1)
LAN: Gigabit Ethernet
DisplayPort: DiplayPort 1.2 (up to [email protected] with single video stream)
Other Thunderbolt 3 (USB-C port): up to [email protected] on DP Alt mode with single stream or [email protected] with dual streams
Power Supply: DC 170W ([email protected]) Full Range Power Adapter
Height: 0.98" (2.5cm)
Depth: 3.19" (8.1cm)
Length: 8.66" (22cm)
Unboxing
Impressions
Upon taking the IOGEAR Quantum Thunderbolt 3 Docking Station Pro 85 from its box, you will notice its beautiful design and cold-to-the-touch aluminum body (plus a massive power brick). While it also feels very solid, it is worth mentioning that one of the plastic side panels rattles a bit if you shake it, but come on, why would you shake the dock?
The whole product feels very Apple-esque, actually, thanks to its silver and white color scheme and overall elegance. With that said, Apple has been slowly transitioning away from white and silver, instead pushing black and gray. Of course, nowhere is it written that your computer must match your docking station.
With the docking station hooked up to my MacBook Pro, I am happy to say everything worked without issue. This includes charging my Apple laptop. The dock provides up to 85 watts (hence the "85" in the product name). Every port functioned as expected, and never did I experience a crash or malfunction. Well, that's that then, right? What else is there to say? Sadly, not all is roses.
Unfortunately, what stops the IOGEAR Quantum Thunderbolt 3 Docking Station Pro 85 from being a truly excellent product is its lack of ports. Now, it is hard to fault a product for not having ports when the manufacturer never claimed it had them in the first place, and yet, I will.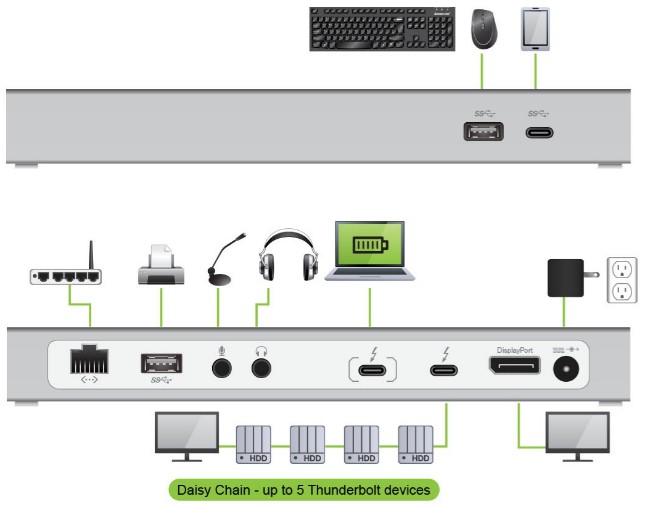 My biggest complaint is a lack of USB-A ports. There is one in the front and just one on the rear. Got a USB mouse and keyboard? Once you plug them in, you are out of Type-A ports. You can't connect a standard flash drive, sorry! Yes, you can convert the two Type-C ports to Type-A using dongles, or buy a USB hub, but that arguably defeats the purpose of a docking station. Not to mention, by using the front port for an always-connected accessory, you have an unsightly wire hanging off the front of the dock at all times.
Another big letdown is the lack of an SD card slot. For those that want to plug in a card to edit photos or videos are out of luck. While you can buy a USB reader, that will take up another of the limited ports. Luckily there are plenty of USB-C readers these days, [amazon_textlink asin='B01K1JWEFI' text='such as this one' template='ProductLink' store='betanews02-20' marketplace='US' link_id='f62dc1f9-f55a-4bd9-a027-4de3a5b9a2c8'].
Other than DisplayPort for video, you have to use the rear TB3 port (the one not connected to the computer) to connect a dongle (like [amazon_textlink asin='B07NSV7JFN' text='this one' template='ProductLink' store='betanews02-20' marketplace='US' link_id='4c287c5a-24e6-473c-aa38-5c21543e0545']) -- a must if you want a multi-monitor set up. With that said, most docking stations take that approach. Still, having dual video ports would be preferable.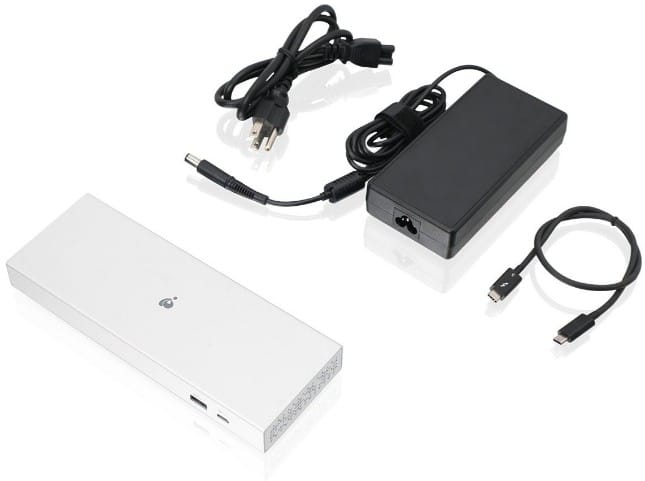 Here's the thing tho -- those "missing" ports mentioned above will be only a problem if you need them. Maybe you use a Bluetooth mouse and keyboard, so you don't need many USB-A ports. If you don't use an SD card, an integrated slot would be wasted on you.
Ultimately, only you can decide if the IOGEAR Quantum Thunderbolt 3 Docking Station Pro 85 will meet your connectivity needs. What I can tell you definitively, however, is that it is a quality piece of hardware that shouldn't give you any issues. Hell, I even rather love one aspect not found on many competitor's docking stations -- the 3.5mm audio ports are on the rear rather than the front. This is better placement for those using speakers, as you don't have a 3.5mm audio wire hanging off the front.
If you like the white/silver design and the connectivity options meet your needs, I would recommend it wholeheartedly to both macOS and Windows 10 users. IOGEAR products have proven very reliable over the years, and this investment should last you a long time. You can score it [amazon_textlink asin='B0787GT4QC' text='here on Amazon for around $225' template='ProductLink' store='betanews02-20' marketplace='US' link_id='ae97f790-2450-4e16-833f-d46d1c70743d'] -- perfectly reasonable for a quality Thunderbolt 3 docking station.