Opera 62 unveils improvements to dark theme support, experimental task-planner feature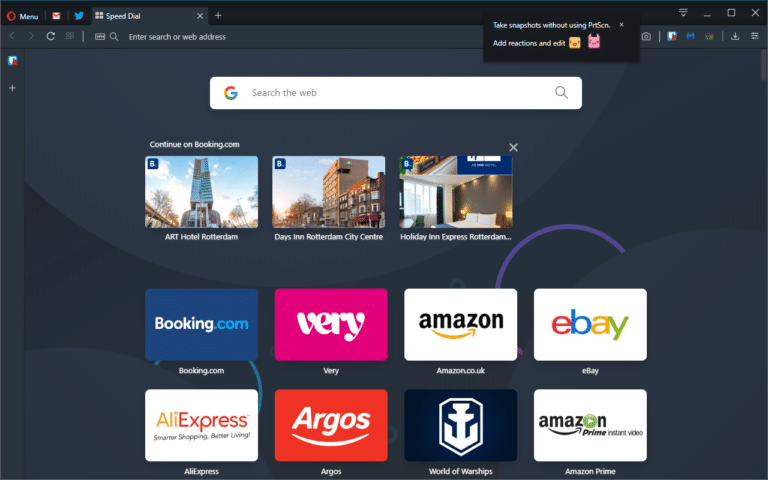 Opera Software has unveiled Opera 62, the latest major update to its Chromium-based web browser for Windows, Mac, Linux and Android. The new release continues to develop the Reborn 3 UI introduced in Opera 60.
Design changes include tweaks to the Dark Mode feature with support for Windows' own dark theme implemented. A new feature -- Task Completer -- implementing existing tools (Speed Dial and browser history) has also been added.
Opera 62 opens by implementing support for Windows 10's Dark Mode -- when users flick on the Dark mode switch under 'Settings > Personalization > Colors', then Opera will automatically implement its own dark theme too.
The dark theme has been extended to also cover authentication dialogs, context menus and the bookmarks editor. The tick box also changes color to red when the mouse is positioned over it, while text alerts are also recolored with a new shade of red.
Other thematic changes include the addition of a new option in Opera's Easy Setup menu -- accessible via the main toolbar -- that allows users with larger HD displays to display larger Speed Dial tiles. The feature -- 'Use bigger tiles' under Appearance -- is enabled by default.
Opera 62 also unveils a new feature dubbed 'Task Completer'. It is actually an option for users to connect their browser history to the Speed Dial to make it easier to return to unfinished tasks later. Dubbed an 'experimental' feature, it opens with a limited purpose: to help users return to hotels previously searched on booking.com.
Users must have an active booking.com account and have examined at three hotels for the feature to appear. The hotels will be displayed on Opera's speed dial for easy access, and are drawn from the user's cache rather than pulled afresh from the internet for privacy reasons.
The update also includes a large number of bug fixes and other minor tweaks, all detailed at the Opera changelog. Opera 62.0 is available now as a freeware download for Windows, Mac and 64-bit Linux users. Opera 62.0 Portable is also available for Windows users. Existing users should be able to update from within Opera itself -- simply open the Opera menu and choose 'Help > About Opera' to do so.