Jaybird VISTA wireless headphones make Apple AirPods look like trash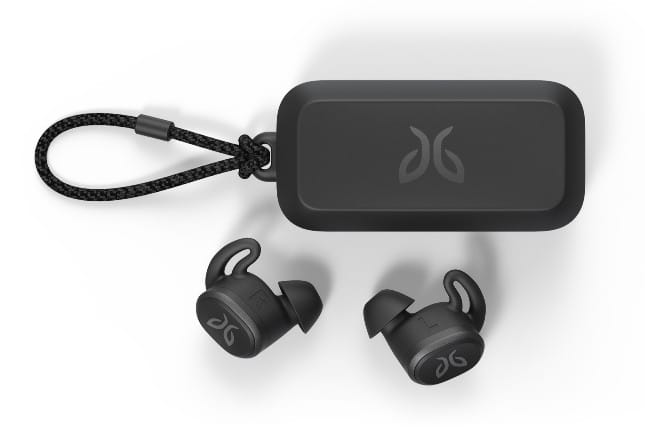 AirPods are trash. Yeah, I know, they are very popular and Apple sells a ton of them, but that doesn't mean they are good. Look, the iPhone-maker could do much better than a set of rigid hard plastic things that you shove in your ear. They cause me, and others, severe ear canal pain. It doesn't have to be that way either -- Apple could very easily design them with replaceable tips to provide a customized experience. But no, Tim Cook and company would rather not. Oh well.
Thankfully, there are other companies willing to acknowledge that not everyone has the same size ear holes. Jaybird, for instance, makes many comfortable wireless headphones with replaceable tips. Their focus is on both performance and comfort -- what a concept! Today, the company launches its latest product, and it is clearly an AirPods-killer. Yeah, calling a product that competes with Apple a "killer" is a bit of a cliché, but hey, facts are facts.
These new wireless headphones are called "VISTA," which will probably conjure images of the much-maligned Windows operating system. Name aside, they seem to tick all the right boxes. They are small and attractive, while offering sweat and water resistance -- perfect for exercising. Best of all, VISTA has replaceable tips, allowing a pain-free experience. It connects using Bluetooth 5.0, charges via USB-C, and is compatible with both Android and iOS.
"VISTA delivers six hours of audio on a full charge, plus 10 more in the charging case, for a total of 16 hours of listening. And quick five-minute charge gives you an hour of playtime. The case is easily charged with the included USB-C cable. By using each bud independently, you can extend battery life up to 32 hours -- perfect for those big training days or simply to stay more in tune with your surroundings. Durability is essential for athletes. With its unique EarthProof encapsulated construction, VISTA is not only IPX7 waterproof, but also sweatproof and crushproof to stand up to your hardest workouts," says Jaybird.
The Logitech-owned company further says, "Sound is a personal experience. Some people prefer more bass to get their adrenaline pumping on race day, and others want richer vocals for podcasts during endless training runs. Redesigned 6mm milled drivers deliver improved precision, less harmonic distortion and better audio accuracy, leading to the perfect balance of great sound and warm bass. And the Jaybird app gives you total control for an unmatched custom audio experience. Within the app, our Personal EQ function tests your hearing and creates your ideal sound profile, meaning a unique, personalized music experience with uncompromised sound quality."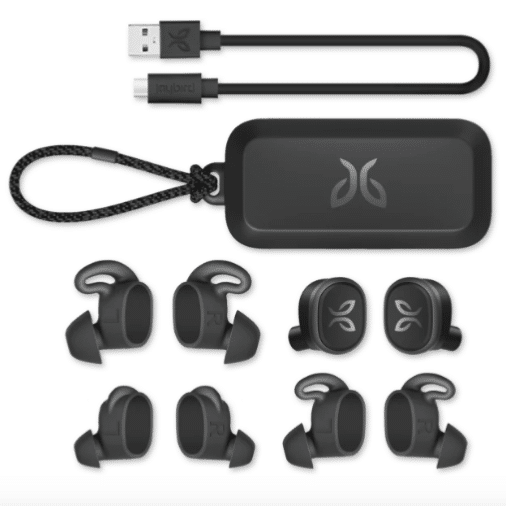 Jaybird shares specifications below.
Type: In-ear style
Noise-isolation: Passive
Impedance: 23 Ohm +-15% at 1KHz
Speaker sensitivity: 103.5 +-1.5dB at 1KHz
Output 12 mW RMS (with level limit)
Total Harmonic Distortion <3% (1KHz, 1mW)
Audio Format: 16-bit Stereo
Codec: Bluetooth SBC Implementation
Response Bandwidth 20Hz - 20kHz
Driver size: 6 mm
Bluetooth version: 5.0
Frequency band: 2.4 GHz
Profiles: Handsfree , Headset , A2DP , AVCRP , SPP
Wireless Range: Class 2 standard range 10m/33ft
Play Time: 6 Hrs + 10 Hrs in the case
Charging time: 2 Hrs
Quick charge: 5 min = 1 hour playtime
Charging: Via charge case with USB connector
Input power: DC 5V 1A
Type: Lithium Ion
Battery voltage: 3.6V
Energy Voltage in Watt Hrs Per Battery: 0.19 Wh
Jamie Parker, CEO of Jaybird, provides the following statement.
Today's athlete demands zero distractions. That's why we set out to design the most powerful wireless headphones in the smallest and lightest form factor. The result of this obsession is Jaybird VISTA -- our lightest, smallest and most durable earbuds to date. With up to 32 hours of single bud use, best-in-class connectivity, stereo phone calls and IPX7-rated waterproof and sweat-proof, the pocketable Jaybird VISTA are the essential totally wireless headphones for every athlete.
The Jaybird VISTA, in black color, can be had immediately for just $179.99 here. That makes them $20 more than Apple's AirPods, but that is a small price to pay for improved comfort and durability. There will be two additional colors made available later this year -- Mineral Blue and Nimbus Gray. Keep in mind, while Jaybird's headphones are designed for athletes, they can, of course, be used by anyone. There is no reason you can't use them to listen to music when riding on the train or just relaxing at home.