StarTech.com TB3CDK2DP Thunderbolt 3 and USB-C hybrid dock is magical [Review]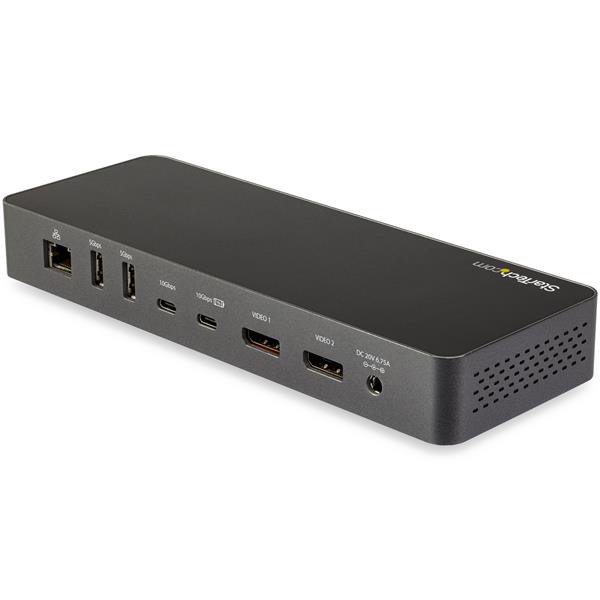 Unless you are a gamer or enthusiast, owning a desktop computer these days is sort of, well... stupid. Look, even if you do most of your computing at a desk, you should still buy a laptop. Why? Think about it -- a desktop keeps you tethered to one place, while a notebook is portable. Thanks to Thunderbolt 3 and USB-C, you can use your laptop as a makeshift desktop by using a docking station. In other words, you can connect your notebook to a monitor, keyboard, mouse, web cam, external hard dive -- pretty much anything you need. The dock will charge and power your computer too. A traditional desktop is very limiting.
One such docking station that piqued my interest recently is a Thunderbolt 3 model by StarTech.com. Called "TB3CDK2DP," it has a very unique feature -- it is compatible with USB-C laptops that are lacking TB3. In other words, if you have a Thunderbolt 3 laptop, this dock will work in full TB3 mode. If you have another computer that only has a regular USB-C, however, it will function in a USB mode. This essentially gives you the best of both worlds. I have been testing this docking station extensively with a MacBook Pro with Thunderbolt 3, as well as a Windows 10 laptop and Chromebook that only have USB-C and not TB3. Unfortunately, I do not have a Windows machine with Thunderbolt 3.
Specs
WARRANTY INFORMATION
Warranty
3 Years
HARDWARE
4K Support
Yes
Audio
Yes
Bus Type
Thunderbolt 3
USB-C
Displays Supported
2
Fast-Charge Port(s)
Yes
Industry Standards
DP 1.2a Version
HDCP 1.4 and HDCP 2.2 Compliant
K-Lock Slot
Kensington Standard Slot (K-Slot)
Port Style
External Hub
Ports
3
USB-C Host Connection
Yes
PERFORMANCE
Maximum Digital Resolutions
Thunderbolt 3 Laptops Dual Monitors: 4096 x 2160
USB 3.1 Type C Laptops Dual Monitors: 1920 x 1080 | 1920 x 1200
USB 3.1 Type C Laptops Single Monitor: 3840 x 2160
Supported Charging Outputs
BC 1.2 (1.5A)
Type and Rate
Thunderbolt 3 - 40 Gbit/s
USB 3.1 Gen 2 - 10 Gbit/s
USB 3.1 Gen 1 - 5 Gbit/s
USB 3.0 - 5 Gbit/s
SOFTWARE
OS Compatibility
Windows 10
Windows 8
macOS Mojave (10.14)
macOS High Sierra (10.13)
macOS Sierra (10.12)
POWER
Input Current
2.5A
Input Voltage
100 - 240 AC
Output Current
3.0A
Output Voltage
20V DC
Power Source
AC Adapter Included
PHYSICAL CHARACTERISTICS
Cable Length
2.8 in [7 cm]
Color
Black & Space Gray
Enclosure Type
Plastic
Product Height
1.2 in [3 cm]
Product Length
3.1 in [80 mm]
Product Width
8.7 in [22 cm]
Weight of Product
8.8 oz [250 g]
Unboxing
Impressions
Upon taking the TB3CDK2DP from the box, I was impressed with its no-nonsense design. It is both elegant and industrial, looking good in either a home or work setting. However, there is one thing I immediately noticed that disappointed me -- the placement of the host port (which provides 60 watts for charging). Rather than have it on the rear, it is on the front. This means the wire will always be visible when connected to the laptop. Is this a bad thing? Functionally no -- in fact, in some settings, it might be preferred. However, from an aesthetics perspective, having a wire hanging off the front can be seen as a blemish.
I was also a bit dismayed by the lack of an SD card reader on the front. True, not everyone needs such a thing, and you can add one via a dongle, but still, it would be nice to have. Especially with more and more computer manufacturers not including card readers on their laptops, it becomes a bigger need in a dock. I also prefer having the 3.5mm audio jack on the rear as I like to leave speakers connected, but I can understand that some folks would rather have it on the front -- you can't please everybody.
Those minor annoyances aside, the TB3CDK2DP should have all the ports you would need. On the front, you have a USB-A port which operates at USB 3.1 gen 2 speed. This is great for connecting a flash drive, but also, it can be used to charge devices such as a smartphone. On the rear, you get two more USB-A ports, but they are running at the slower USB 3.1 gen 1 speed. In addition, you get two USB-C ports operating at the faster 3.1 gen 2 speed. You also get gigabit Ethernet, which will come in handy for adding a hardwired network connection when docked.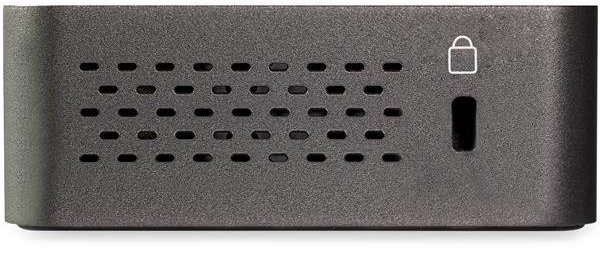 On the right side you get a Kensington lock slot, which enables you to lock the dock to a table or desk with the addition of something like this. This is particularly useful in a business setting where there can be a lot of foot traffic in the area. While a determined thief can surely steal it, the lock will definitely serve as a deterrent. On the bottom there are VESA mounting holes too, so you can use an optional adapter to mount it on a monitor or on a wall. Most people will just place it on a desk, however, and for that, the bottom of the dock is coated with rubber to prevent it from sliding.
For video, you are given two DisplayPort connectors and no HDMI. While some will be disappointed by the lack of HDMI, it is really a non-issue. First off, DisplayPort is superior to HDMI, so if your monitor has the former, you should be using that anyway. Understandably, however, some folks may want to use a display that only has HDMI. In that case, you can use an affordable adapter or cable such as this one.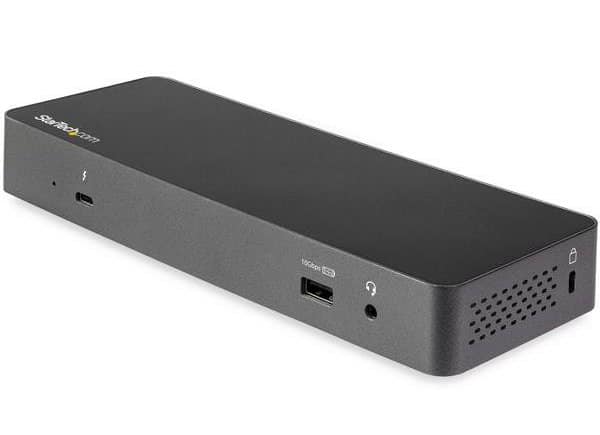 Keep in mind, the TB3CDK2DP can push two 4K displays, but only with a Thunderbolt 3 computer. If you have a USB-C laptop, you are limited to just one 4K display or two at either 1080p or 1920 x 1200. Unfortunately, in my testing with a Windows laptop using USB-C, the 4K refresh maxed out at 30Hz. Even worse, with the Chromebook, I was unable to get video at all. Other aspects of the dock worked with Chrome OS, but not video. With that said, StarTech.com does not list Chromebook support, so I really can't complain about that. For those wanting to achieve 4K60, a Thunderbolt 3 computer, such as the MacBook Pro, will be needed.

So, do I recommend the StarTech.com TB3CDK2DP Thunderbolt 3 and USB-C dock? Yes, but it depends on your computers. If you have a need to connect multiple laptops that have a mix of Thunderbolt 3 and USB-C, you should absolutely buy it -- this dock is like magic. For both Windows and macOS, it works flawlessly. However, if you only plan on connecting Thunderbolt 3 laptops, something like the StarTech.com Dual 4K Monitor Thunderbolt 3 Dock is probably the wiser buy. If you will only connect USB-C computers, the StarTech.com Dual Monitor USB-C Laptop Docking Station can save you a lot of money comparatively.
Ultimately, the StarTech.com TB3CDK2DP Thunderbolt 3 and USB-C dock is yet another home run for the company, and if it meets your needs, you should purchase it without hesitation. You can buy it here now for around $250.