ADATA announces ultra-compact IM2P3014 M.2 2242 NVMe PCIe Gen3x2 SSD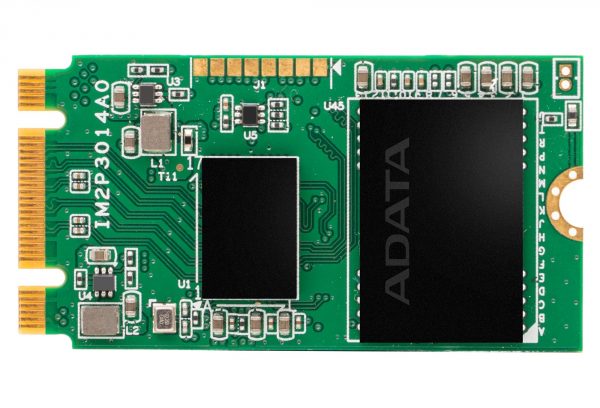 When you buy an NVMe PCIe SSD these days, it is probably going to be the 2280 form factor. That seems to be the most popular length, and for the most part, it can fit into most computers with M.2 slots. With that said, there are devices that require a smaller M.2 drive due to limitations.
The shorter 2242 form factor is rather rare, though not unheard of, and ADATA has a new ultra-compact solid state drive at that length. Called "IM2P3014," the stubby M.2 2242 NVMe PCIe Gen3x2 SSD is intended for industrial applications, but it can, of course, be used in pretty much any computer with an M.2 slot and a mounting hole for 2242 SSDs. In fact, this drive could be an absolute godsend for those that need that form factor.
"This PCIe Gen3x2 SSD supports NVMe 1.3 for excellent transmission performance with read/write speed up to 1600/1300MB per second while being energy efficient and effective at dissipating heat. These capabilities make the IM2P3014 perfectly suited for space-constrained IPCs and server boot-up applications. What is more, the SSD sports a 3,000 P/E cycle rating for excellent longevity and is designed to operate optimally in a wide range of temperatures (-40°C to 85°C) for incredible endurance, reliability, and stability," says ADATA.
The company also says, "For enhanced data security, the IM2P3014 comes with AES 256-bit encryption and meets the TCG Opal 2.0 standard. Its compact form factor and performance make it suitable for all types of industrial systems, either as expanded storage or as a boot drive. To safeguard quality, compatibility, and dependability, ADATA uses a rigorous SSD validation process that encompasses performance testing and quality assurance to ensure its SSDs meet the exacting requirements of industrial applications."
ADATA shares specifications below.
Capacity: 64GB / 128GB / 256GB / 512GB
Dimensions (L x W x H): 42 x 22 x 3.5mm
Interface: PCIe Gen3x2
Form Factor: M.2 2242
Operating Voltage: 3.3V
Power Consumption: 1.6W
Shock Resistance: 1500G/0.5ms, Half Sine Wave
Operating Humidity: 5%-95% RH, non-condensing
Flash Type: 3D TLC
Sequential Read (Max): 1600MB/s
Sequential Write (Max): 1300MB/s
Operating temperature (Industrial): -40°C to 85°C
Operating temperature (Commercial): 0°C to 70°C
Vibration Resistance: 20G (80-2000Hz)
Technologies: TCG OPAL 2.0, AES-256 encryption, S.M.A.R.T., NCQ and TRIM Command, Wear Leveling
Unfortunately, the ADATA IM2P3014 M.2 2242 NVMe PCIe Gen3x2 SSD does not seem to be available from any online retailers yet. However, it may show up here soon. Since ADATA has not yet shared pricing, we will have to wait to find out the cost. What we do know, however, is that it will be offered in four capacities -- 64GB, 128GB, 256GB, and 512GB.
Please note: Some of the above links may be affiliate links, meaning we, or our writers, may receive payment if you purchase one of these items (or other items) after clicking on them.