The IT infrastructure needed for smart cities [Q&A]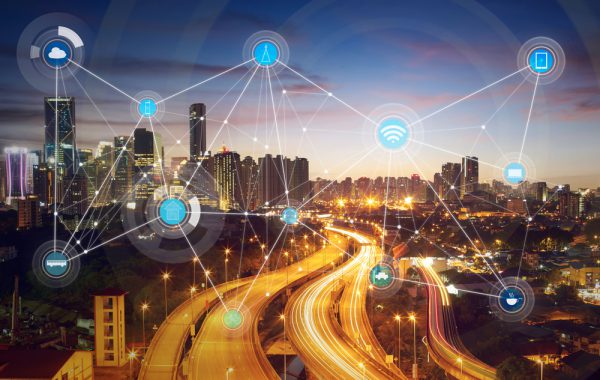 Smart cities hold out the promise of a future where tech-driven urban spaces provide faster, smarter, greener living. But for this to work requires a high-performance digital infrastructure, not just fast internet.
Smart cities need to be built with a connected infrastructure and with future proofing in mind. To find out about the data center strategies required to make this work we spoke to Bill Fenick, VP of enterprise at interconnection specialist Interxion.
BN: We know about the individual technologies, utility and traffic management for example, but what makes for a fully 'smart' city?
BF: In any city, a massive amount of data is constantly being created from different sources and it needs to be able to flow to the various entities that can use that data. To achieve this, a truly 'smart' city needs to be a connected city. With so much data creation, it's easy for important information to get lost in the noise, which is why high-speed, low-latency connectivity is the most important thing for a smart city. After data is created, it needs to be aggregated so that it can be analyzed by an AI or machine learning algorithm to help synthesize the data and make it more intelligent. By having all of this intelligent data stored in one place, it makes it easier for people to make more informed, actionable decisions by reacting to the data, in turn making the whole city smarter.
BN: What level of connectivity is needed to make this work?
BF: A smart city requires a phenomenal level of connectivity for it to work successfully. Most importantly, there should be a centrally located connectivity hub that allows for data aggregation and intelligent analysis of that data. In today's world, if a data center facility is isolated somewhere far away and not connected, the data in that facility unfortunately is of less relevance. Additionally, the level of connectivity consistently needs to be enhanced as new technology becomes available -- for example, the switch from 4G to 5G -- so that latency can continuously be lowered and more data can be transferred in smaller packages.
BN: Doesn't this present a major security challenge, how can that be dealt with?
BF: Yes, there is a major security challenge any time data is involved. Especially with smart city technology where data is collected on such a large, public scale, security is one of the biggest challenges we face. When data can identify someone from technology like facial recognition or IP addresses, we need to find a way to anonymize that information as part of the data collection or aggregation process to protect individual privacy. However, when thinking about the current pandemic and the new types of data we need to collect to fight it, we are faced with the dilemma of whether someone's identity or privacy is ultimately more important than someone's life. Simply put, to avoid being put on the back foot with security, it's critical to always keep innovating, enhancing, patching, and updating the technology we have in place to make sure we are as secure as possible.
BN: What's needed to manage the transition from city to smart city?
BF: For a city to begin the transition to smart city, they need to focus first on establishing the high-speed, low-latency connectivity and an aggregation hub that the increased amount of data creation, sharing, and analysis demands. From there, enhanced smart infrastructure and sensors are essential to manage the transition. It's important for an aspiring smart city to pay attention to the latest emerging technologies, specifically in regions like Asia that are developing much faster than the rest of the world. Whether it's a sensor for a hospital door, train station, or grocery store, having the latest technology in place will make that transition smoother and the resulting benefits will be more valuable.
BN: Are smaller cities able to adapt more quickly than larger ones?
BF: Theoretically yes, a smaller city can adapt more quickly and implement the necessary IT infrastructure and network more easily than larger cities because they are doing it on a smaller scale. However, since larger cities often have bigger issues that smart city infrastructure can help solve, they prioritize smart city projects more often than small cities and can do it quickly because of the large amount of data they have to work with from their population. For example, most major cities have public transportation and other areas that see high traffic on a daily basis, so data can constantly be collected, analyzed, and reacted to in order to make the city smarter.
Photo Credit: jamesteohart/Shutterstock