Samsung launches 870 EVO SATA SSD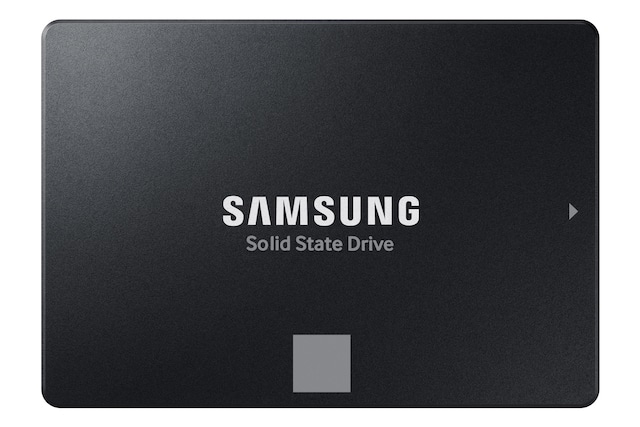 There are a lot of companies manufacturing 2.5-inch SATA solid states drives these days. For the most part, these drives are relatively all the same. They have similar speeds and performance, so you should just choose whatever brand costs the least, right? Whoa there, cowboy -- not so fast. Don't forget about reliability! You should always stick to drives from reputable companies. After all, speed doesn't matter if your data gets lost forever...
There are several trustworthy brands on the market, but none are more respected than Samsung. For years now, Samsung solid state drives have proven to be fast and reliable. And today, the company launches its latest SSD. Called "870 EVO," this 2.5-inch SATA drive promises improved performance over its predecessor -- up to 560/530 MB/s read/write. Best of all, it can be had in capacities up to 4TB.
"The Samsung 870 EVO features the company's latest V-NAND and controller, allowing it to reach the maximum SATA sequential read and write speeds of 560 and 530MB/s, respectively. Using a large variable SLC buffer, the drive's Intelligent TurboWrite technology helps maintain its peak performance levels. The 870 EVO also delivers a nearly 38 percent improvement in random read speed over the previous 860 model, enabling enhanced user experiences when multi-tasking, web browsing or simply booting up PCs," says Samsung.
ALSO READ: Samsung unveils Galaxy Chromebook 2
The Galaxy-maker further says, "Harnessing its experience and expertise in storage technologies, Samsung designs all SSD components in-house to ensure that every part works together cohesively. As a result, the 870 EVO offers around a 30 percent improvement in sustained performance over the 860 EVO, as well as a class-leading terabytes written (TBW) rating of 2,400TB, or a 5-year limited warranty, for its 4TB model."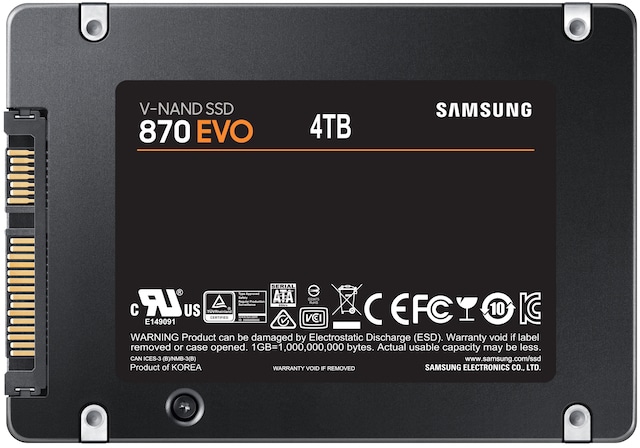 Samsung shares specifications below.
Interface
SATA 6Gbps
Form Factor
2.5-inch
Storage Memory
Samsung V-NAND 3-bit MLC (TLC)
Controller
Samsung Controller
DRAM
4GB LPDDR4 (4TB)
2GB LPDDR4 (2TB)
1GB LPDDR4 (1TB)
512MB LPDDR4 (250/500GB)
Capacity
4TB, 2TB, 1TB, 500GB, 250GB
Sequential Read/Write Speed
Up to 560/530 MB/s
Total Bytes Written
2,400TBW (4TB)
1,200TBW (2TB)
600TBW (1TB)
300TBW (500GB)
150TBW (250GB)
Random Read/Write Speed
Random Read 98K, Write 88K IOPS
Management Software
Samsung Magician
Warranty
Five-year Limited Warranty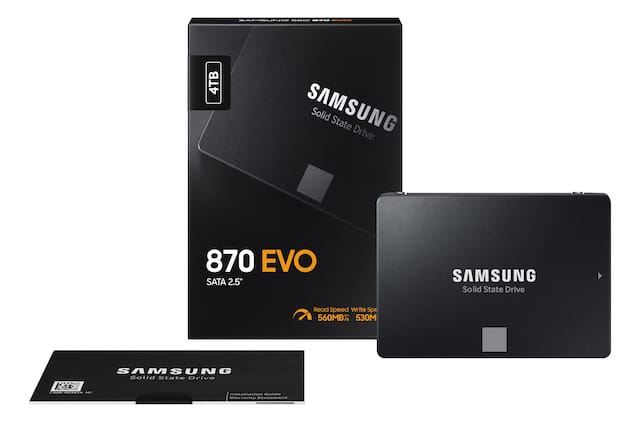 The Samsung 870 EVO 2.5-inch SATA SSD will be available later this month in your choice of five capacities -- 250GB, 500GB, 1TB, 2TB, and 4TB. They will sell for $49.99, $79.99, $139.99, $269.99, and $529.99 respectively. The SSD should soon be available for purchase here. You can even turn it into an external drive for less than $10 with an enclosure such as this one.
Please note: Some of the above links may be affiliate links, meaning we, or our writers, may receive payment if you purchase one of these items (or other items) after clicking on them.