OWC Thunderbolt 4 Hub is a must-buy for M1 Apple Mac computers [Review]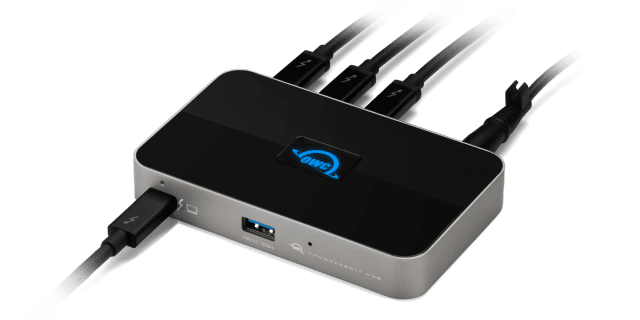 When Apple revealed its own ARM-based M1 processor, it changed everything. You see, Apple Silicon performance didn't just meet consumer expectations, it exceeded it by far. Yes, the M1 processor is a magic-like chip that is shockingly capable while sipping electricity -- battery life on M1 MacBook laptops is impressive. Apple deserves major props for its willingness to cut ties with Intel and forge its own path.
With all of the hype surrounding the M1 processor, I decided to buy my own Mac mini powered by the chip. It was quite inexpensive, priced under $700, so I felt comfortable diving into this new Apple Silicon world. After all, I am primarily a desktop Linux user -- I wasn't interested in spending thousands of dollars on my own curiosity.
Guess what? I love my little Mac mini! It has a fan, but I have never heard it spin up, even when working with Final Cut Pro. In other words, it is totally silent. Believe it or not, it is shockingly peppy -- even though it only has 8GB RAM. I chose not to go with 16GB, because Apple wanted $200 to add an extra 8GB and I am not playing that game. This was a risky gamble, as you cannot upgrade the memory later. Thankfully, I have yet to regret that decision; 8GB is totally fine.
For the most part, the M1 is nearly perfect -- nearly. Unfortunately, it is very limited as far as ports. In addition to HDMI, Ethernet, and 3.5mm audio, you get just two Thunderbolt ports and two USB-A ports. In other words, if you plug in a USB-A mouse and keyboard, you now have no place to plug in a USB-A webcam -- unless you use up a TB port with an adapter. Plug in an external storage drive into the other TB port, and you now have zero expandability. Pardon my crudeness, but that sucks.
Sure, you can use Bluetooth mice and keyboards to partially alleviate these woes, but you shouldn't have to. Not to mention, there are reports of M1 Mac computers having buggy Bluetooth, so you might want to avoid that possible pain point.
You can, of course, plug in Thunderbolt docks and/or USB hubs, but then you are getting into a possibly pricey -- and messy -- situation. Instead, I was intrigued by the OWC Thunderbolt 4 Hub. This product plugs into one of the TB ports on your M1 Mac and turns it into three TB ports and a single USB-A port. In other words, after plugging it in, your Mac mini now has four TB ports and three USB-A ports. Now that's more like it.
Best of all, the OWC Thunderbolt 4 Hub is rather affordable -- just $150. Hell, that is less than what Apple charges for an additional 8GB of RAM. Sigh. But yeah, a hundred fifty bucks is totally reasonable for a cutting-edge product from a premium brand like OWC. Not to mention, it is not limited to M1 Mac computers -- it is also compatible with Windows machines with TB4 ports.
Unboxing
Testing
Of course, while the OWC Thunderbolt 4 Hub looks great on paper, I'd have to test it with my own Mac mini to see if it performed well. I wanted to be sure it could handle many types of devices. I successfully connected a 4K display to the hub via USB-C and it worked perfectly at 60Hz. I then connected a USB-C DAC and music played as expected from Apple Music. I also plugged a USB-A webcam into the front of the hub, and that worked flawlessly as well.
So now it was time for the big question -- how would external storage perform? I had two types of drives to use -- both are NVMe, but one is Thunderbolt 3 and the other is USB. I decided I would first connect them directly to the Mac and use Blackmagic Disk Speed Test to benchmark the speeds. The Thunderbolt 3 SSD has an integrated cable and the USB SSD has a removable cable. For the latter, the same cable was used for both tests.
USB SSD to Mac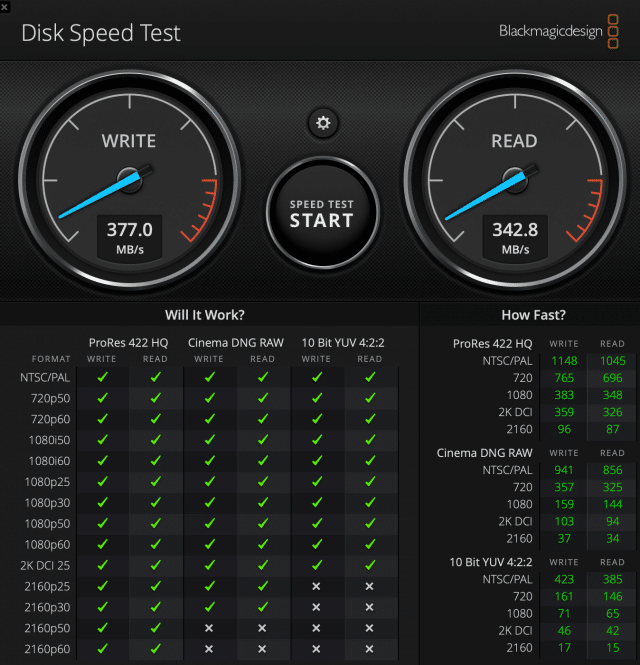 USB SSD to OWC Thunderbolt 4 Hub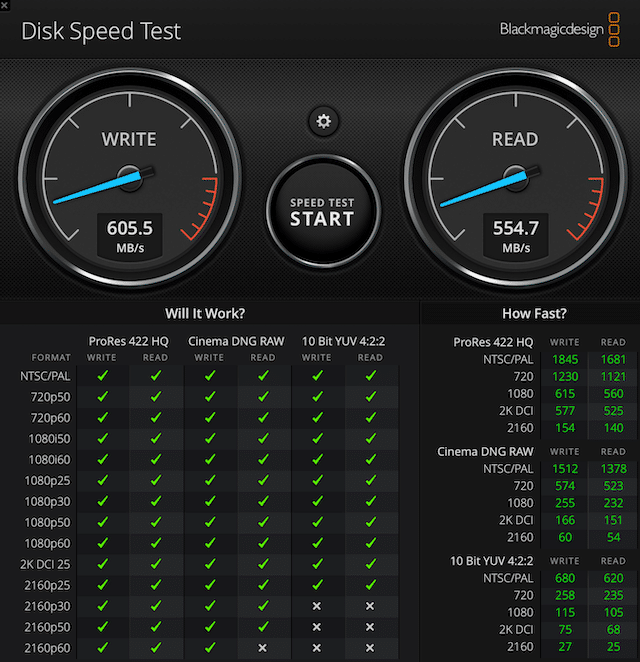 Thunderbolt 3 SSD to Mac
Thunderbolt 3 SSD to OWC Thunderbolt 4 Hub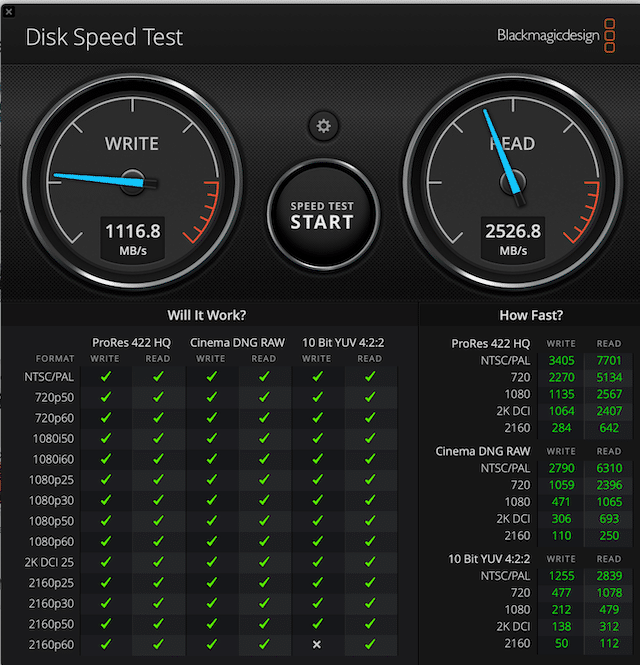 So, these results were a bit surprising to me. As you can see, the USB-A ports on the Mac are shockingly slow even though they are reportedly USB 3.1 Gen 2. The USB SSD connected to the OWC Thunderbolt 4 Hub is significantly faster. If you are using USB storage, the hub will give you a big performance boost.
On the other hand, in multiple tests, the Thunderbolt 3 SSD has better write speeds when connected directly to the Mac compared to the hub. With that said, in some cases, the read speeds were higher when connected to the hub, but not by much -- I'd call it a draw.
Conclusion
Is the OWC Thunderbolt 4 Hub perfect? No. It has a very nice design in that the bright light on the top can be dimmed or turned off entirely, but at the same time, the Thunderbolt host port is on the front, so you will always have an unsightly wire hanging off of it. That's the biggest downside to the hub, which is saying a lot, as it has no impact on performance.
Ultimately, the OWC Thunderbolt 4 Hub works as advertised, working with all Thunderbolt and USB devices I plugged into it. The dramatically better USB speeds compared to the Mac mini's integrated ports is a wonderful surprise, while the decreased write speeds with the Thunderbolt SSD were disappointing (but absolutely not a deal-breaker).
At an affordable $150, I enthusiastically recommend the OWC Thunderbolt 4 Hub to all M1 Mac owners. It looks nice, works well, and feels built to last. You can pre-order it here now.
Please note: Some of the above links may be affiliate links, meaning we, or our writers, may receive payment if you purchase one of these items (or other items) after clicking on them.