OWC launches universal Thunderbolt 4 / USB-C cable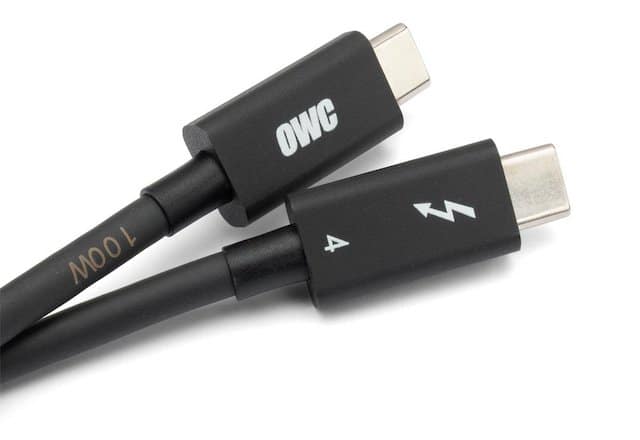 Buying a cable should be an easy task, but believe it or not, it isn't always. In fact, with USB Type-C and Thunderbolt cables, consumers often buy the wrong things. Even worse, many of these cables are out of spec, meaning they can damage your devices or malfunction. This is why you should avoid "no-name" brands, although even some reputable brands have been known to sell poor cables.
OWC is a brand that I trust very much, and apparently, it has had enough of the nonsense surrounding these cables. You see, the company has launched a high-quality universal Thunderbolt 4 / USB-C Cable that should work with all devices that use the USB-C connector. In other words, you can buy it without worry -- it has full certification for both power and data.
"Whether connecting accessories, power, video or even networking the OWC Thunderbolt 4 / USB-C Cable is universal for everything making it the only cable you will ever need. Connecting with USB-C on both ends, this cable is safe, certified, and always reliable for Thunderbolt 4, Thunderbolt 3, USB 4, USB 3.2, USB 3.1, USB Power, Video, etc. And you get 100 percent of both the maximum power allowed and the full data capability supported from/between any USB-C port-equipped device and host," says OWC.
ALSO READ: OWC Thunderbolt 4 Hub is a must-buy for M1 Apple Mac computers [Review]
The popular company further says, "No matter what kind of device or power level; be it a Mac, PC, tablet, or mobile device, the OWC Thunderbolt 4 / USB-C Cable never lets you down for your USB-C to USB-C connectivity needs. Contrast this with USB-type cables, which often carry no certification, have more limited and varying data speeds, and are not all rated and safe for the power level a system can demand. OWC Thunderbolt 4 cables take all the guesswork out for your USB-C to USB-C connectivity needs."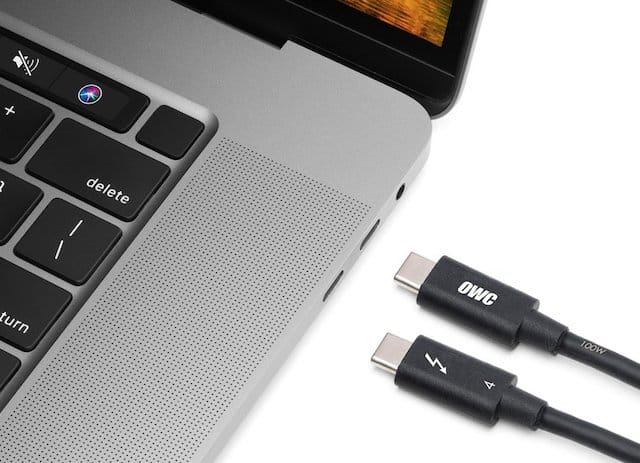 OWC shares features of the cable below.
100 percent USB-C Compatible: connect to today's, tomorrow's, and yesterday's Macs, PCs, iPads, Chromebooks, Surface and other devices with a Thunderbolt 4, Thunderbolt 3, USB-C, or USB4
Certified for All Uses: enjoy lab test certified safe power delivery up to 100W of power, up to 40Gb/s of data performance, and up to 8K of video capability
Versatile Connections: connect any drive, dock, display, eGPUs, PCIe expansion, external SSDs, RAID storage, Power adapters, accessories, anything that goes USB-C to USB-C
Powerful: Certified safe delivery of up to the maximum 100 watts of power/charging from docks, adapters, and other devices that USB-C and Thunderbolt support.
Stunning visuals: connect up to 4K, 5K, 6K and 8K Thunderbolt or USB-C display
Guaranteed quality: 3 Year OWC Limited Warranty
The OWC universal Thunderbolt 4 / USB-C Cable can be had immediately here for just $27.99 -- a reasonable price for a high-quality wire. With that said, having a truly universal full-speed cable does come with a downside -- length. You see, this wire is only 0.8M, meaning it is less than three feet.