Windows 11's Android app support is not as disappointing as you might think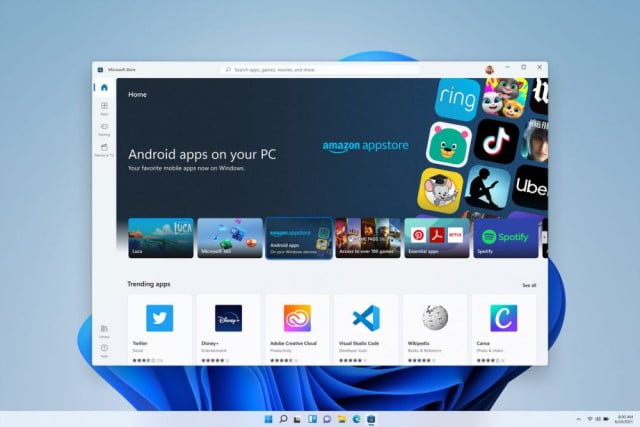 Microsoft has officially announced Windows 11, the dust has settled, and the excitement has died down a little. Now it's time to look at what we know is going to be included in the latest version of the operating system, rather than guessing and speculating as we have had to do up to now. And when we do this, there various reasons to be disappointed.
We always knew -- or at least suspected -- that Windows 11 was not going to be a major change from Windows 10. It has already been dismissed by some as being little more than a theme pack or service pack, but there are new features. One of the things that generated quite some interest is support for Android apps, but hearts then sank after learning that rather than Google Play, apps will need to come from the Amazon app store. But there is some great news...
See also:
The problem is many of Windows 11's new features are simply not a great as they have been made out to be, or fail to go as far as people had been hoping. Android apps from Amazon Store is clearly nowhere near as appealing as Android apps from Google Play, but that's what Microsoft is offering.
At least that's what Microsoft has made a big deal about offering.
Just as is the case on Android phones, there is great interest in the ability to sideload Android apps in Windows 11. Will this be possible? Yes, is the word from Microsoft developer Miguel de Icaza on Twitter:
This is great news for anyone concerned about being limited by what's available from Amazon. It seems that so long as you can grab an APK from somewhere, it will run in Windows 11. But is this a good as it sounds?
BlueStacks is a company that has been making it possible to run Android app on Windows and macOS for a number of years, and it has voiced a concern that is echoed by others: "just because these apps are able to run on Windows 11 doesn't mean they're usable".
The company goes further, comparing the situation to another cross-platform scenario:
We've seen many developers disable their games after the initial launch of iOS apps on Mac. It's likely devs will do the same with the Windows 11 announcement.
BlueStacks founder and CEO Rosen Sharma adds:
Microsoft is only at the beginning of its journey. Having done this for a decade, there are several fundamental problems you have to solve. From enabling support for machines that don't support touch to optimizing apps to run on machines of all drivers, graphic cards, and regions worldwide --companies need to build technology that supports developers and makes apps accessible to all.
The truth of the matter is that we will simply have to wait and see. While we can expect preview builds of Windows 11 in the fairly near future, it remains to be seen how long we have to wait to get access to Android apps.