OpenSilver picks up where Silverlight leaves off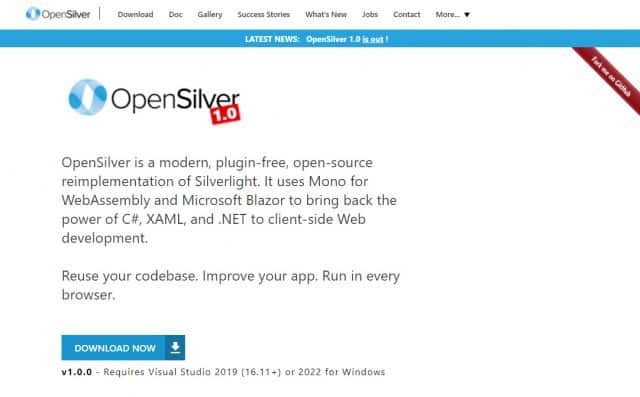 Let us pause for a moment to remember Microsoft Silverlight. The web application framework and alternative to Flash and Java reaches the end of its support life today.
Whilst it never had the market penetration of the others, Silverlight had a 15-year lifespan and in 2010 the plug-in was on over 53 percent of browsers.
Why are we telling you this? Because developers around the world have built countless Silverlight applications and may now be looking for an alternative. Step forward OpenSilver which offers an alternative to rewriting Silverlight apps. Instead it lets the existing code run on any browser with no need for a plug-in, so developers can leverage their .NET skills and focus on new improvements instead.
OpenSilver is hosted publicly on GitHub and actively developed by a large team of full-time developers. It fully supports the core capabilities of the Silverlight engine, including full language support (C#, XAML). Most of the platform APIs are supported too, allowing developers to include major C# libraries such as Telerik UI, WCF RIA Services, PRISM, and MEF. Support for additional platform APIs is being added.
The project is funded by Userware along with enterprises of all sizes investing in the technology to maintain their line-of-business applications.
"Our clients estimate that a complete rewrite of a medium to large-sized application would have taken one to two years," says Darshin Vyas, Userware's VP of sales. "There is significant overhead in gathering requirements, developing new specifications, recruiting and onboarding for a new skill set, understanding the existing code, and developing and deploying on a new stack. OpenSilver eliminates this overhead. Some of our clients were able to slash their timeline in half or more, while spending a fraction of the rewrite cost."
Future versions of OpenSilver will also include new functionality, such as the ability to support applications written in VB.NET, and those using the Microsoft LightSwitch component. You can find out more here.