Android apps are available to test on Windows 11 now! Here's how to get started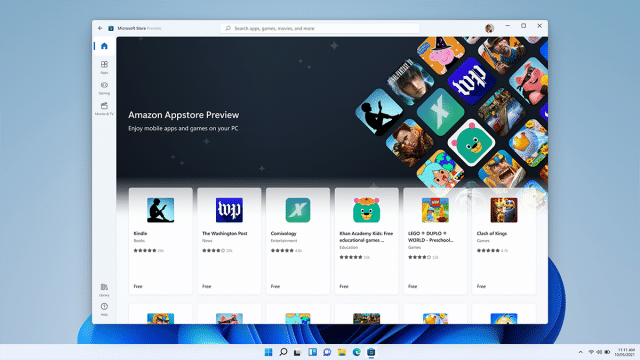 When Microsoft announced Windows 11 four months ago, one of the killer new features was the operating system's ability to run Android apps. People were understandably upset when the OS arrived without this functionality, although we were promised it would surface soon.
Today the software giant is giving Windows Insiders in the Beta Channel the chance to try out the new feature, although there is a catch.
The first preview of Android apps on Windows 11 is only available for Windows Insiders in the Beta Channel in the US, which will frustrate users from elsewhere.
To get started, follow these instructions:
Your PC needs to be on Windows 11 (Build 22000.xxx series builds) and meet certain hardware requirements.
You may need to enable virtualization for your PC's BIOS/UEFI. Click here for a guide on how to enable this on your PC.
Your PCs' region must be set to the U.S.
Your PC must be in the Beta Channel. If you are new to the Windows Insider Program, click here to get started with registration and join your PC to the Beta Channel.
You will also need to have a U.S.-based Amazon account to use the Amazon Appstore.
Click this link to go to the Microsoft Store.
Once there, you can verify your device meets the minimum system requirements, setup your environment, and start using the available Android apps and games
Giorgio Sardo, General Manager Microsoft Store, says of the new feature:
Running Android apps and games on Windows 11 will feel familiar, effortless, and integrated -- just as you would expect. You can easily run these apps side-by-side with the help of the new Snap Layouts feature, pin them to your Start menu or Taskbar, and interact with them via mouse, touch, or pen input. Android apps are also integrated into Alt + Tab and Task view to help you quickly move back-and-forth between the apps that matter most to you. You can see notifications from Android apps notifications in the Action Center or share your clipboard between a Windows app and an Android app. We have built the experience with accessibility in mind; many Windows accessibility settings apply to Android apps and we are working with Amazon to deliver more improvements.
Microsoft's partnership with Amazon will allow Insiders to try out 50 apps for now. More apps will be released through Windows Insider Program updates "in the coming months".